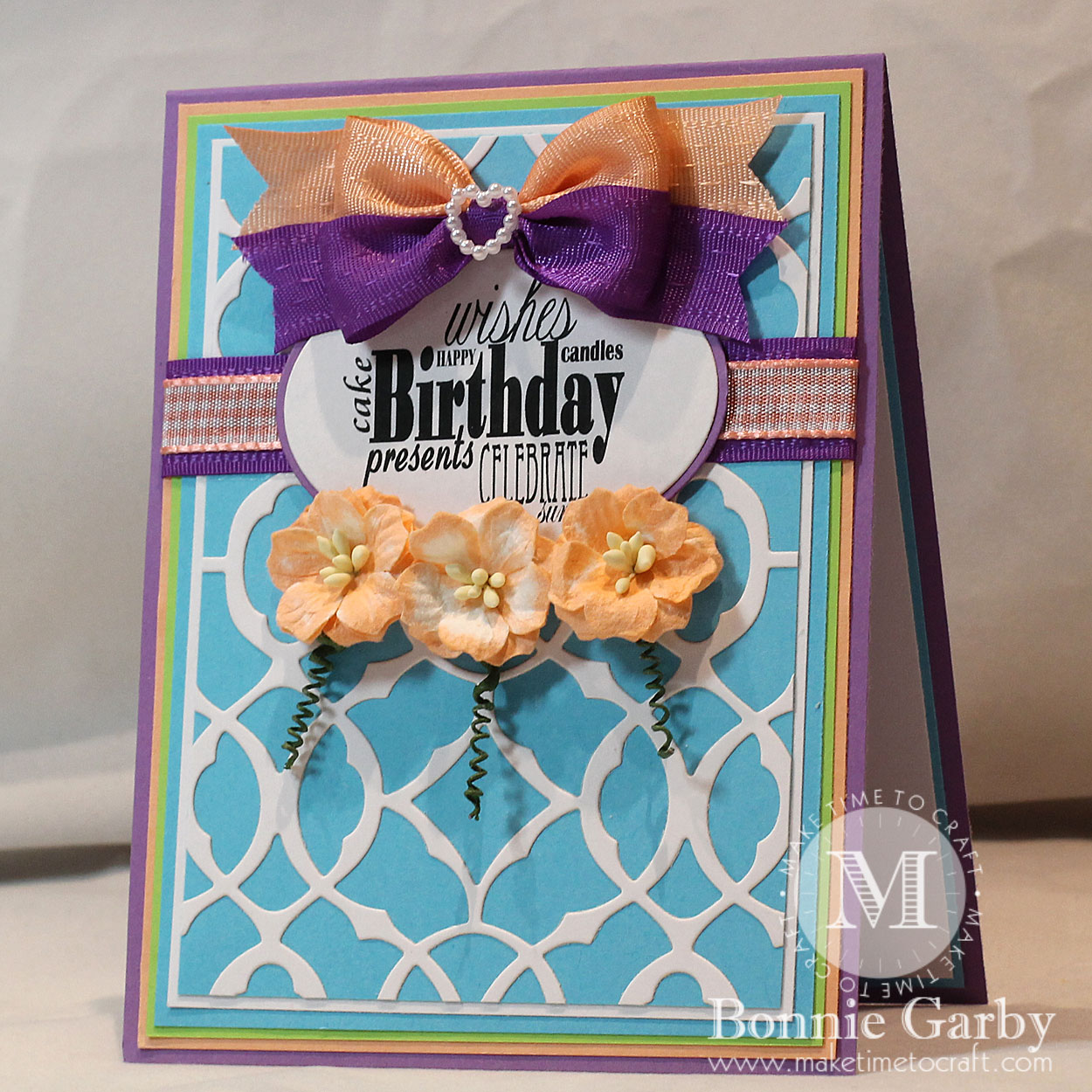 Welcome to the Really Reasonable Ribbon April Blog Hop.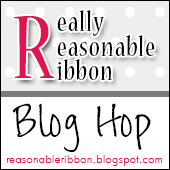 Not a member yet?
JOIN TODAY!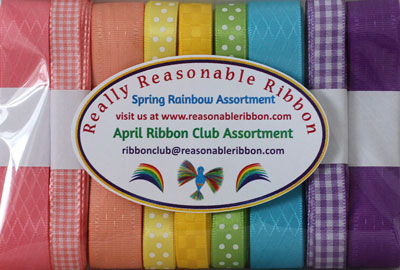 The April Ribbon Club Assortment contains 9 styles and a total of 18 yards of ribbon.  Each monthly assortment is a color or holiday themed ribbon collection.  What a fun way to build your ribbon stash and try new ribbon styles.

It's been quite a while since I've crafted other than a few knitting projects.  Nine months to be exact.  I prepared several projects ahead of time last June before I packed up my craft room to move and honestly I'm still not unpacked.  But I'm finally in my new home and I have set up a temporary work station for the short term until the world returns to normal and I can work on building my counters and setting up my craft space the way I want it.  It's great to be back at it!
Today I'm sharing a pretty basic birthday card since I can only access some of my supplies.  I hope you like it!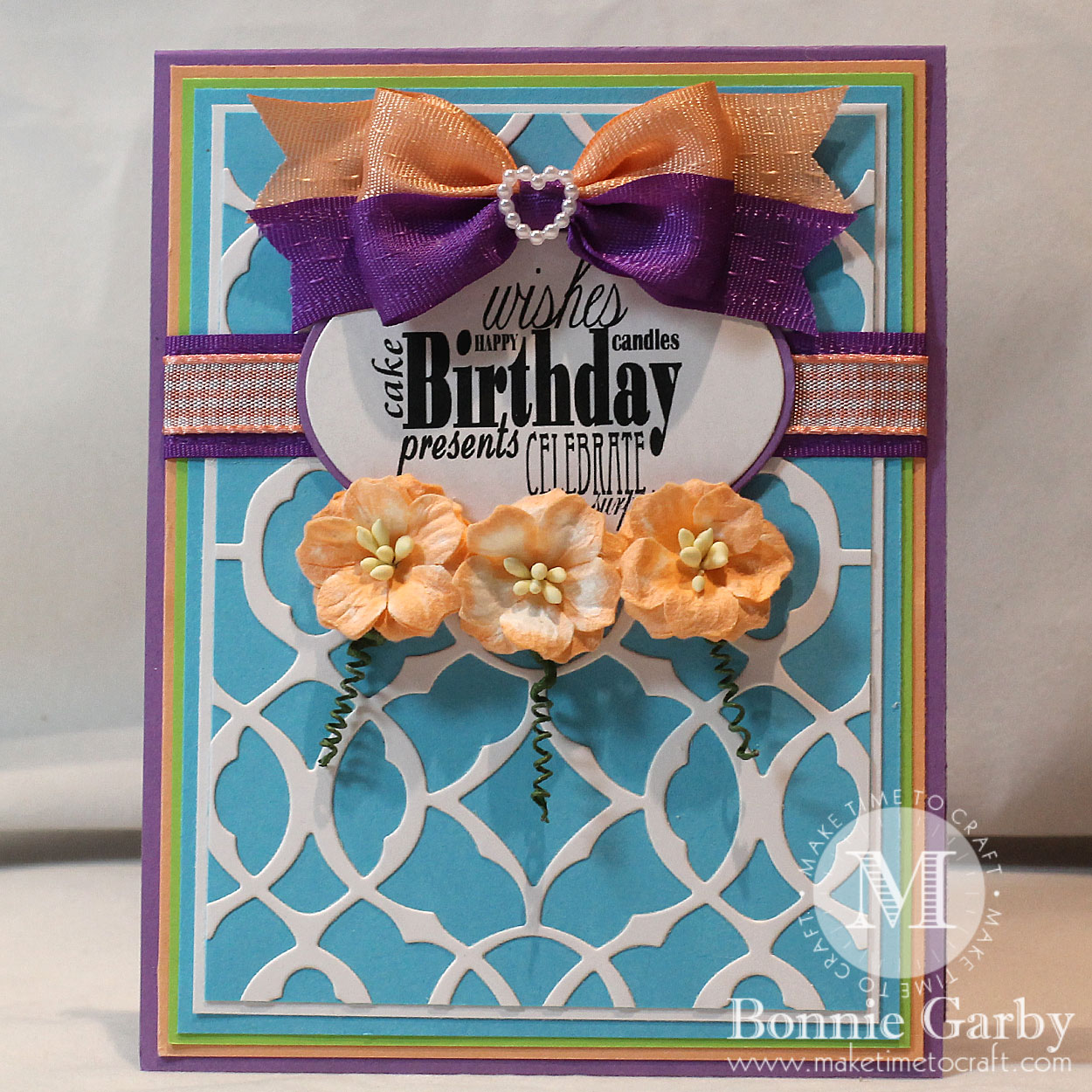 I used a pretty background die and added a simple sentiment in the upper center.  Behind the sentiment is a double band of ribbon from the April Ribbon Club Assortment and I added three pretty Apple Blossoms under the sentiment.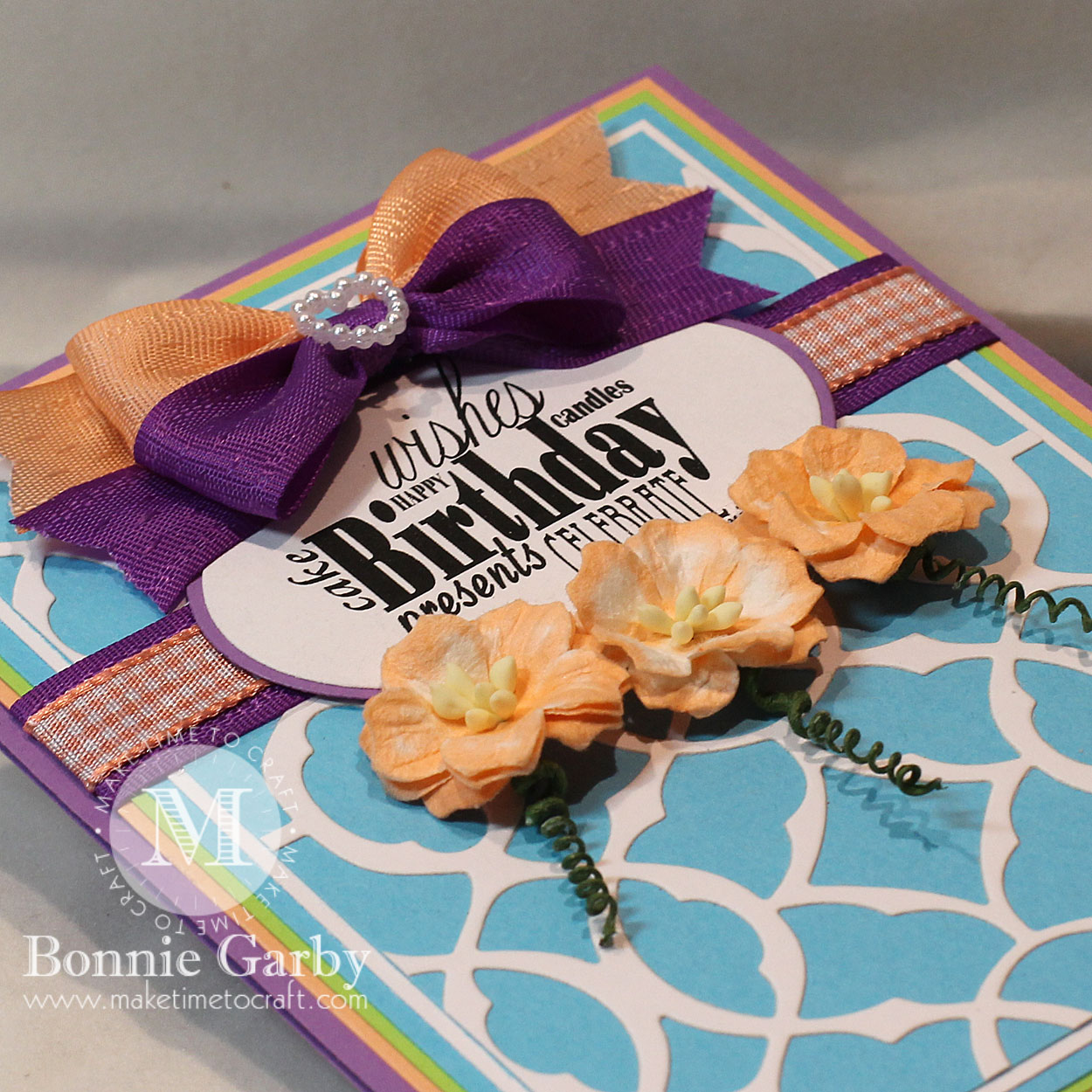 My card is topped off with a pretty bi-color bow created on my Bow-it-All V3.0 Tool using two of the ribbons from the April Ribbon Club Assortment from Really Reasonable Ribbon and the center is topped off with a pretty Heart Shaped Pearl Embellishment.
For a video tutorial on how to create this fun bow, please click HERE.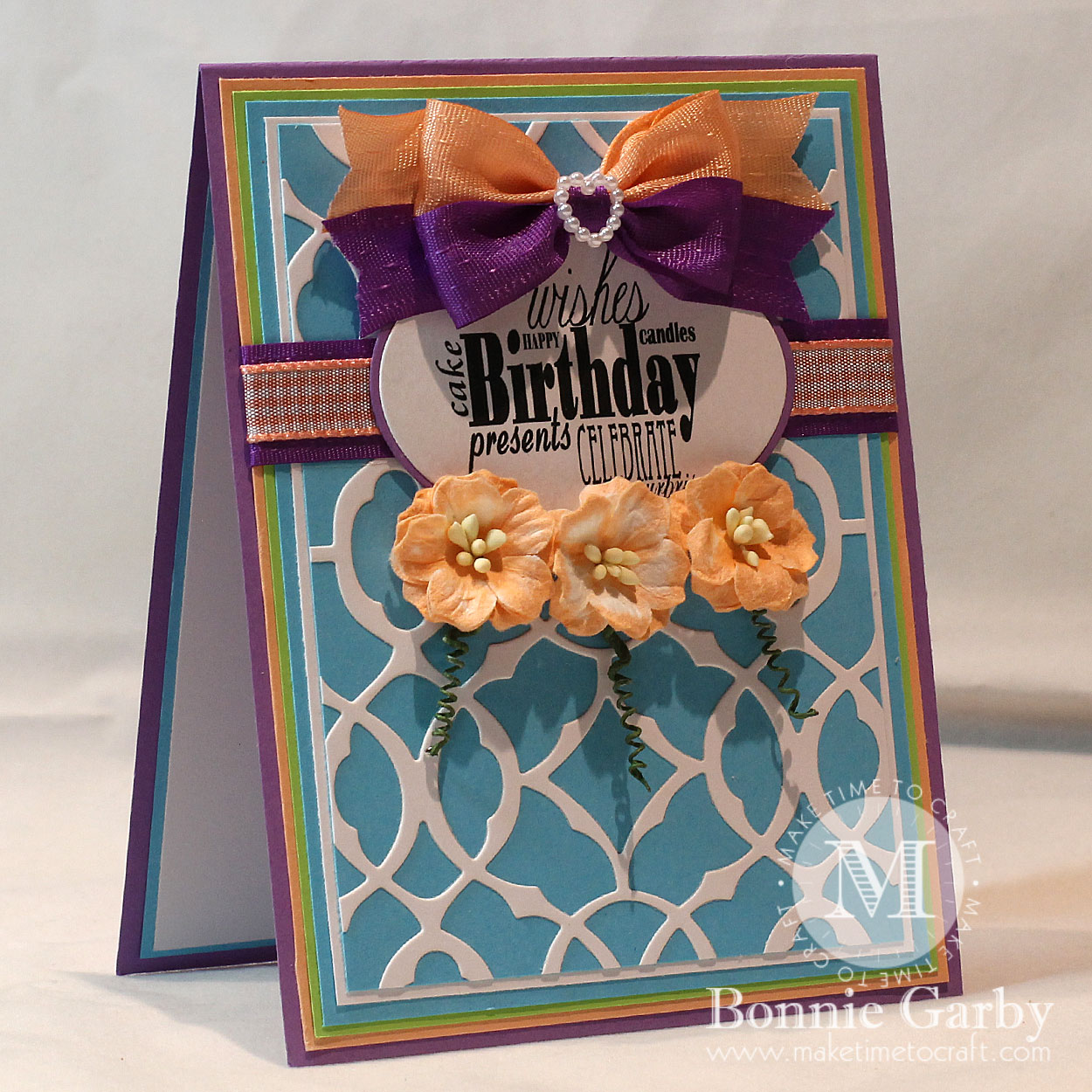 I'm entering my card in the following challenges: 
613 Avenue Create #232 – ATG
Word Art Wednesday #434-435 – ATG  
A Place to Start – April Use Ribbon or Bows
Dragonfly Dreams – Add Flowers
The Corrosive Challenge #4 – ATG 
Challenge Up Your Life #122 – Focus on Flowers 
Crafter's Castle #28 – ATG
Alphabet Challenge – A is for ATG 
Crafty Catz #501 – ATG 
Creative Fingers #183 – ATG 
Aud Sentiments #248 – ATG with a Sentiment

Now for my headband of the month: 
This headband was created on a 1/2″ White Plastic Headband using the two of the 3/8″ satin swiss dots ribbons from the April Ribbon Club Assortment.  I added a pretty 35mm Trellis Rose to finish it off.
For a video tutorial on how to create this headband, please click HERE.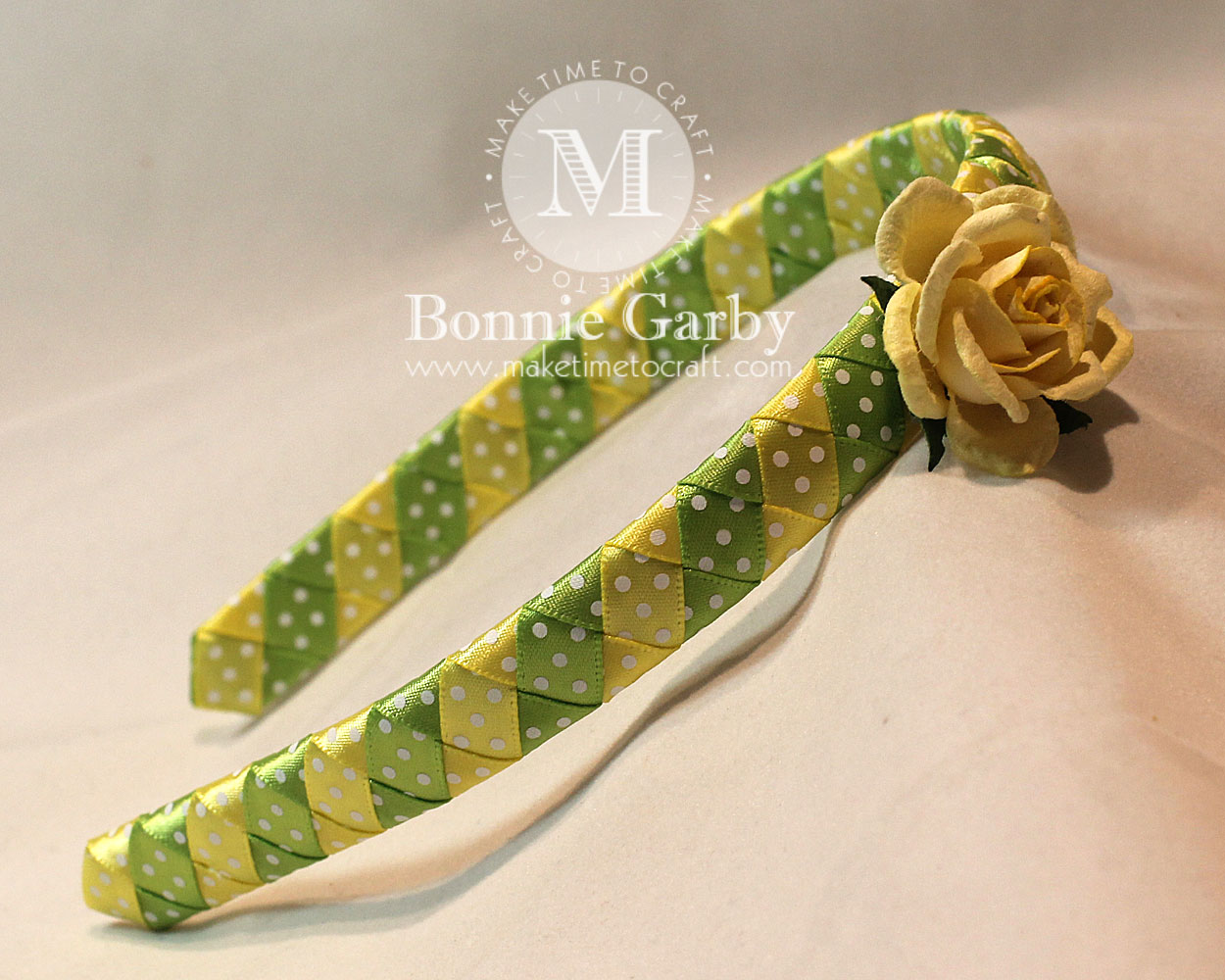 Thanks so much for stopping by today.  Your next stop is Ginny's fabulous blog.
I would love for you to leave a comment before you go.