Hey there ribbon lovers.  Do you ever try different types of ribbon crafts?  If not, you really should!  Woven ribbon headbands are great for that favorite little girl in your life (or even you depending on the ribbon selection) and Kanzashi is great for making hair clips for yourself or even a pin for a jacket or bag.  Really Reasonable Ribbon has all the ribbon and accessories you need to dive right in.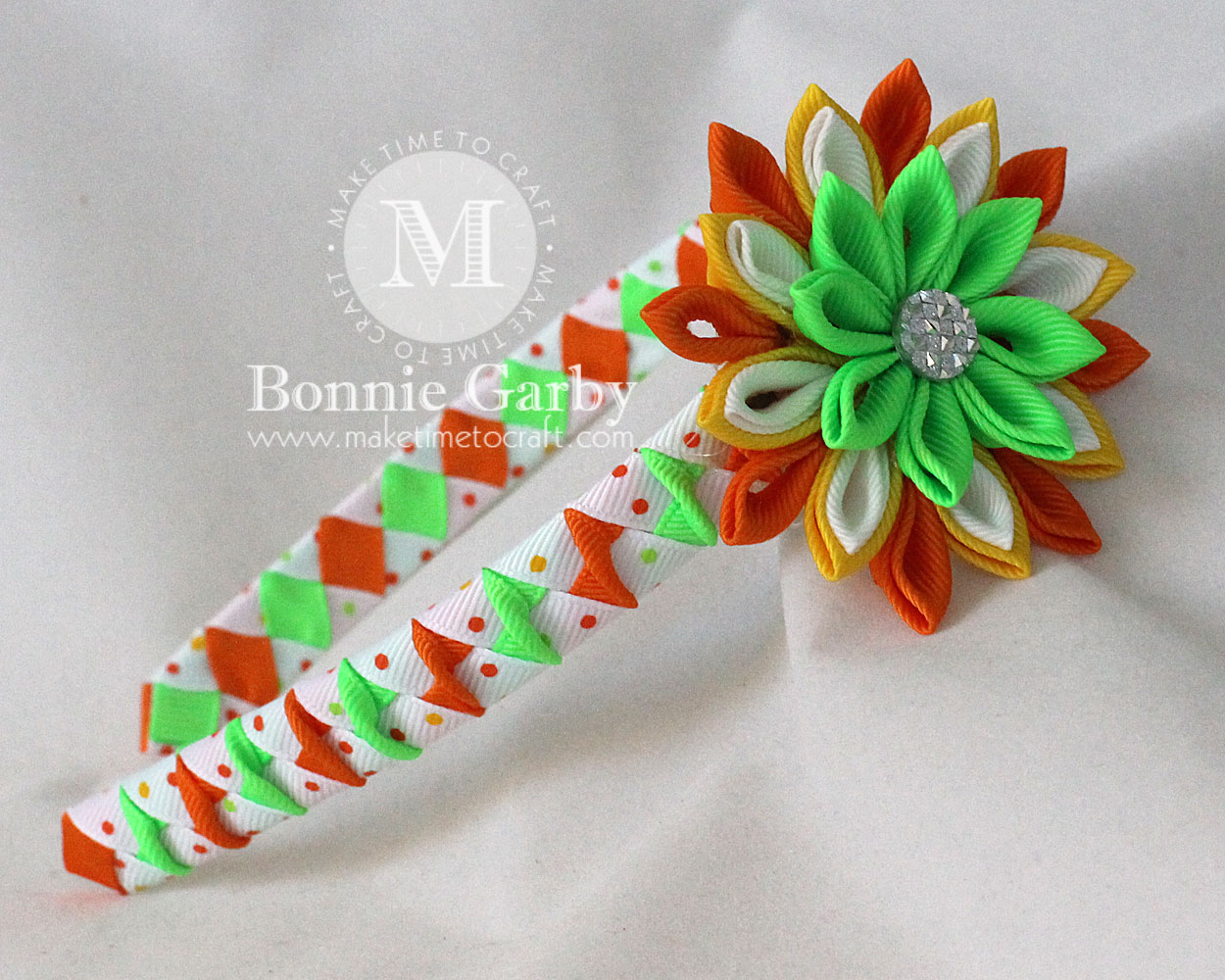 I'm using the gorgeous and summery color palette from the July Ribbon Club Assortment.  I used the citrus multi-dot grosgrain ribbon in my woven ribbon headband along with two solid colors of 3/8″ grosgrain ribbon.
The July Ribbon Club Assortment is a sizzling summer themed collection of ribbon.  It contains 9 styles and a total of 18 yards of ribbon.  Each monthly assortment is a color or holiday themed collection of ribbon.  What a fun way to build your ribbon stash and try new ribbon styles.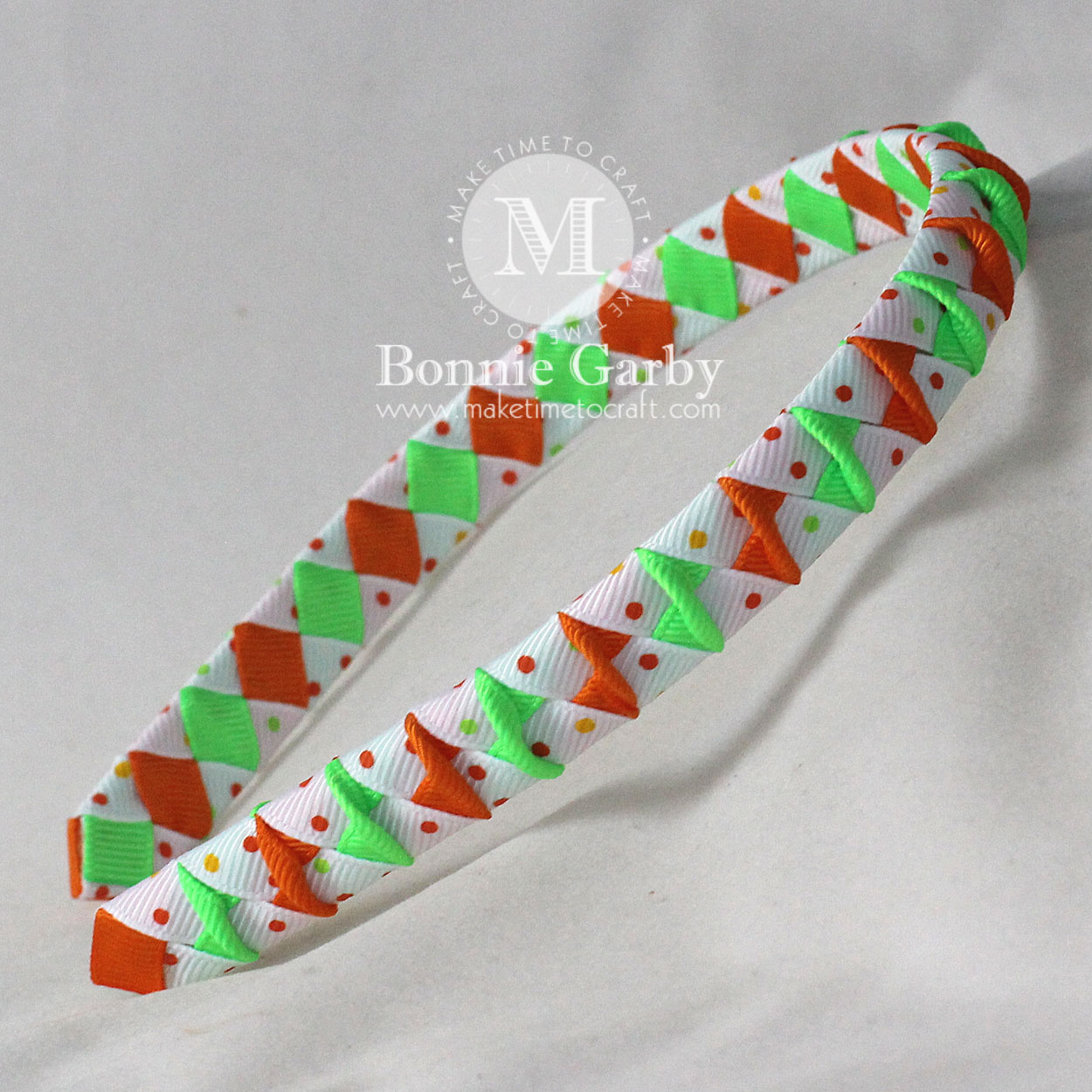 New to woven ribbon headbands?  
I did a video tutorial a while back for this weave and I'll share it again today.  You should give it a try.
Beginners should start with the basic woven ribbon headband and build from there.  You can find all my video tutorials HERE.
Woven Ribbon Headband with a Twist Tutorial
Since I'm in the process of packing up my craft room to move and don't anticipate unpacking any time soon, I'm going to be doing more work with Kanzashi as I can do that with limited supplied and with a limited work area.  Stay tuned for more in the future.  This flower combines some of the petals that I have done videos on already which I will share below.    
For this flower I used both 1-1/2″ and 2″ Grosgrain Ribbon and a 12mm Silver Glitter Stardust Rhinestone Embellishment for the center.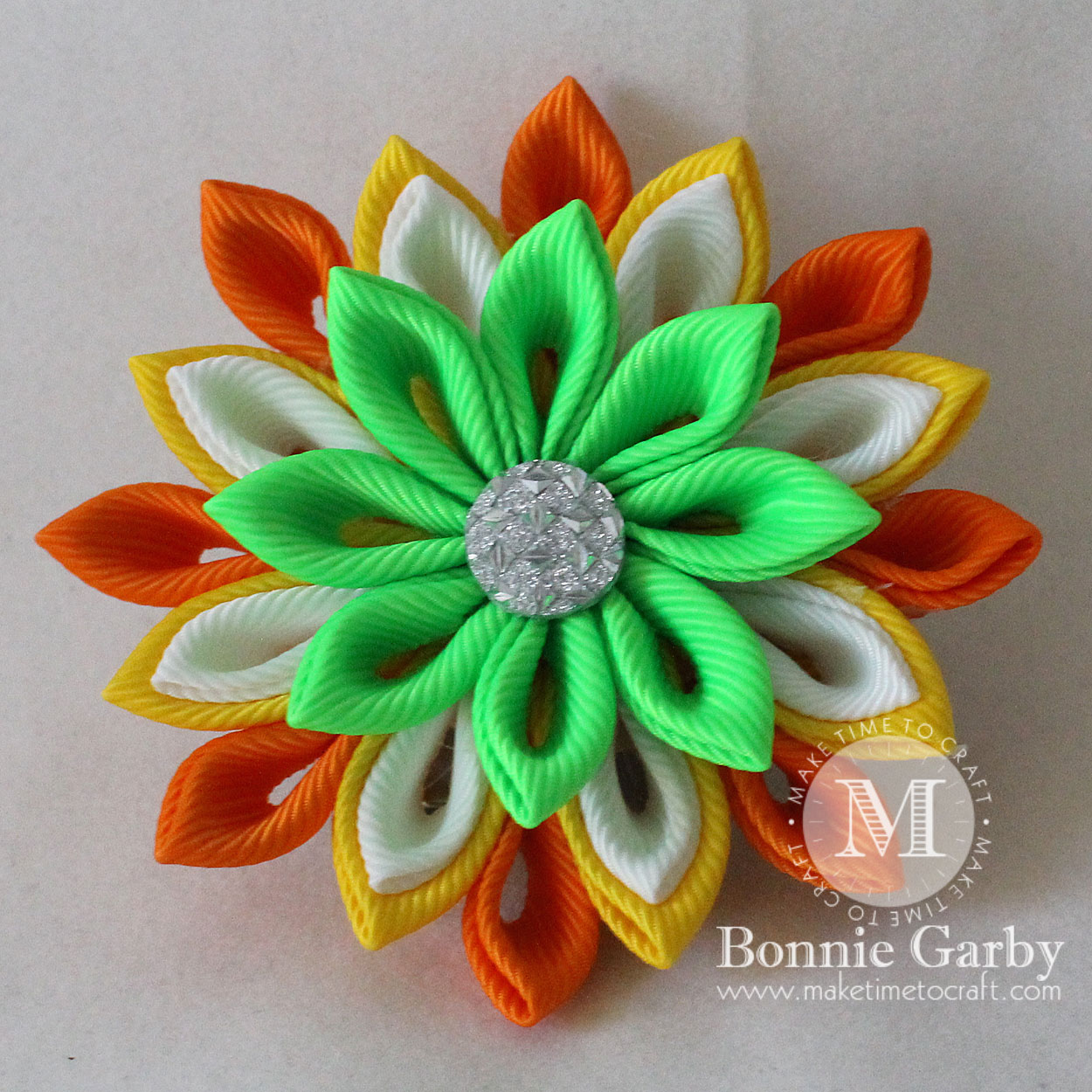 Kanzashi Ribbon Flower Petal #1
Kanzashi Ribbon LAYERED Flower Petal #1
These two crafts also work very well together.  I put my Kanzashi flower on a Single Prong Alligator Clip and that way you can wear the headband with or without the flower.  When you want the flower, just slip the bottom of the alligator clip in to the weave of the headband.
I'm entering my headband in the following challenges:
613 Avenue Create #223 – ATG
A Place to Start – July ATG
TTCRD – ATG
The Corrosive Challenge – July ATG
Brown Sugar – ATG
Crafty Catz #470 – ATG
Creative Fingers #168 – ATG
Crafty Creations #394 – ATG
Creative Moments #172 – ATG
The Three Muses – Flowers