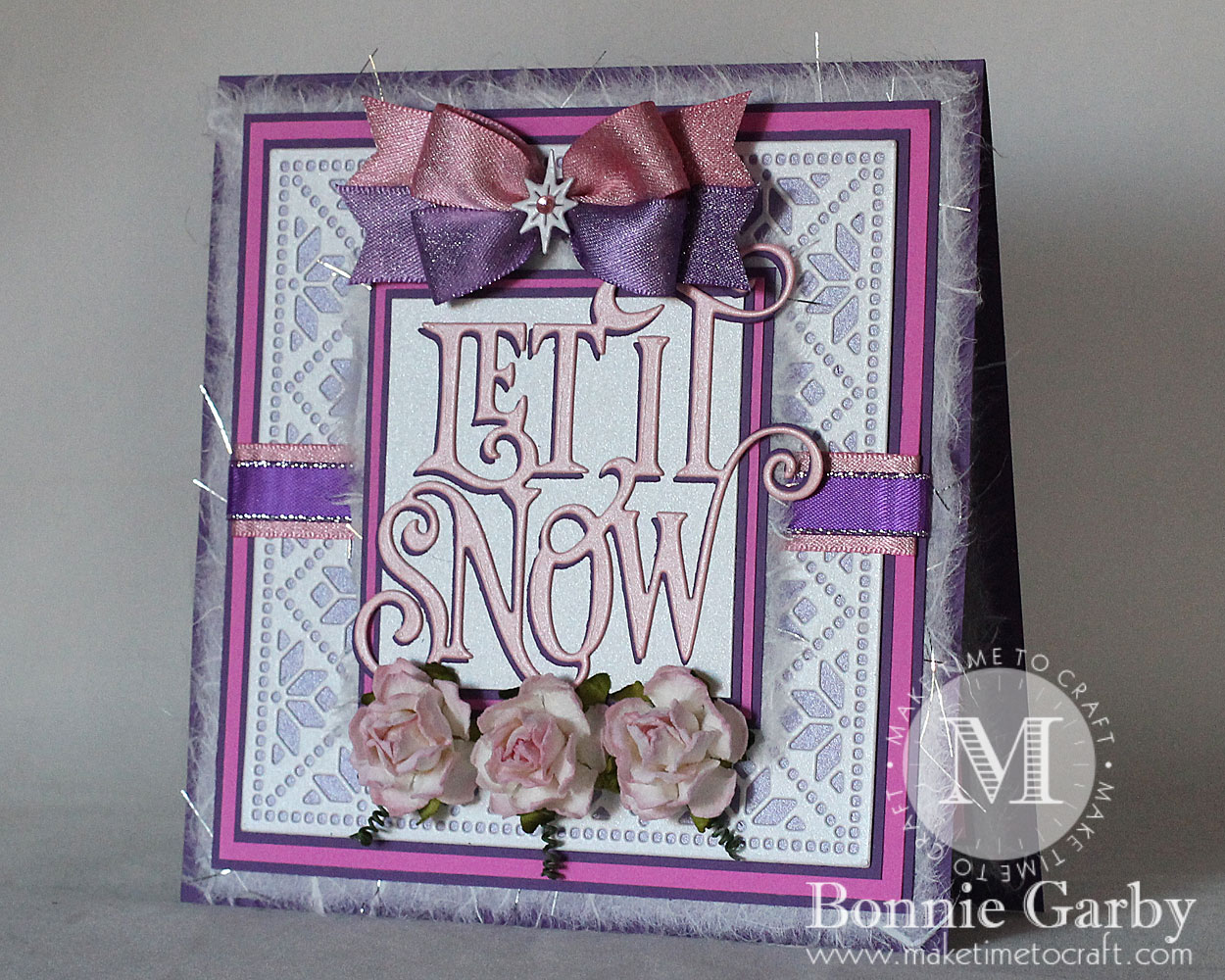 Welcome to the Really Reasonable Ribbon November Blog Hop.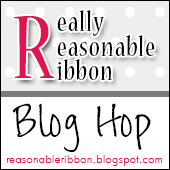 If you arrived here from Cheryl's blog, you are on the right track. If not, why not head back to the RRR Blog and start from the beginning so you don't miss any of the terrific projects.  Be sure to comment on the post on the RRR Blog for a chance to win your own November Ribbon Club Assortment.
This month the Really Reasonable Ribbon Monthly Ribbon Club Assortment is all about shimmer and sparkle.  

Not a member yet?

JOIN TODAY!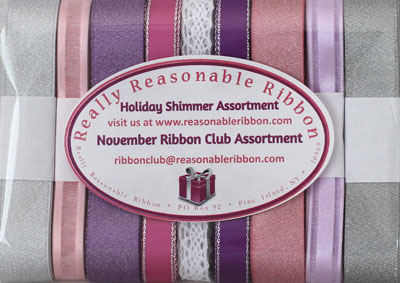 The
November  Ribbon Club Assortment
contains 9 styles and a total of 17 yards of ribbon and lace.  Each monthly assortment is a color or holiday themed ribbon collection.  What a fun way to build your ribbon stash and try new ribbon styles.
This month I created a pretty and sparkly Winter themed card.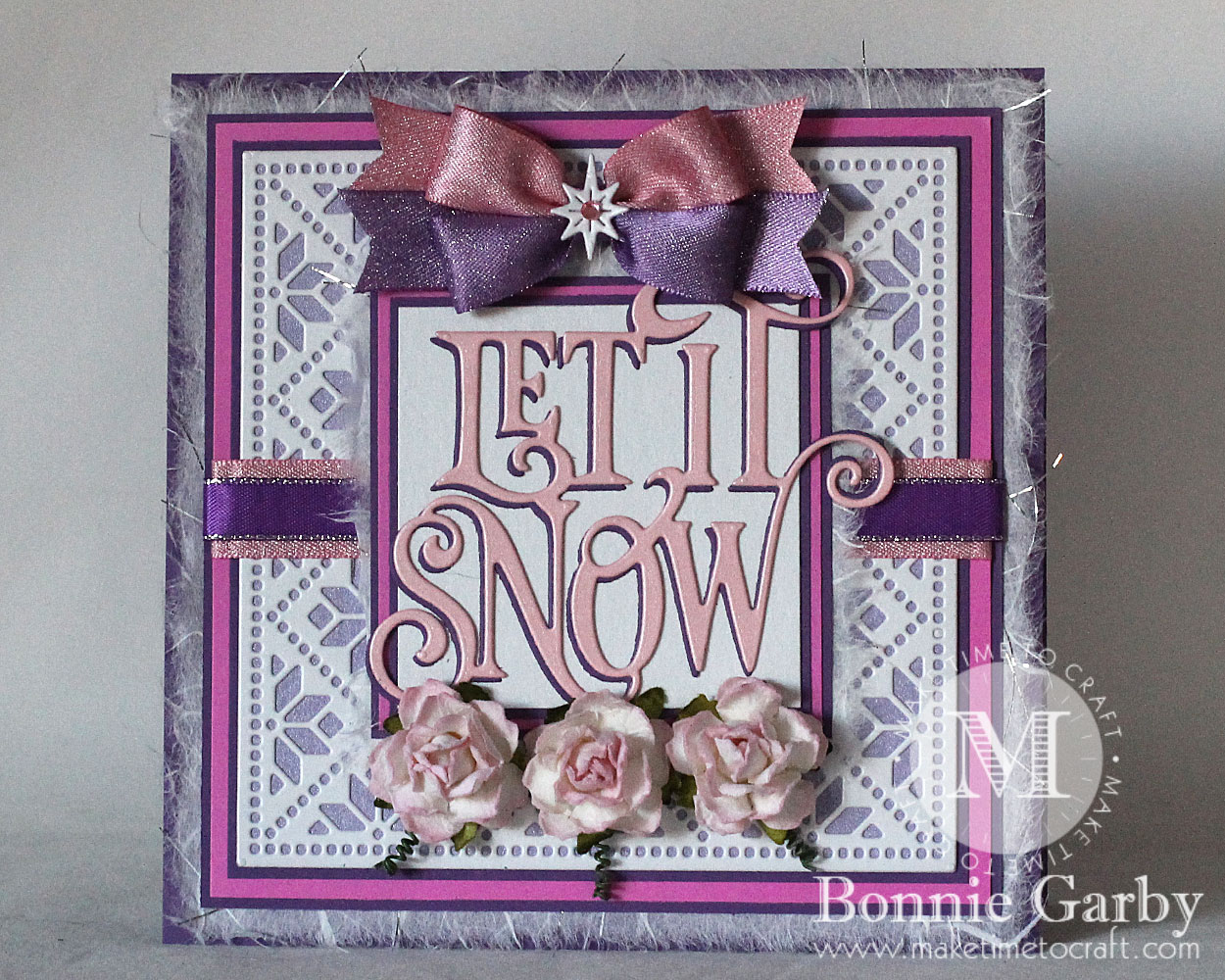 Dies used:
Cheery Lynn Designs Let It Snow Set
 
Cheery Lynn Mexican Tile Pattern Frame
The Mexican Tile Frame die is not a holiday die, but I think it has a Christmas-y winter feel to it, don't you?  I also added some pretty 25mm Cottage Roses under the sentiment for a soft feminine touch which plays nicely with the torn mulberry paper layer.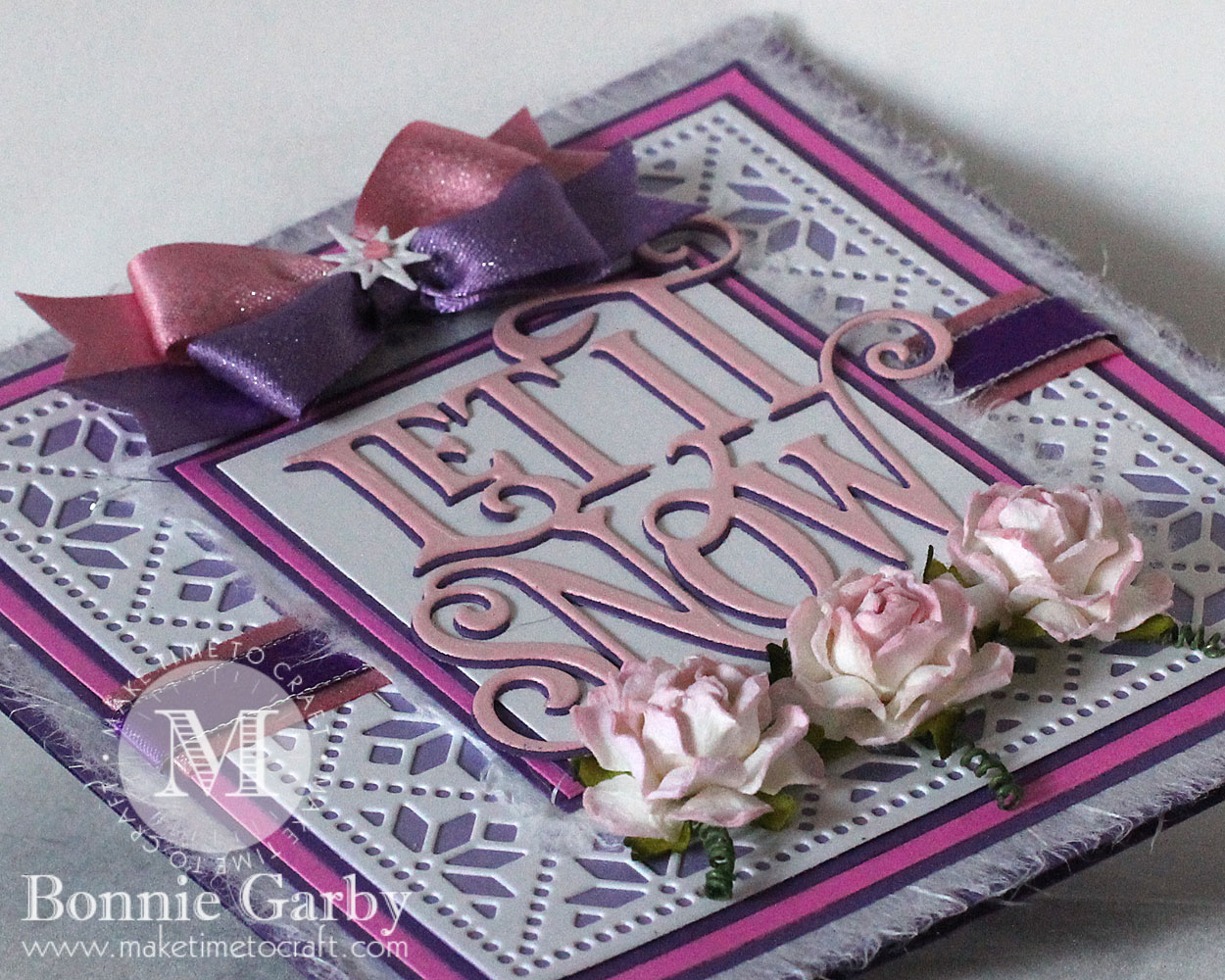 My card is topped off with a pretty bi-color bow created on my Bow-it-All V3.0 Tool using two of the ribbons from the November Ribbon Club Assortment from Really Reasonable Ribbon and the center was topped with a shimmery die cut using one of the star dies included in the Let it Snow sentiment die set.  
For a video tutorial on how to create this fun bow, please click HERE.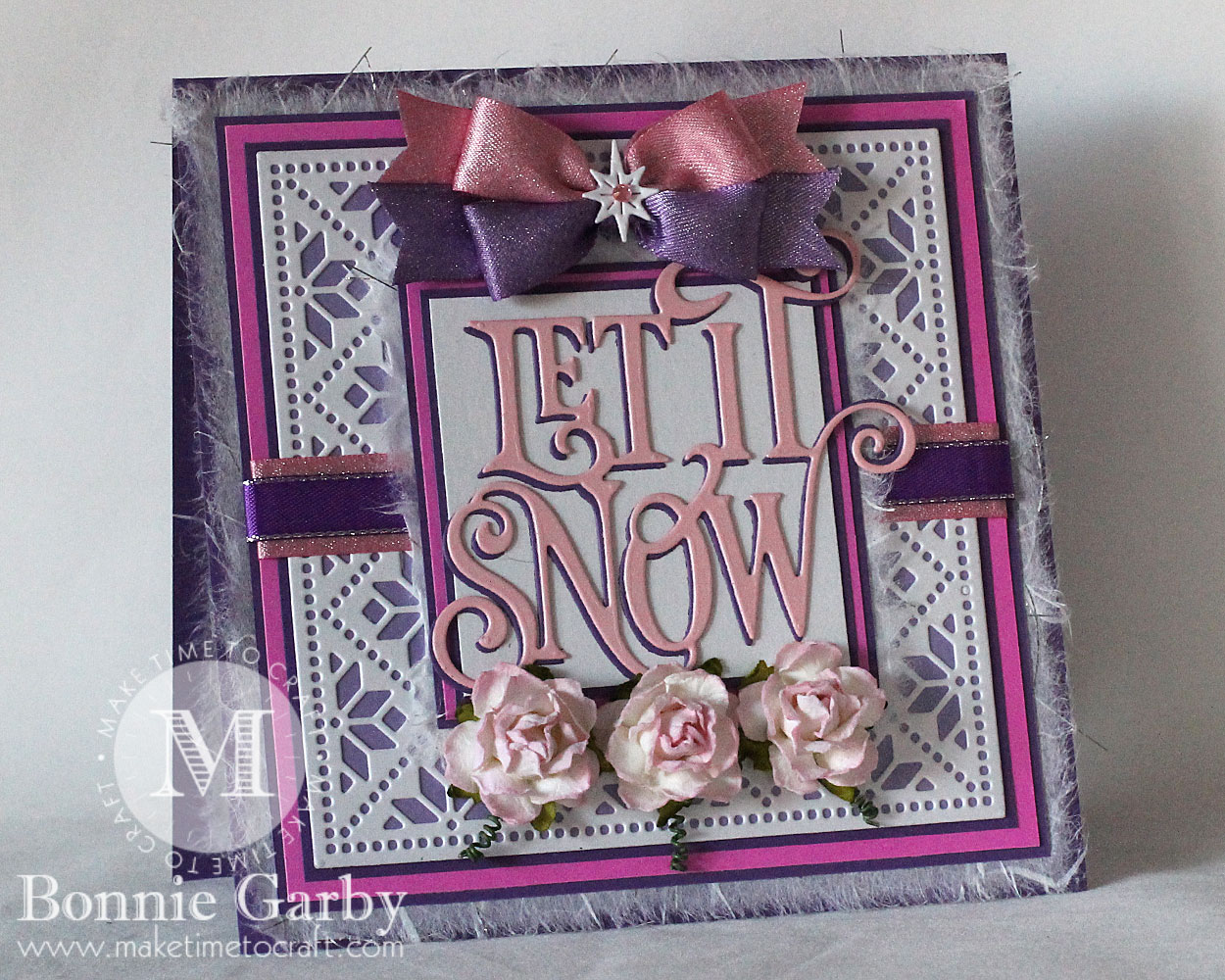 I'm entering my card in the following challenges:
613 Avenue Create #215 – ATG with optional Christmas/Winter
Word Art Wednesday #360/361- ATG 
Crafting with Friends #75 – ATG   
Crafty Catz #437-ATG 
Creative Fingers #154 – ATG 
Jo's Scrap Shack FFC #259 – ATG 
Aud Sentiments #216 – Ribbons & Bows & a Sentiment 
Crafting with an Attitude #45 – ATG 
Scrapy Land #101 – ATG with die brands they sell 
A Perfect Time to Craft #11 – ATG 
A Bit More Time to Craft #78 – ATG 
Crafting by Designs – Nov ATG 
Creative Moments #156 – ATG 
Ellibelle's Crafty Wednesday – Christmas/Seasonal Holiday 
Little Red Wagon #471- Just a Sentiment 
That's Crafty Challenge – Winter Wonderland 
The Crafty Addict – ATG 
TTCRD – ATG 
Now for my headband of the month:
This headband was created on a 1/2″ White Plastic Headband using the two of the 3/8″ Satin with Metallic Edge Ribbons from the November Ribbon Club Assortment.
For a video tutorial on how to create this headband, please click HERE.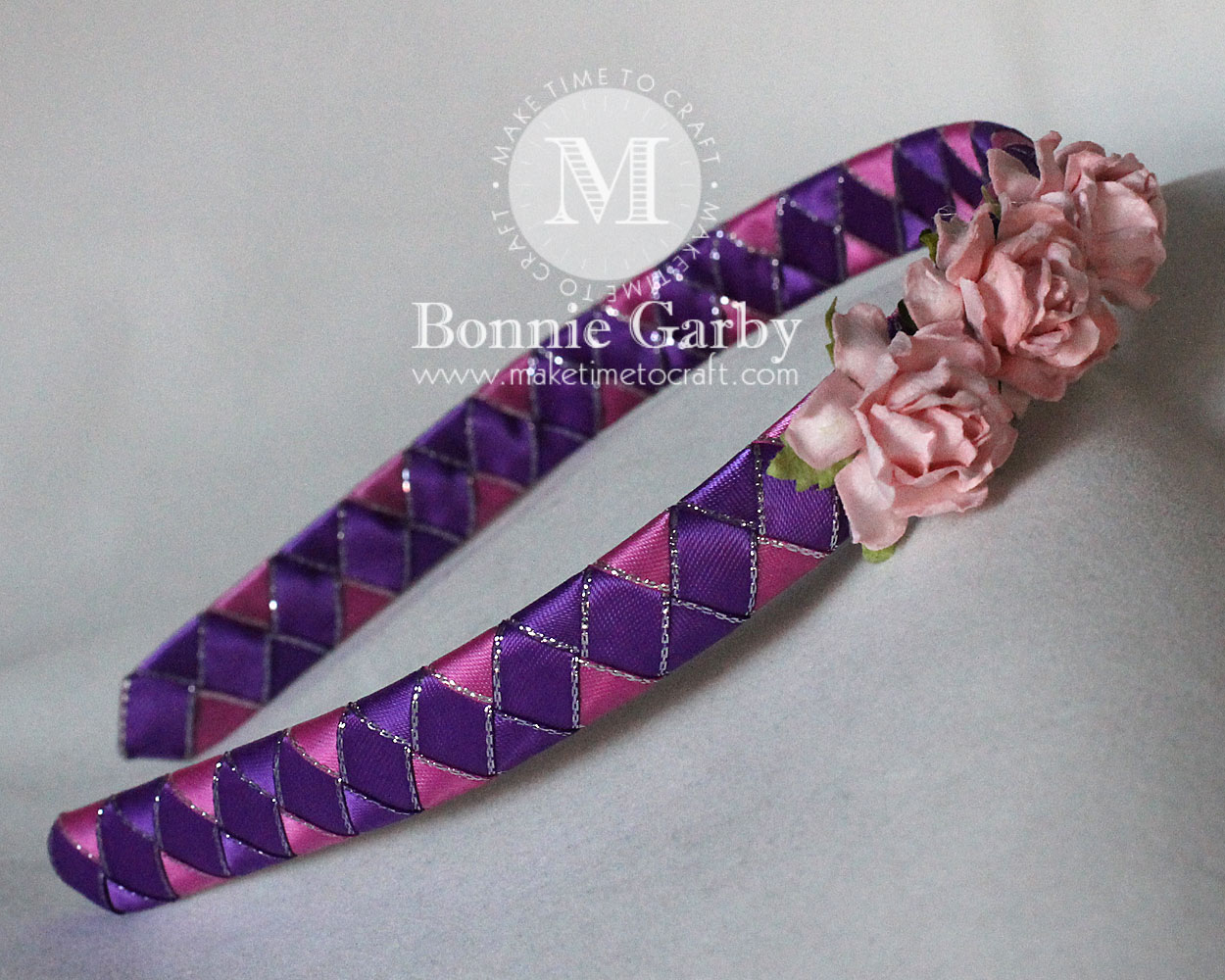 I would love for you to leave a comment before you go.
Supplies
Ribbon:  
Really Reasonable Ribbon
November Ribbon Club Assortment
 ,
Dies:  see list and links above
Cardstock:  CutCardStock Stardream Metallic in Crystal, Amethyst and Rose Quartz for the glitzy pieces;  All other cardstock is from my stash
Bow-it-All V3.0
Zutter 9-in-1 Tool
Adhesives:  
Stick It Adhesive Sheets
, 
Scotch Advanced Tape Glider
, 
Designer Dries Clear Adhesive
, 
E6000
,
3D Thin Foam Tabs