Hi friends.   Today I'm popping in to share a pretty birthday card I made for a dear friend.  I picked some of my favorite ribbons and embellishments from Really Reasonable Ribbon to complete the card.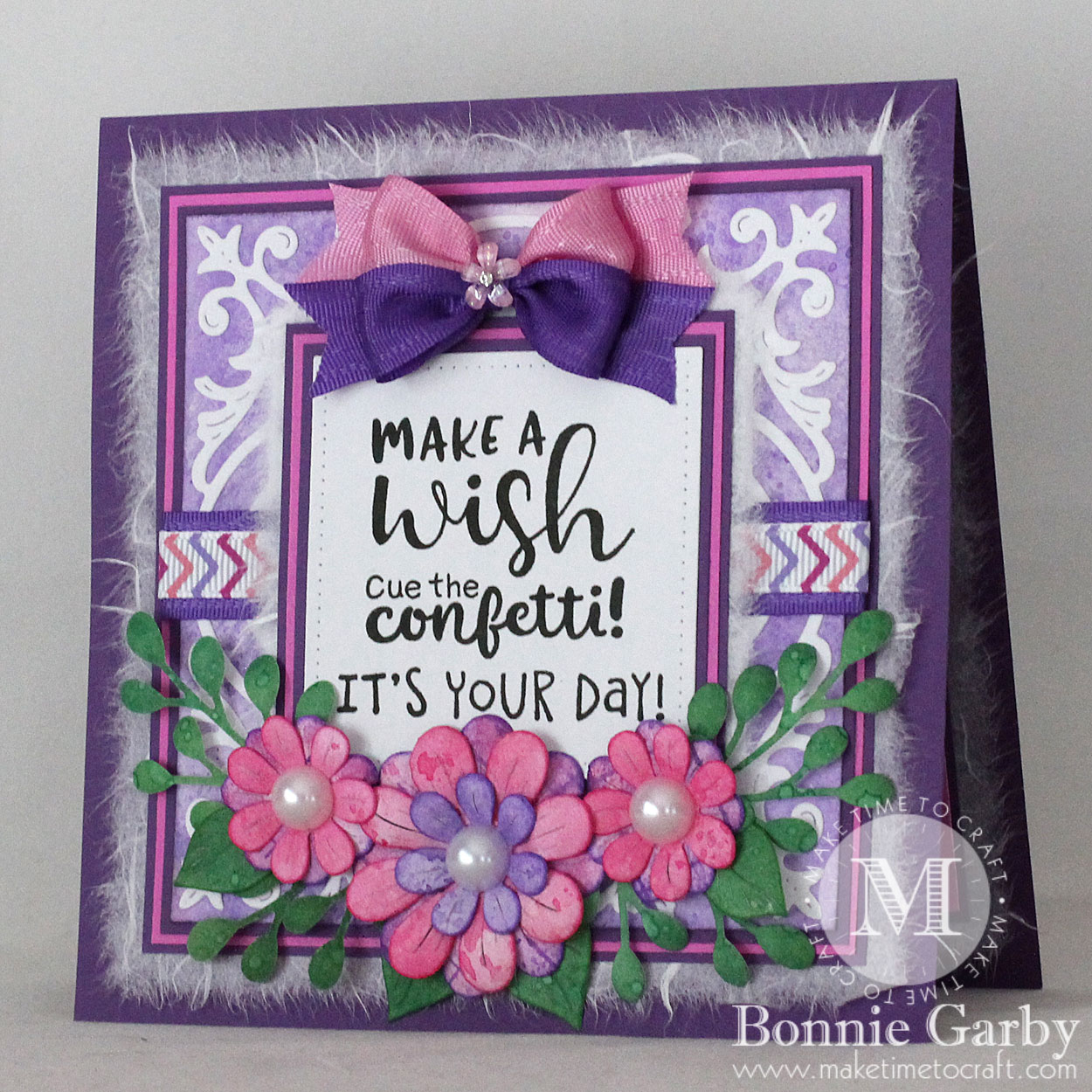 Debbie loves purple just like I do, so I went all out purple and pink.  Those are my happy colors!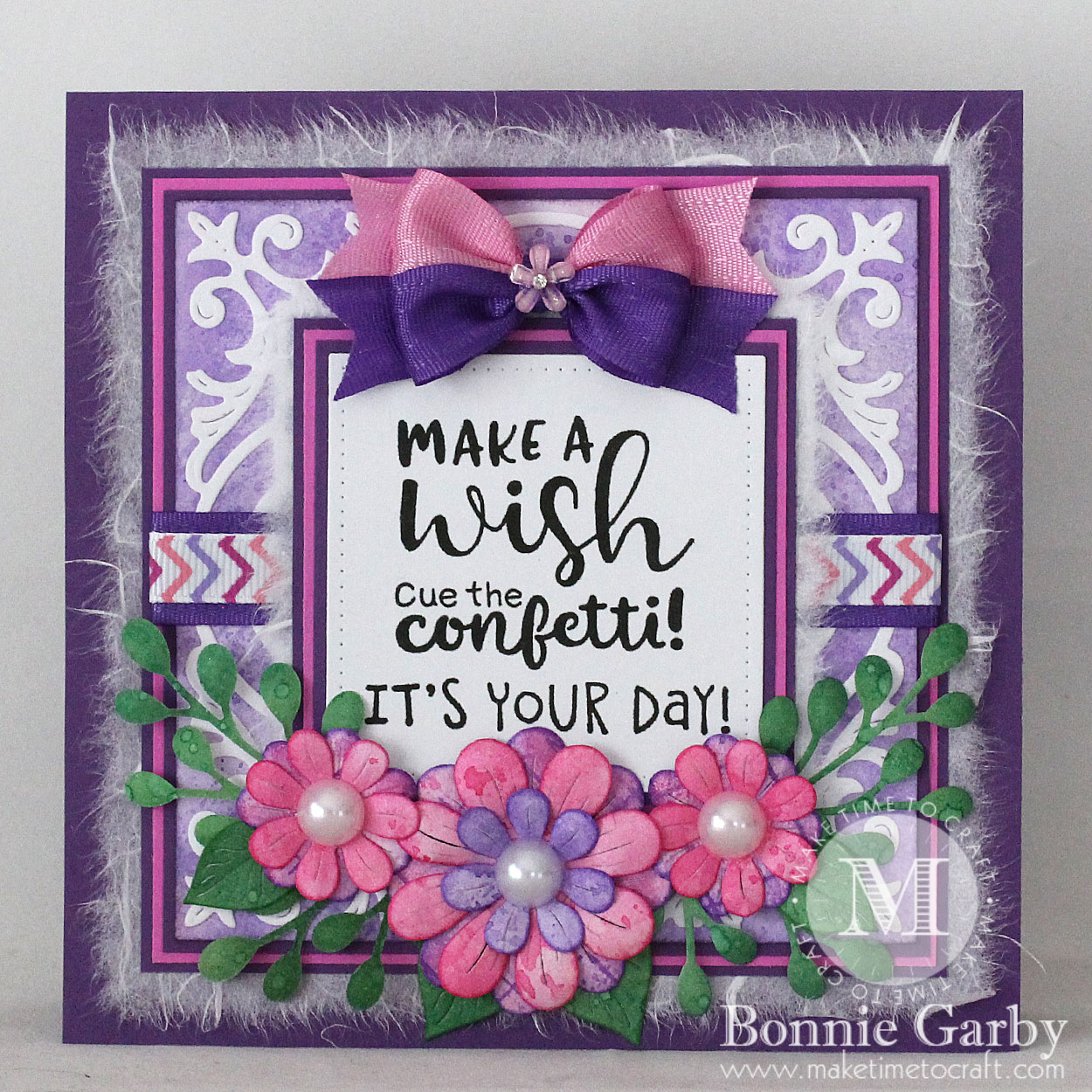 The pretty flowers were handmade using a favorite die set from Cheery Lynn Designs.  I used Distress Ink papers I created for the background and the flowers and the centers were finished with 10mm Flat Back Pearls.
Did you hear that Cheery Lynn Designs is now My Maker's Movement?  They are still stocking some favorites from the Cheery Lynn offerings and they are also offering a fabulous new line of stamp and die sets.  Head on over and take a look!
Cheery Lynn Dies used:
B777 Floral Bouquet Kit
 
DL314 Quadrafoil Square Doily
 
LPC-1 Square Piece & Cut Tool Lge Silver
My card is topped off with a pretty bi-color bow created on my Bow-it-All V3.0 Tool using Regal Purple and Rose Bloom Delicate Stitched Satin Ribbon.  The center of the bow is topped with a 10mm Resin Flower embellishment.  I also ran the Regal Purple Delicate Stitched Satin Ribbon topped with 3/8″ Tutti Frutti Chevron Grosgrain Ribbon across the center of the card behind the sentiment panel.
For a video tutorial on how to create this pretty bow, please click HERE.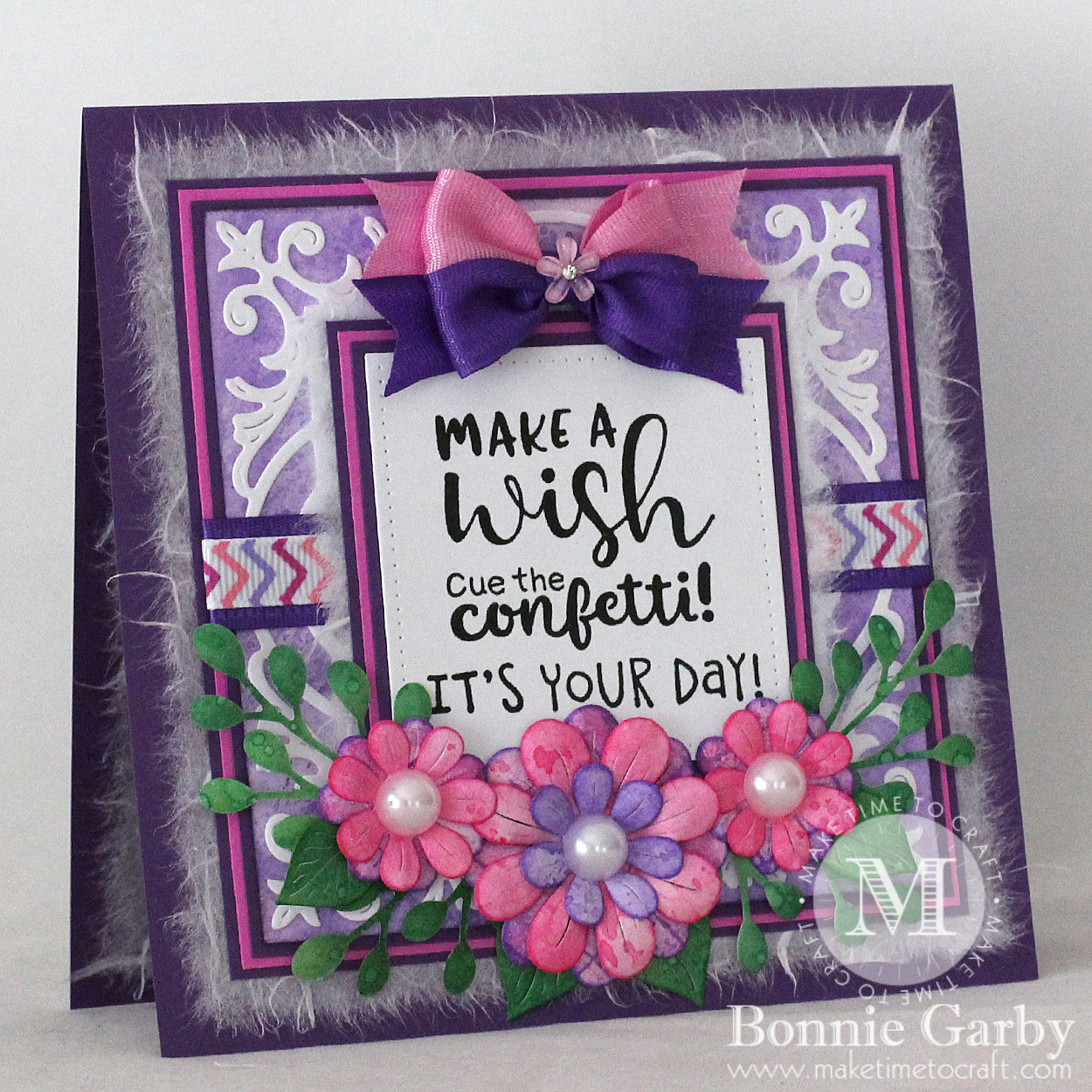 I'm entering my card in the following challenges:
613 Avenue Create #212 – ATG 
Word Art Wednesday #348/349 – ATG 
Creative Fingers #151 – ATG 
Aud Sentiments #210 – ATG with a Sentiment 
Cardz 4 Gals #78 – Dies and/or Punches 
Craft Rocket Challenges #51 – ATG 
Crafting with an Attitude #42 – ATG 
Crafting by Designs – August ATG 
Crafty Creations #373 – ATG 
Crafty Gals Corner #172 – Add Ribbon or a Bow 
Creative Moments #151 – ATG 
PDE – Summer Birthday Party 
Scrapy Land #96 – ATG with die brands they sell 
Sisterhood of Crafters – Bloomin' Flowers 
Creates and Makes #23 – ATG 
TTCRD – ATG 
Double Trouble #8 – Summer Happy Birthday 
Supplies:
Ribbon:  Really Reasonable Ribbon
Dies:  My Makers Movement and Cheery Lynn Designs (see list above)
Ink:   Distress Inks
Bow-it-All V3.0
Zutter 9-in-1 Tool

Adhesives:  Stick It Adhesive Sheets
, Scotch Advanced Tape Glider
, Designer Dries Clear Adhesive
, E6000
, 3D Thin Foam Tabs
White Mulberry Paper
10mm Resin Flower Embellishment  
10mm Flat Back Pearls