Hi friends.  I've said it before and I'll say it again.  Mini Albums and Monthly Ribbon Club Assortments from Really Reasonable Ribbon are PERFECT together!!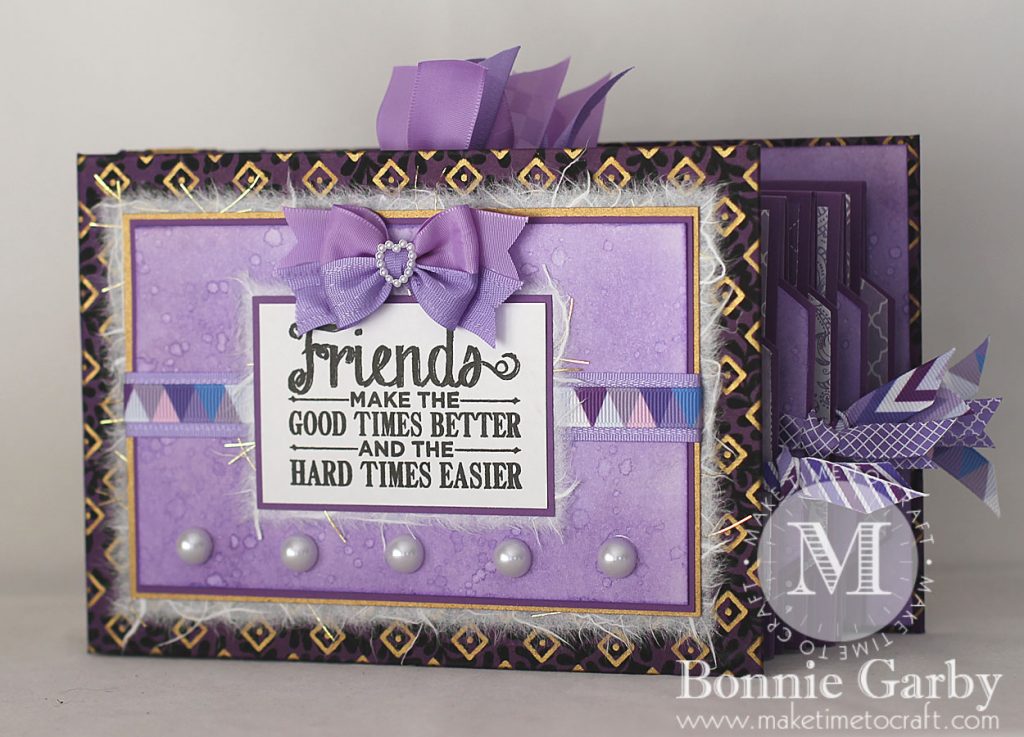 There is nothing better than having a coordinating pack of ribbon sitting right on your desk ready to go for your project, and mini albums look great with a variety of coordinating ribbons as an embellishment.
Not  a member yet??
Our special this month for customers with US addresses is to start with this combo pack for a special low price.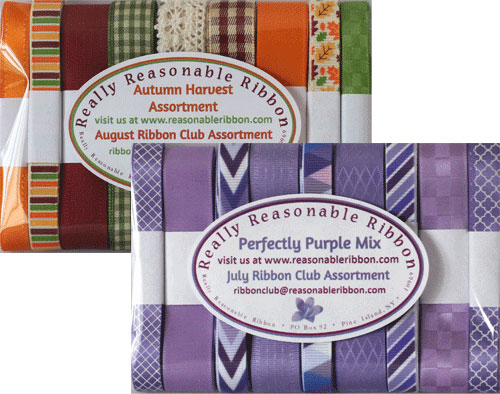 The July assortment contains 9 styles and a total of 18 yards of ribbon and the August assortment contains 9 styles and a total of 17 yards of ribbon and trim.  Each monthly assortment is a color, seasonal or holiday themed collection of coordinating ribbons.  What a fun way to build your ribbon stash and try new ribbon styles.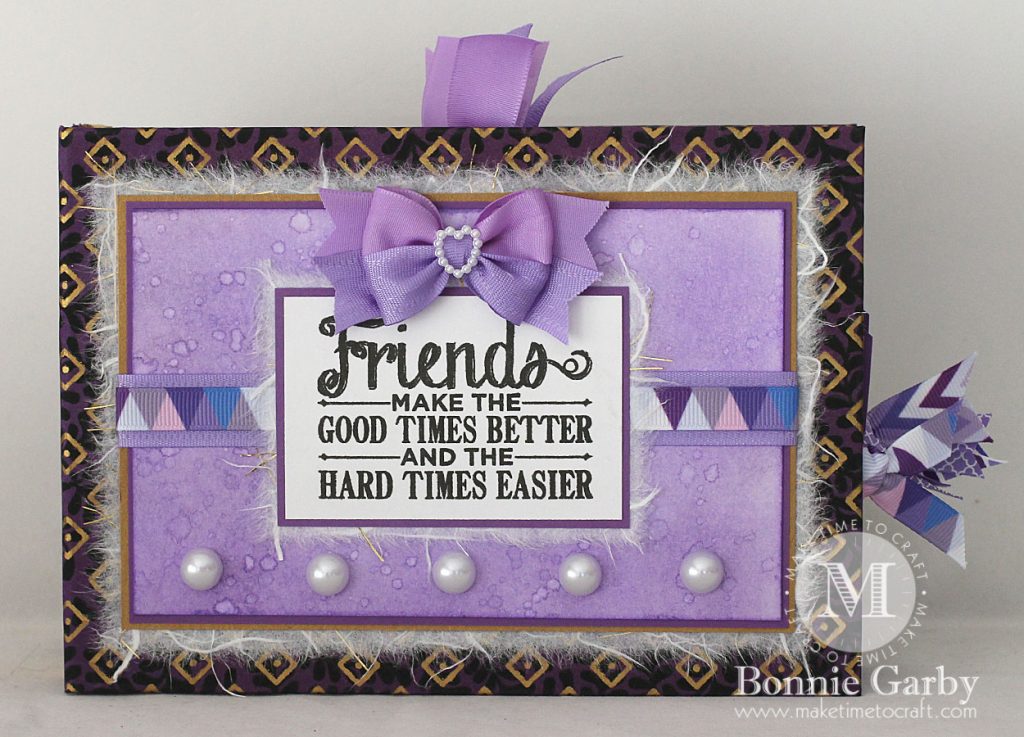 Each of my pages has a pull out landscape oriented photo mat topped with pretty ribbon with space for another photo or journaling on the back and also a pull out tag with a ribbon tie.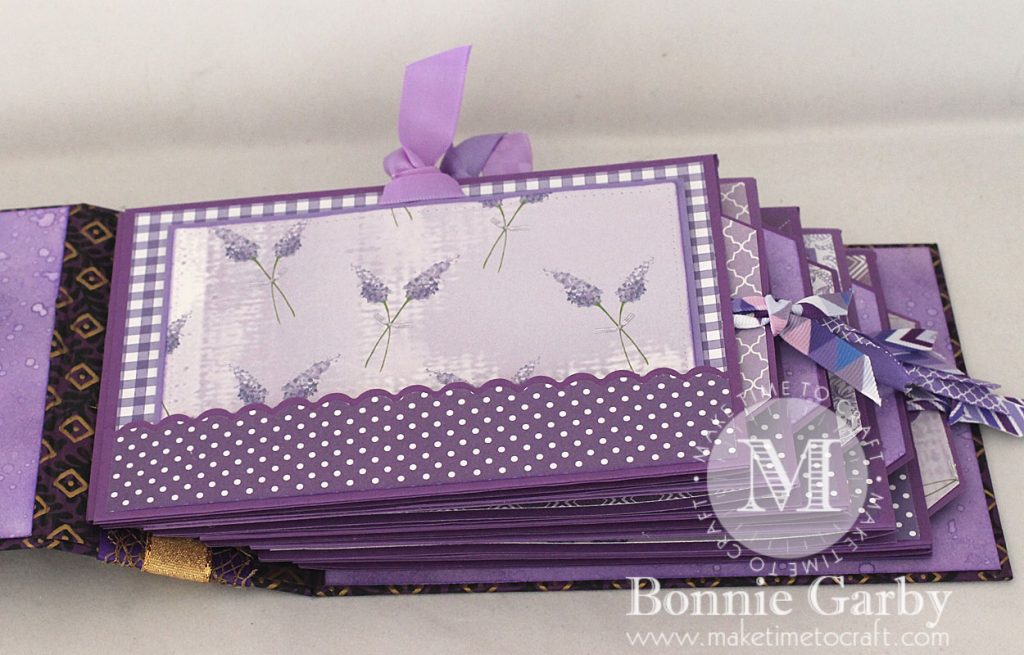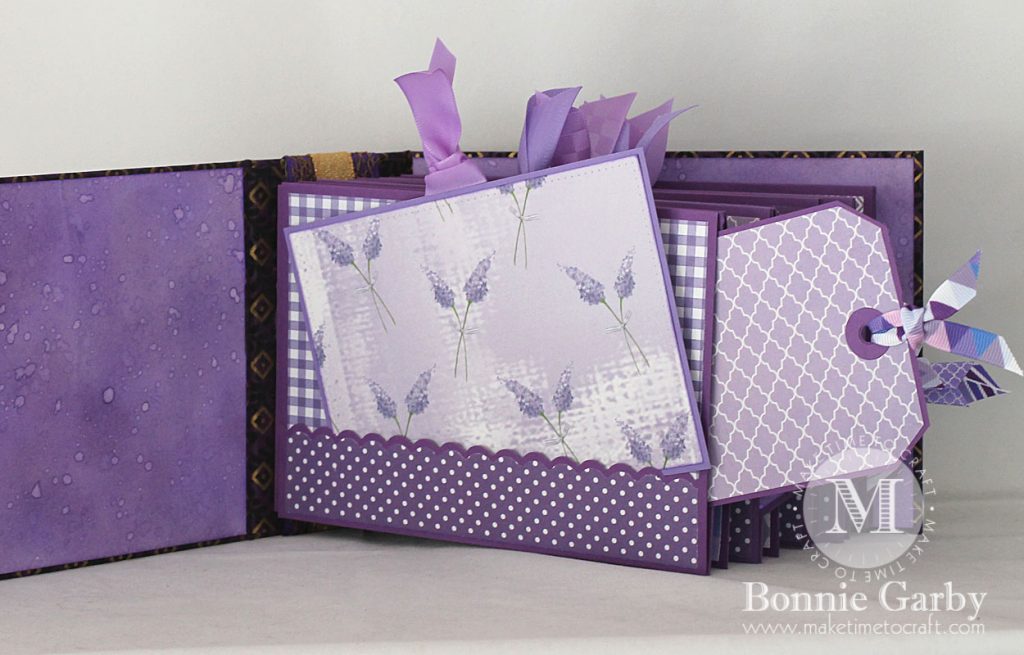 Each page also folds out for more photos and the second and fourth pages have an additional fold out which is secured by a magnet with the round embellishment over it.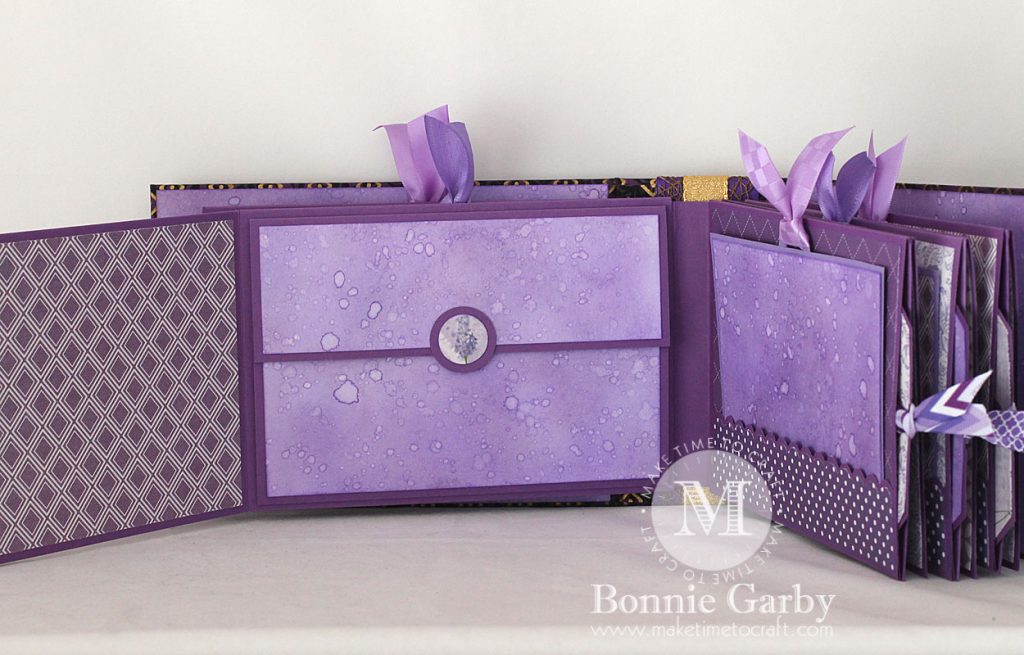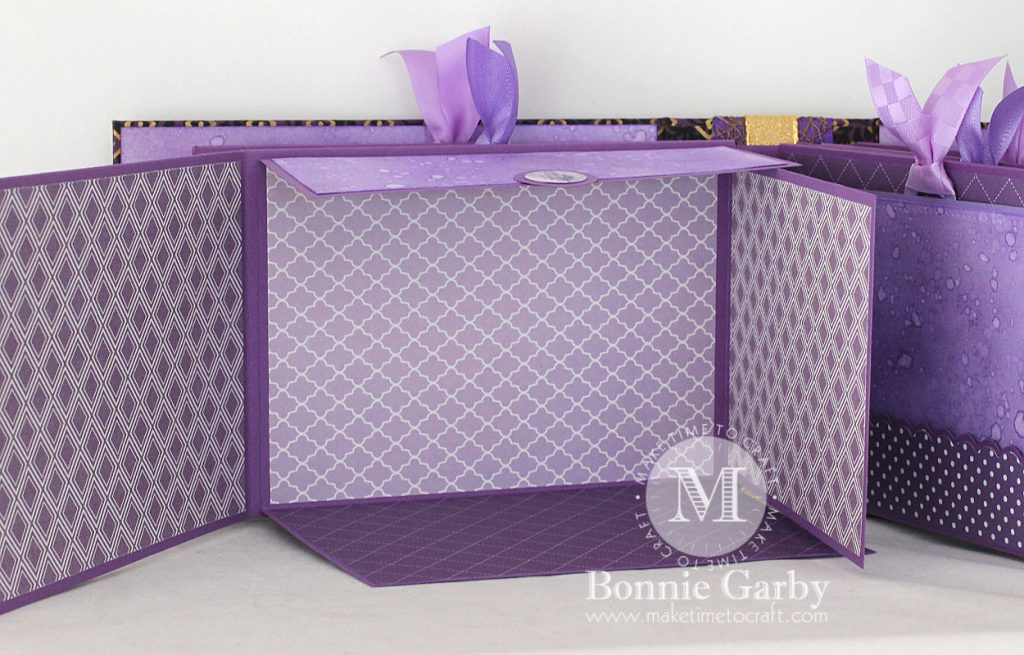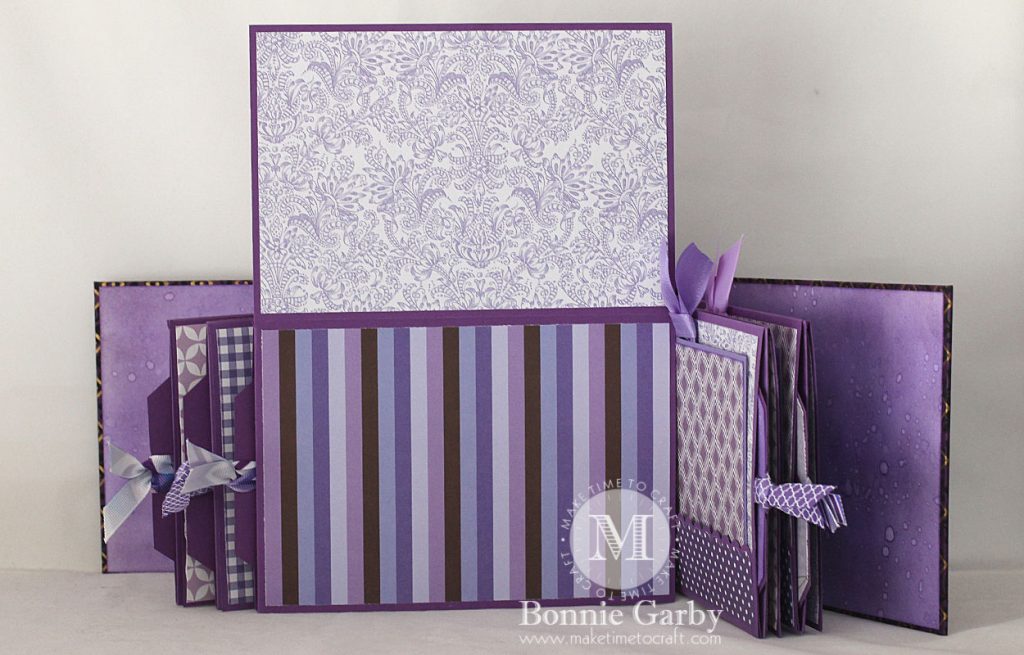 Each page will hold a minimum of  8 to 10 photos and there are five pages, so that's a LOT of photos.  While I did use design paper do decorate my album along with some pretty paper I made with Distress Inks, I left it so that the photos are the main attraction once they have been added.  I feel like the photos should be the main focus, with the design papers and embellishments enhancing them, not overpowering them.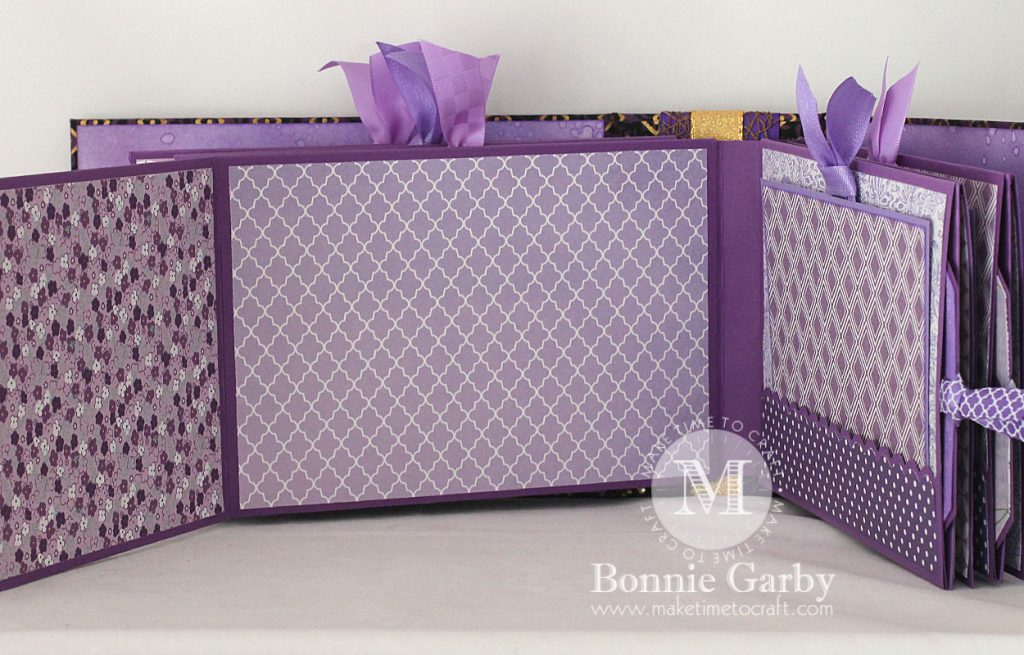 My mini album was topped off with a pretty bi-color bow created on my Bow-it-All V3.0 using two of the 5/8″ ribbon styles from the July Ribbon Club Assortment from Really Reasonable Ribbon.
I also added some Antique Gold Netting Ribbon over 1-1/2″ wide Regal Purple Double-Faced Satin Ribbon which was then topped with 5/8″ Gold Glitz Ribbon along the spine.  I added that layer of ribbon to the spine to accent the gold in the decorative paper that I selected for the album cover.
For a video tutorial on how to create this pretty bi-color bow, please click HERE.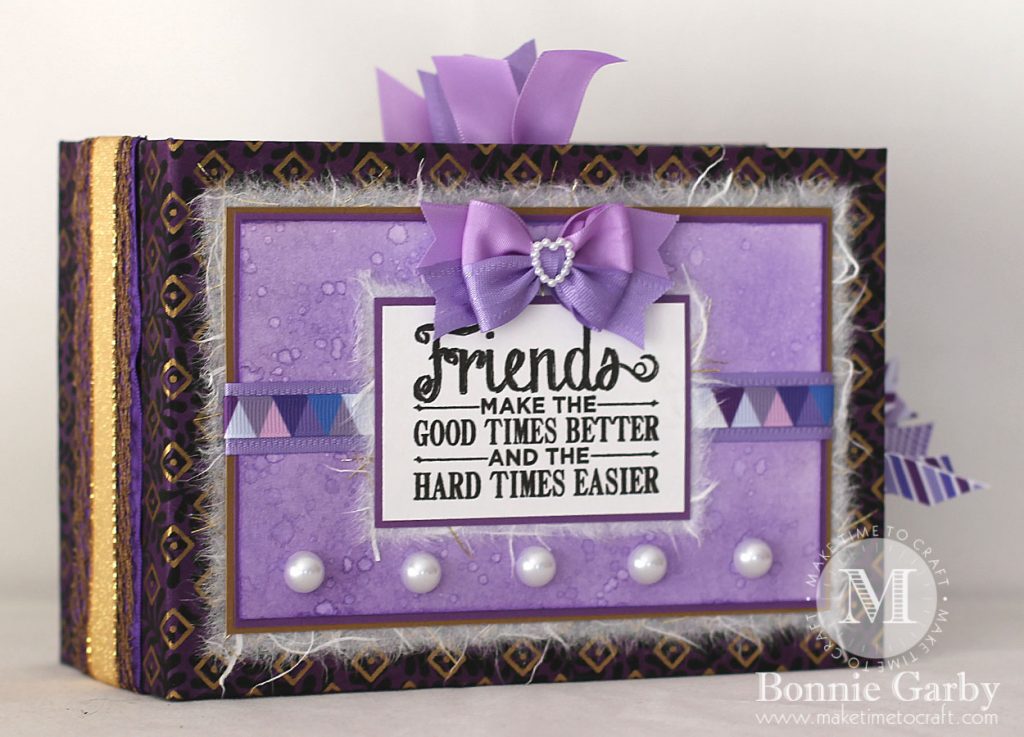 I'm entering my mini album in the following challenges:
613 Avenue Create #200 – Anything Goes
Word Art Wednesday #294/295 – Anything Goes
Crafting by Design – Anything Goes for August
Crafty Creations #347 – Anything Goes
Crafty Gals Corner #134 – Bingo 4  I have ribbon/free/pearls
TTCRD – Anything Goes
Crafting from the Heart #171 – Anything Goes