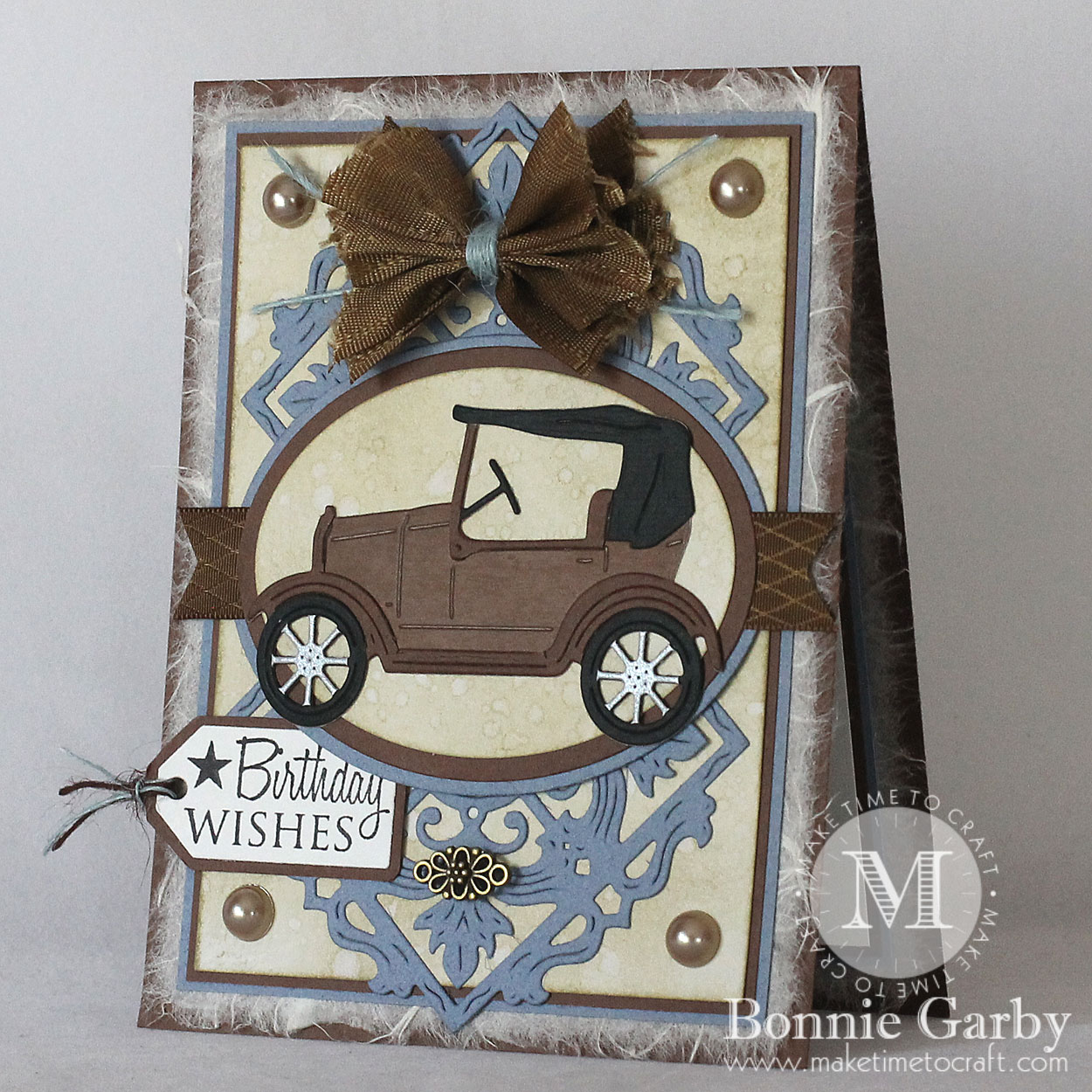 Welcome to the Cheery Lynn Designs July Vintage New Release Blog Hop.

If you arrived here from Cherry's Blog, you are on the right track. If not, why not head back to the Cheery Lynn Designs Blog and start from the beginning so you don't miss any of the terrific projects.
Be sure to hop along to all the stops and then comment on the post on the Cheery Lynn Blog answering one or more of the questions for a chance to win a $20 gift certificate to Cheery Lynn Designs.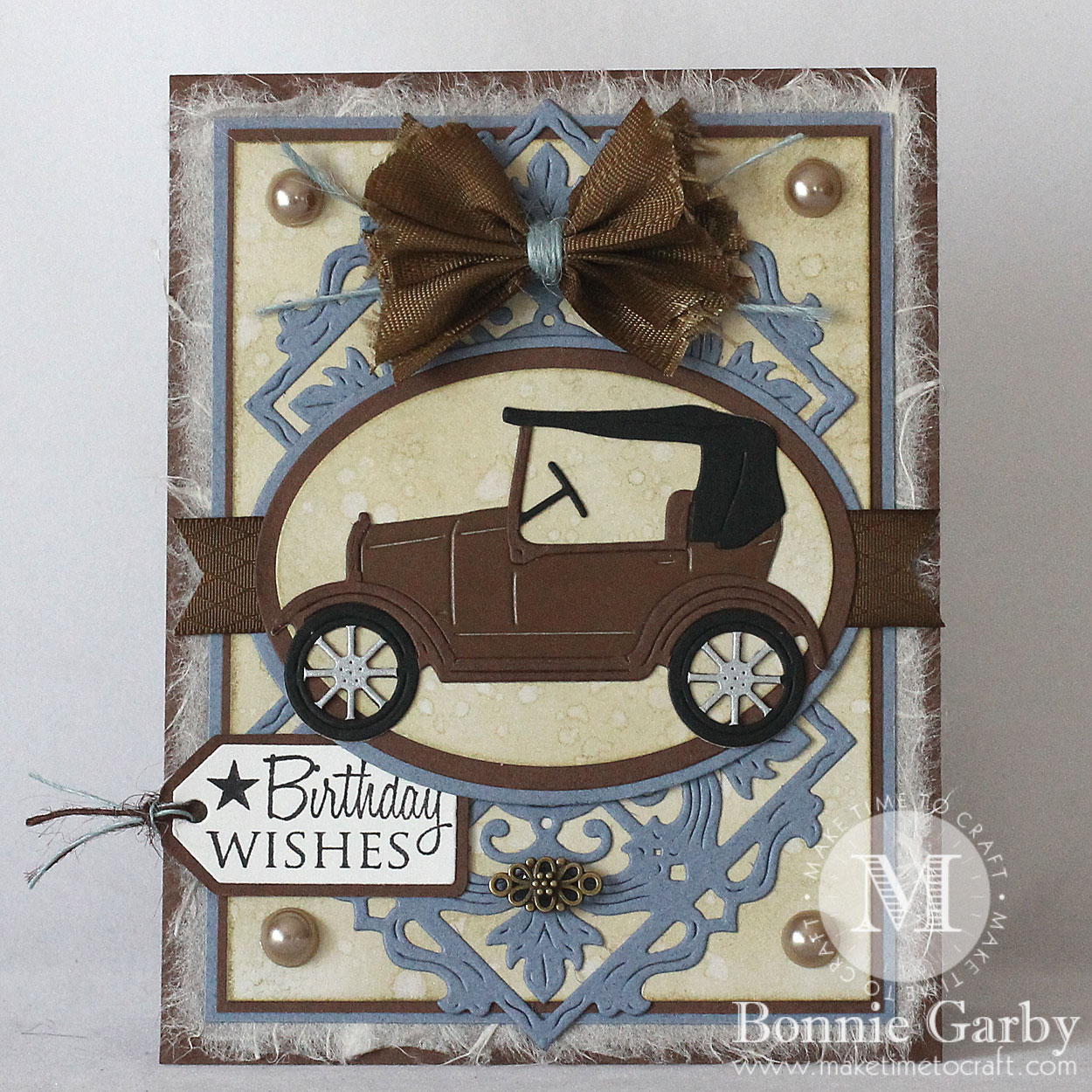 My card is A2 size (4-1/4″ x 5-1/2″) with a dark brown base.  I created some ivory background paper using Distress Inks.  I created some layers with blue and dark brown card stock along with natural mulberry paper.  That was topped off with the distress ink paper I made.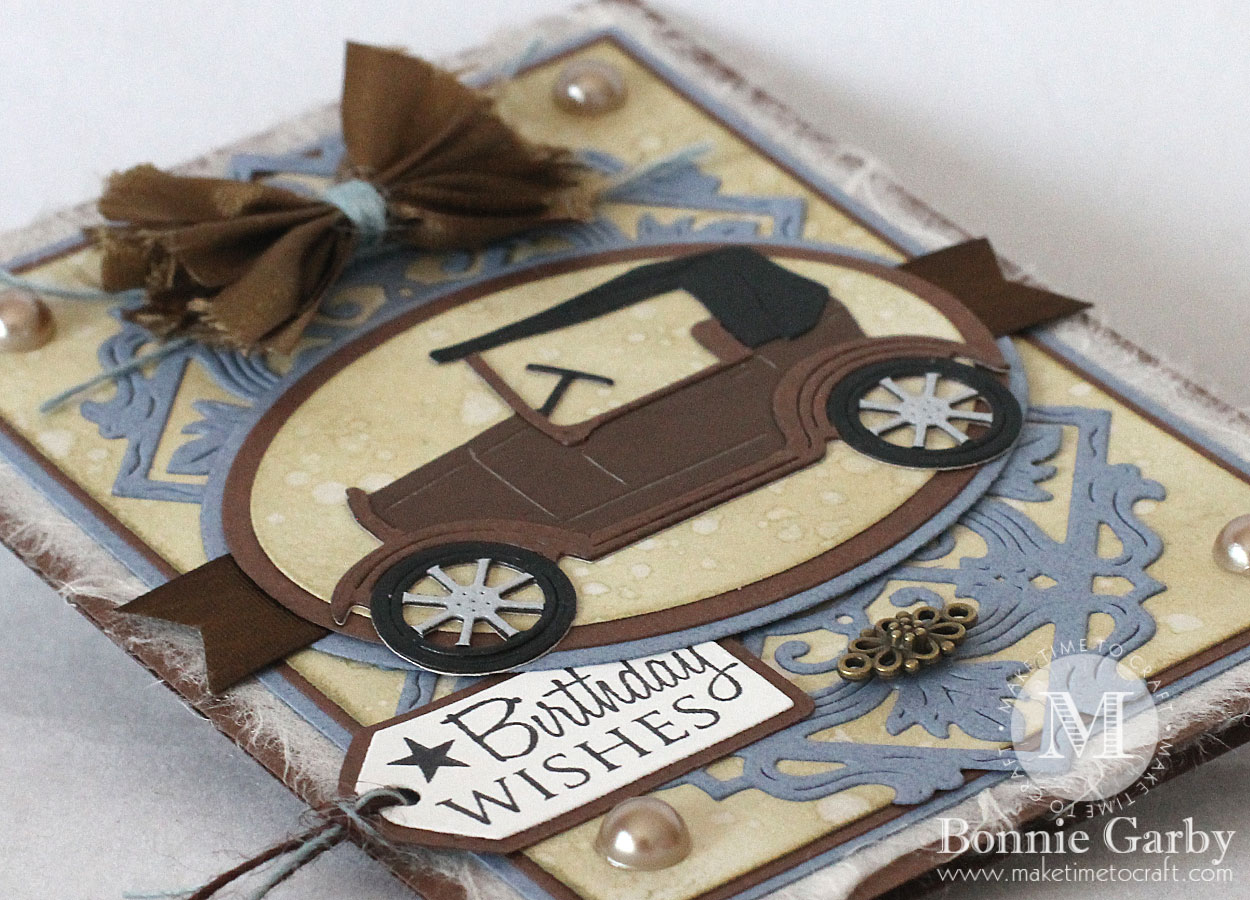 I cut the Vintage Tile die out of blue card stock twice to stack on my card.  I cut the Tin Lizze in dark brown, black and silver card stock and cut out different areas of each and added them to a base car which I cut out of dark brown metallic card stock to show off all the intricate details.  I layered the card on to my oval medallion and centered it on top of a dove tailed piece of brown ribbon.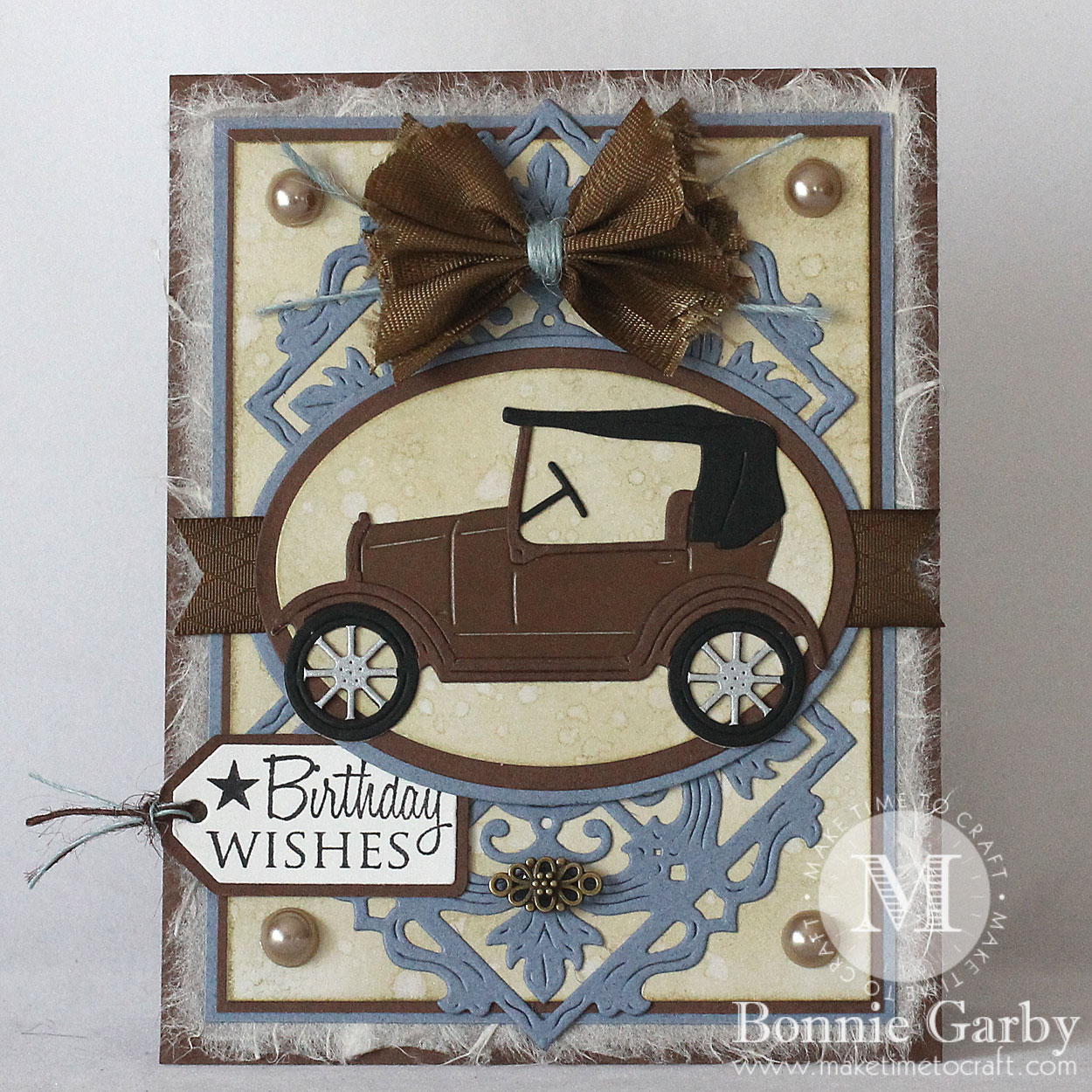 I stamped my sentiment on cream card stock and cut using one of the Nesting Doll Tag dies and added it to the bottom left of my card.I finished things off with a shabby bow and some golden brown half pearls along with a pretty
Antique Bronze Vintage Flower Charm
.
My shabby bow was created on my Bow-it-All V3.0 using Turftan Brown Delicate Stitched Satin Ribbon and Light Blue Burlap String from Really Reasonable Ribbon.
For a video tutorial on how I created this bow, please click HERE.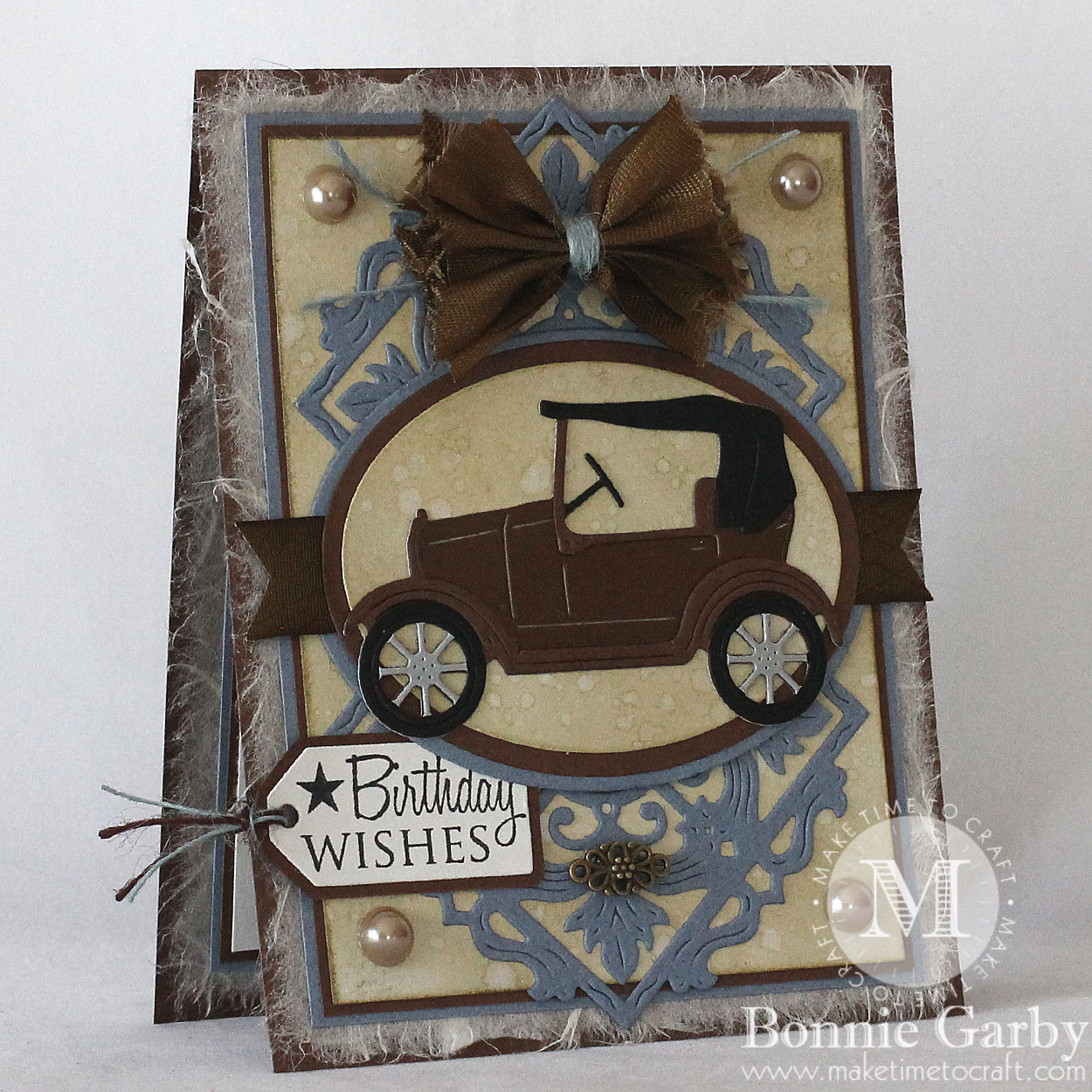 I'm entering my card in the following challenges:
613 Avenue Create #199 – Anything Goes
Word Art Wednesday #290/291 – Anything Goes
Creative Fingers #134 – Anything Goes
Jo's Scrap Shack FFC #197 – Anything Goes
Craft Rocket Challenges #39 – Anything Goes
Scrapy Land #69 – Anything Goes
Crafting with an Attitude #29 – Anything Goes
Crafting by Designs – July Anything Goes
Crafty Gals Corner #131 – Do it For the Dudes
Creative Moments #122 – Anything Goes
Inspiration Destination #132 – Anything Goes
The Male Room #64 – Add Texture
A Bit More Time to Craft #47 – Anything Goes
A Perfect Time to Craft – July Anything Goes
I would love for you to leave a comment before you go.
Supplies Used:
Dies:  Cheery Lynn Designs (see list and links above)
Ribbon – Really Reasonable Ribbon, Delicate Stitched Satin Ribbon, Burlap String 
Stamps – Gina K All Occasion Tags
Adhesive – Stick it, Scotch ATG, E6000
Zutter Bow-it-All V3.0
Zutter 9-in-1 Tool
Antique Bronze Vintage Flower Charm