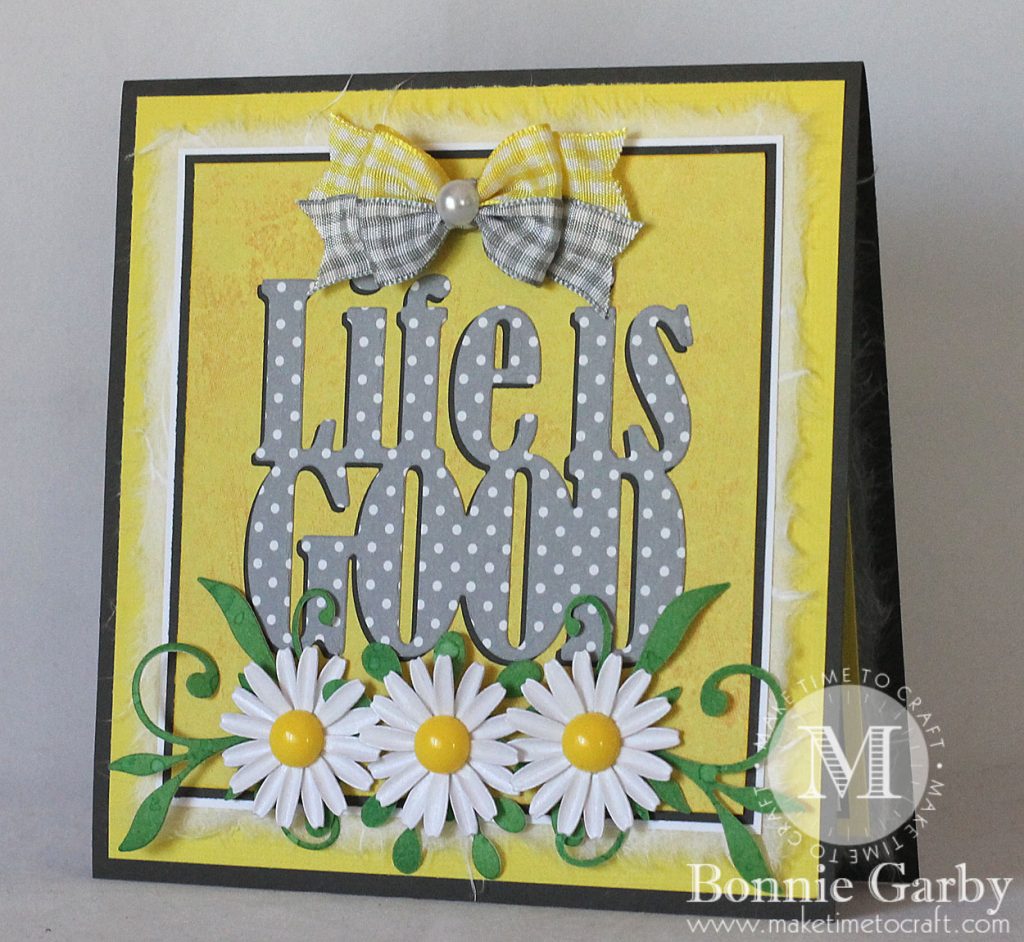 Welcome to the Cheery Lynn Designs Hello Summer Blog Hop.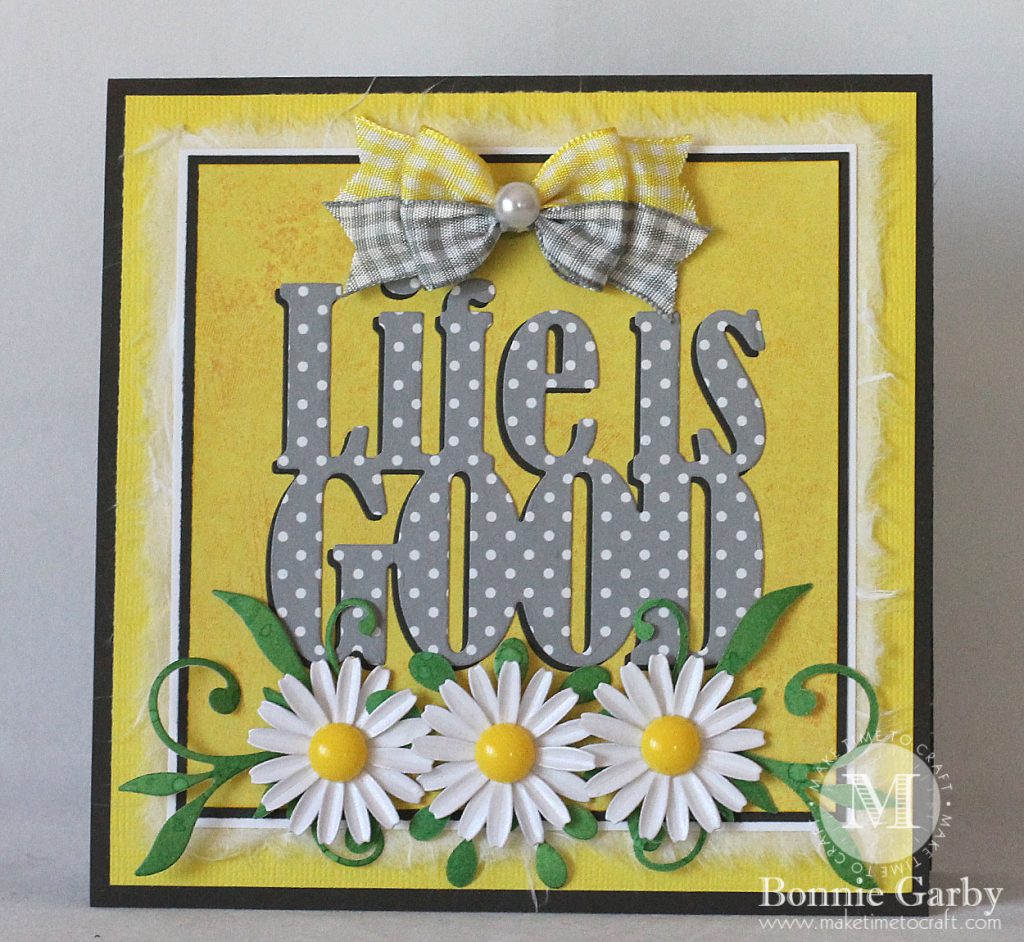 I do adore summer themed cards and this is no exception.  Don't these fresh and clean white daisies with the gray and yellow color palette just scream summer?
My card came together rather quickly and that is also a plus for summer crafting when time is short.  My card base is a 5-1/2″ square and I added some layers of yellow, white and gray to frame my sentiment.  I cut my sentiment twice, once in dark gray and once in a lighter gray polka dot design paper and layered them to create a shadow effect.  After layering the two pieces, I adhered the sentiment to the center of my card.  My flowers are simply three layers of the smallest daisy with the petals curved slightly up and layered together.  The center is a yellow 1omm resin flatback bead.  I created a bed of greenery under my sentiment and added the flowers on top of that.
For a video tutorial on how to create beautiful daisies with this Shasta Daisy die, please click HERE.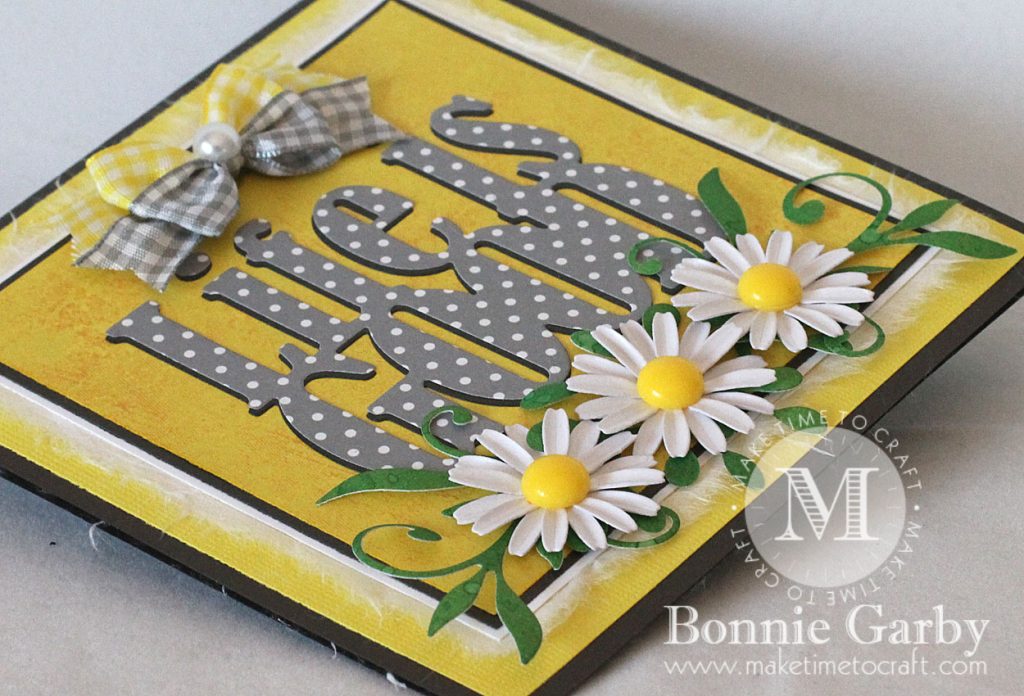 I finished off my card with a pretty plaid bi-color bow made on my Bow-it-All V3.0 using 5/8″ Yellow and Gray Plaid Ribbon.  Plaid is a perfect ribbon for summer themed projects.
For a video tutorial on how to make this pretty bow, please click HERE.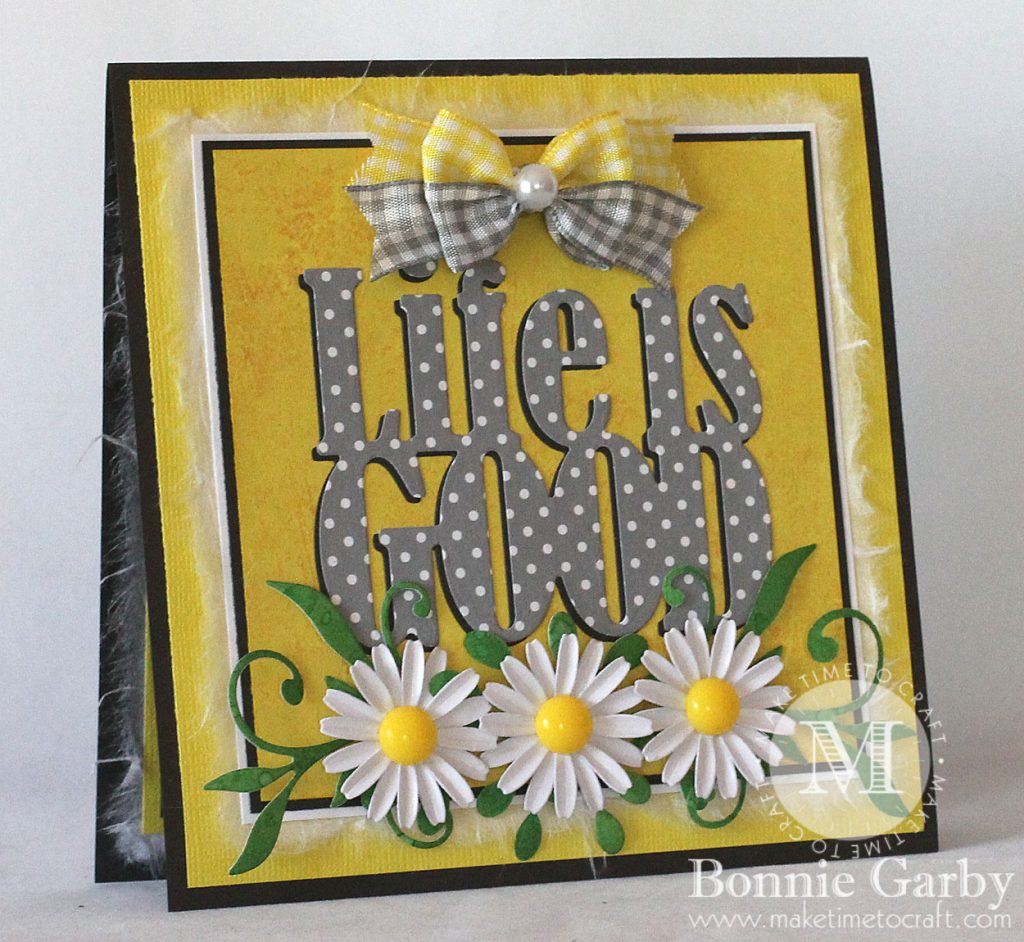 I'm entering my card in the following challenges:
613 Avenue Create #197 – Anything Goes
Word Art Wednesday #282/283 – Anything Goes
Crafty Friends #58 – Summer Colors
Crafting with Friends #43 – Anything Goes
Crafty Catz #371 – Anything Goes with Twist of more than 2 layers
Creative Fingers #130 – Anything Goes
Simply Papercraft #46 – Anything Goes
Aud Sentiments #180 – Anything Goes with a Sentiment
Crafty Creations #341 – Anything Goes
Crafty Gals Corner #123 – Add Flowers
Creative Moments #118 – Anything Goes
Double D Challenges – Flowers Galore
Inspiration Destination #128 – Anything Goes
The Crafty Addicts #36 – Add a Sentiment
TTCRD – Anything Goes

I would love for you to leave a comment before you go.
Be sure to stop by the Cheery Lynn Designs website and take a look at all the fun
Summer themed dies
 when you are finished with the hop.
Supplies Used:
Dies:  Cheery Lynn Designs (see list above)
Ribbon – Really Reasonable Ribbon  Plaid Ribbon
Paper – Yellow marbled design paper – The Paper Studio; Gray Polka Dot – Recollections
Adhesive – Stick it, Scotch Advanced Tape Glider
, Designer Dries Adhesive
, E6000
Zutter Bow-it-All V3.0
Zutter 9-in-1 Tool
Yellow 
1omm Resin Flatback Beads