Hi friends.  Hope you are all having a fantastic weekend.  I have something different for you today.  I did a card specifically for a challenge.  Go figure!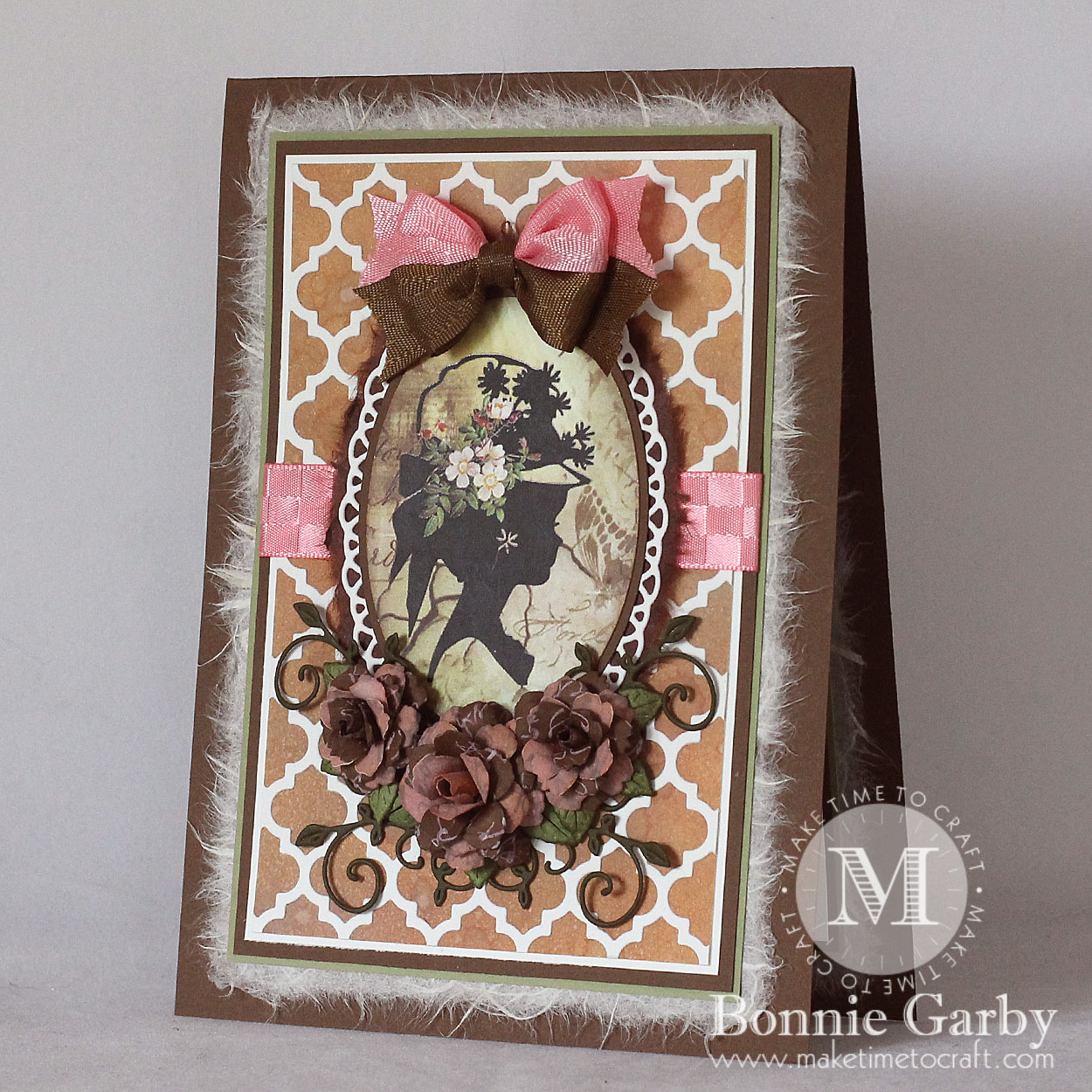 I actually am never really able to do that because I have to work way ahead because I have limited time in my craft room, but when I saw the Silhouette themed challenge up on the Double 'D' Challenge blog, I had the PERFECT image to use and I just had to go for it.  Of course that meant last minute scrambling to get it done in time, but I did.  So proud of myself!!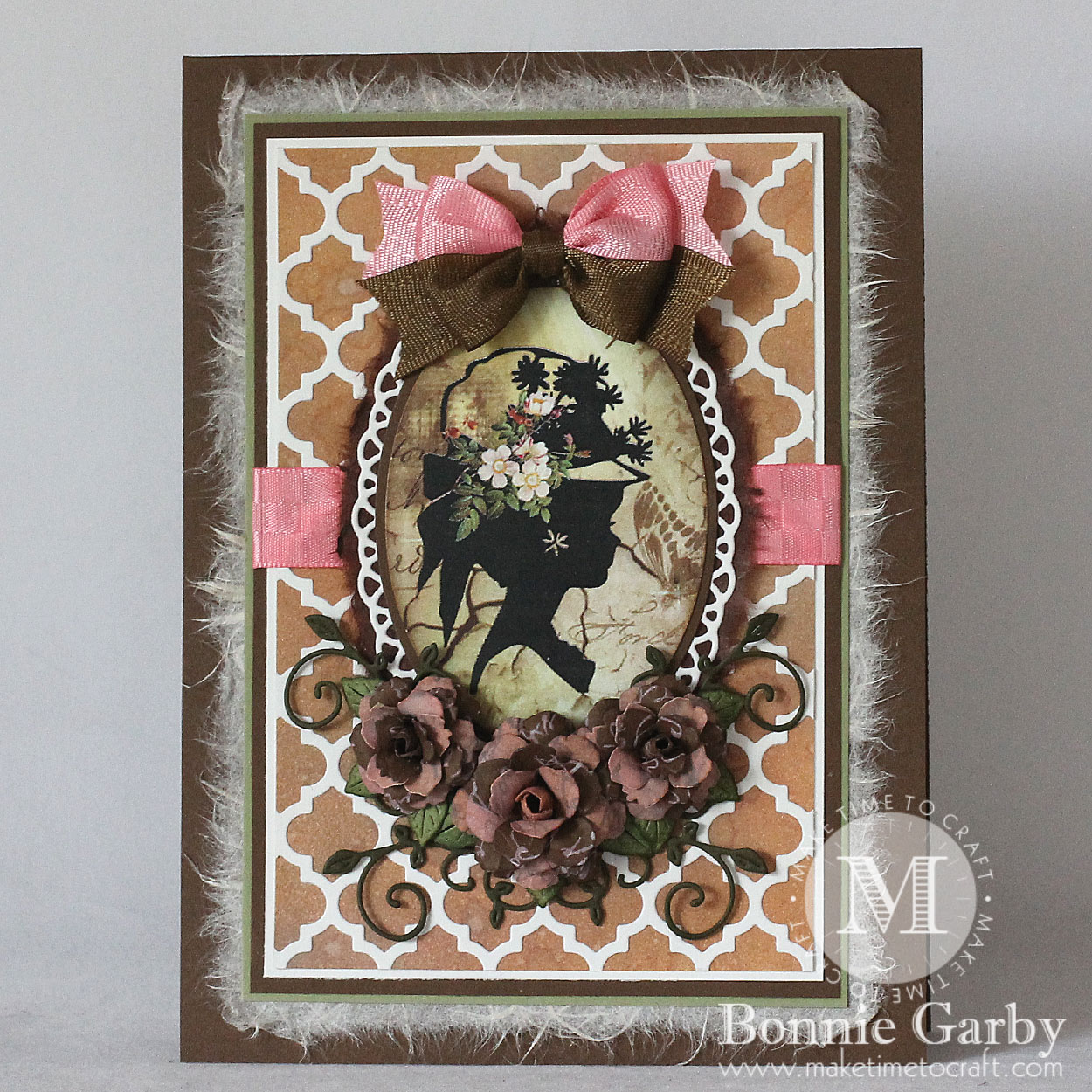 This also isn't my usual style, but I'm pleased with the results.  I created my background paper while playing around with my Distress Oxide Ink Pad Set
.  I would list the colors I used, but it was one of those 'don't know when to stop' deals, and I pretty much used all the browns, pinks and a little red.  It doesn't show up as well as I'd like in the photos, but the background is a bit of a mottled brown.  I did spritz it and dry it with my Heat It Craft Tool several times while building layers of color.  I'm still in the playing stage with these fun new inks.  I used the same paper with a little more pink ink added for every other layer in my roses along with solid brown cardstock that I inked a little with an old script stamp using worn lipstick Distress Oxide Ink.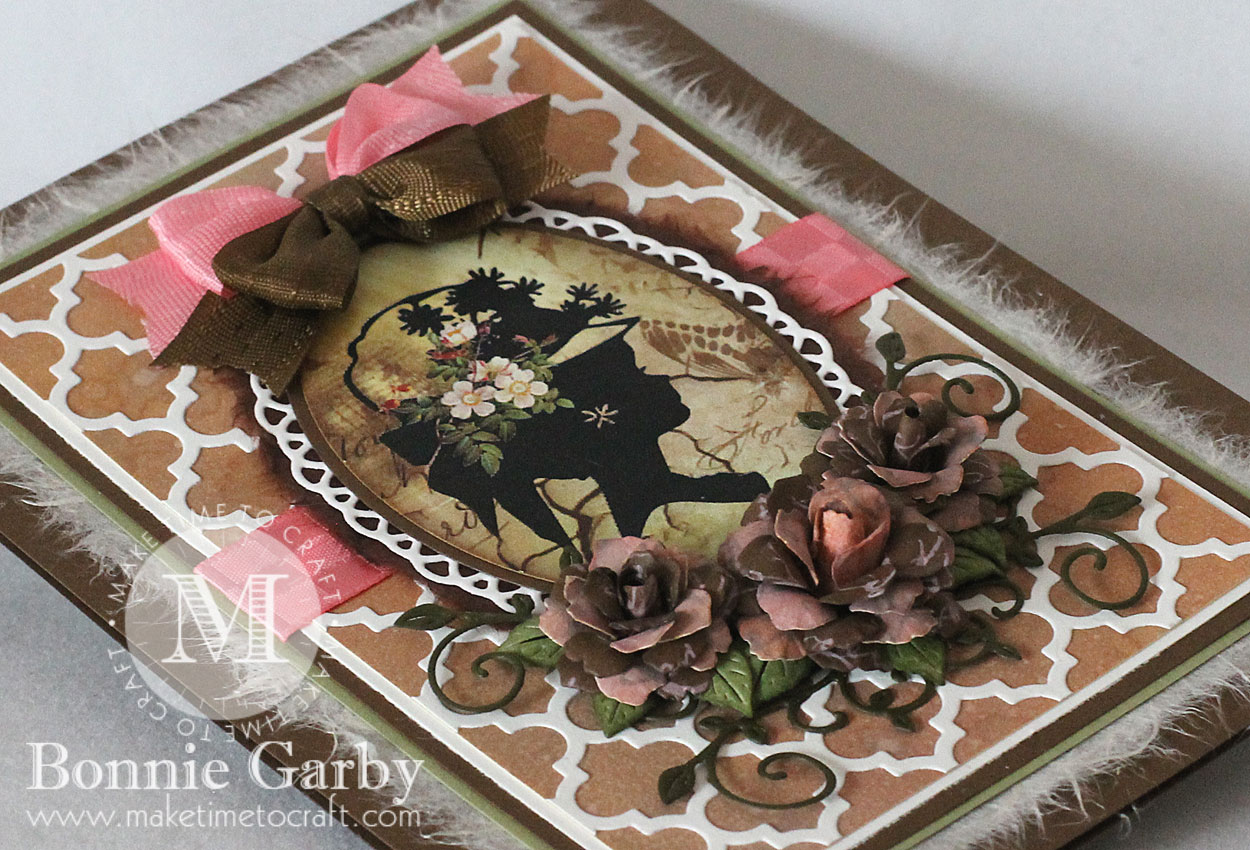 I also want to give a shout out to 'stampoutonline' on Etsy where I got my cool new 'Handmade by' stamp.  I just love the cool font they used.  They have lots of great style options and their customer service is top notch, so if you need a custom stamp, stop over and take a look.  Tell 'em Bonnie from Make Time to Craft sent you over.  (I have no affiliation with them, I'm just really pleased with my order and the service I received.)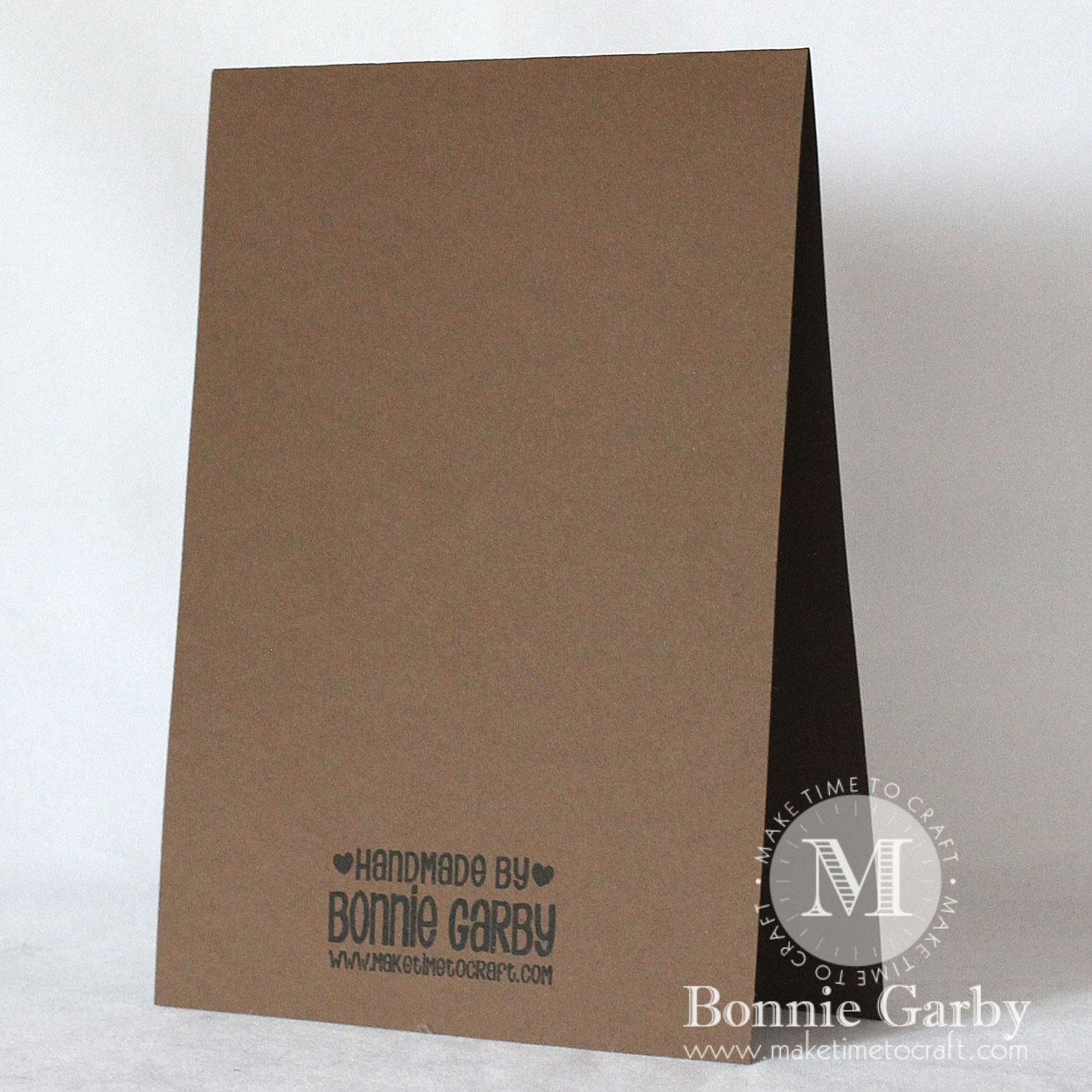 My bi-color bow was created on my Bow-it-All V3.0 Tool using Coral Rose and Turftan Brown Delicate Stitched Satin Ribbon from Really Reasonable Ribbon.  I also ran a piece of Coral Rose Checkerboard Satin Ribbon across the middle of the card under the image.
For a video tutorial on how I made this pretty bow, please click HERE.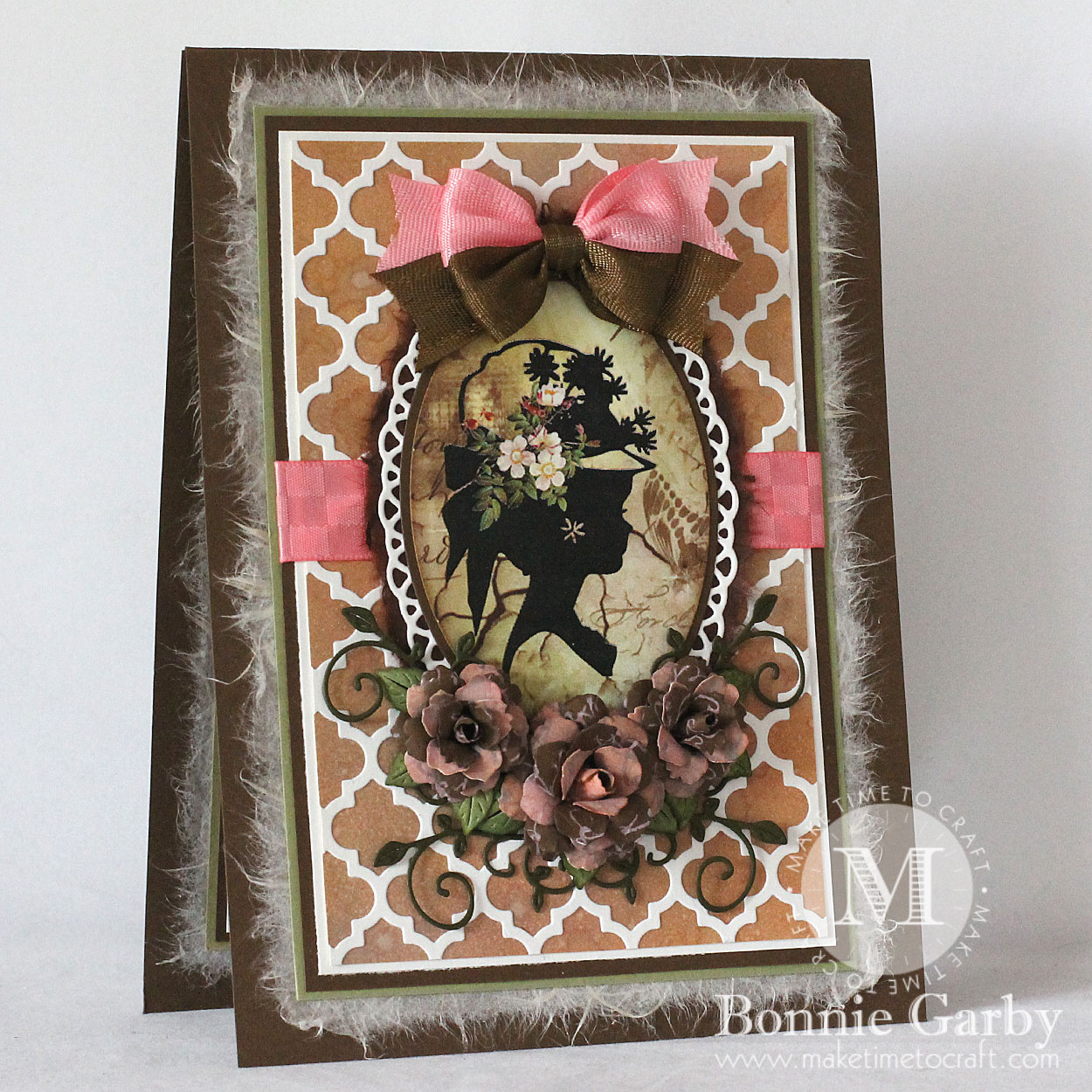 I'm entering my card in the following challenges:
Double 'D' Challenges – Silhouette
613 Avenue Create #196 – Anything Goes
Time Out Challenges #82 – Flowers w/optional twist of 'kissing'
Crafty Creations #340 – Anything Goes
Crafty Gals Corner #120 – Anything Goes
Inspiration Destination #127 – Anything Goes
TTCRD – Anything Goes
Unicorn Challenge #20 – Petal Power
Crafting from the Heart #156 – Anything Goes
Dragonfly Dreams – April Anything Goes
Glitter N Sparkle #236 – Anything Goes
The Corrosive Challenge #4 – Anything Goes
Crafts Galore Encore – Anything Goes
Creative Ladybirds #25 – Anything Goes
Delicious Doodles – Ribbon and flowers
Eclectic Ellapu – Shabby Chic or Vintage
Happy Little Stampers – Anything Goes with dies
A Vintage Journey – The Magic of Three
Crafting with Friends #42 – Anything Goes
Crafty Catz #368 – Anything Goes with Twist of no designer paper
Fussy and Fancy #186 – Anything Goes
Jo's Scrap Shack FFC #186 – Anything Goes
Simply Papercraft #46 – Anything Goes
Supplies:
Ribbon:  Really Reasonble Ribbon
Digital Image:  Cobra Graphics Vintage Silhouettes
Dies:  Cheery Lynn Designs  FRM153 Quatrefoil A2 Frame 1
, M7 Oval Classic Stacker Layers Small Silver
, XM7 Oval Die
, B435 Tea Rose Small
, B436 Tea Rose Medium
, B387 Tiny Fanciful Flourish Right & Left

Zutter 9-in-1 Tool

Zutter Bow-it-All V3.0
Distress Oxide Ink Pads Set

small spray bottle
Ranger Heat It Craft Tool

Adhesives:  Stick It Adhesive Sheets
, Scotch Advanced Tape Glider
, Designer Dries Clear Adhesive
, E6000

Natural Mulberry paper
stylus and foam pad for shaping flower petals