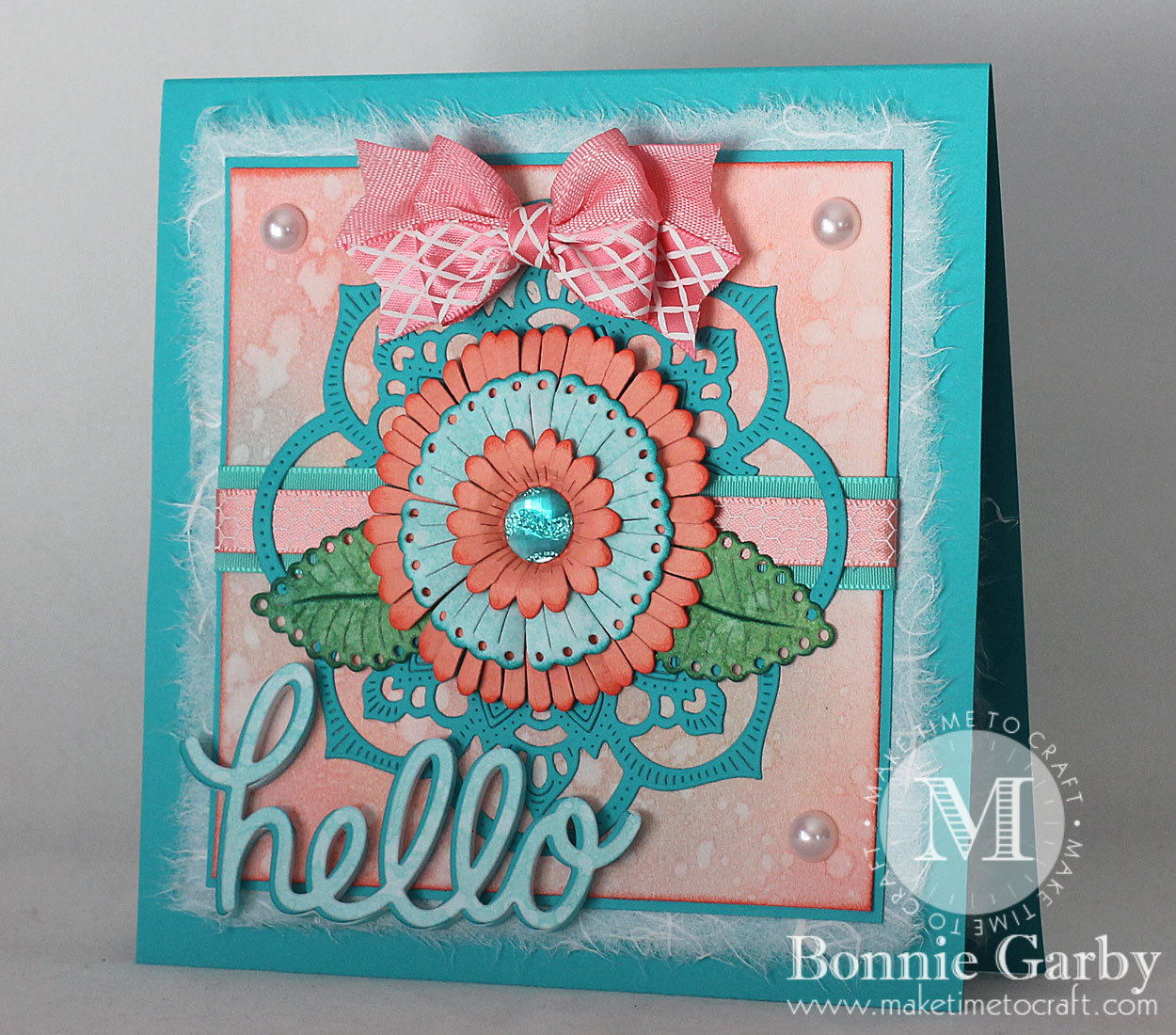 Welcome to the Really Reasonable Ribbon April Blog Hop.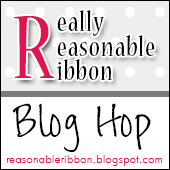 If you arrived here from Cheryl's blog, you are on the right track. If not, why not head back to the

RRR Blog

and start from the beginning so you don't miss any of the terrific projects.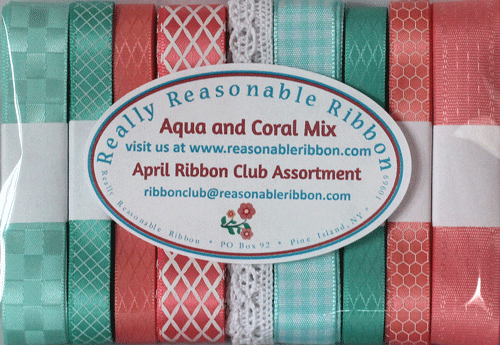 Not a member yet?
JOIN TODAY!
The April Ribbon Club Assortment is an Aqua and Coral Ribbon Mix that contains 9 styles and a total of 18 yards of ribbon.  Each monthly assortment is a holiday or color themed assortment of ribbon.  What a fun way to build your ribbon stash and try new ribbon styles.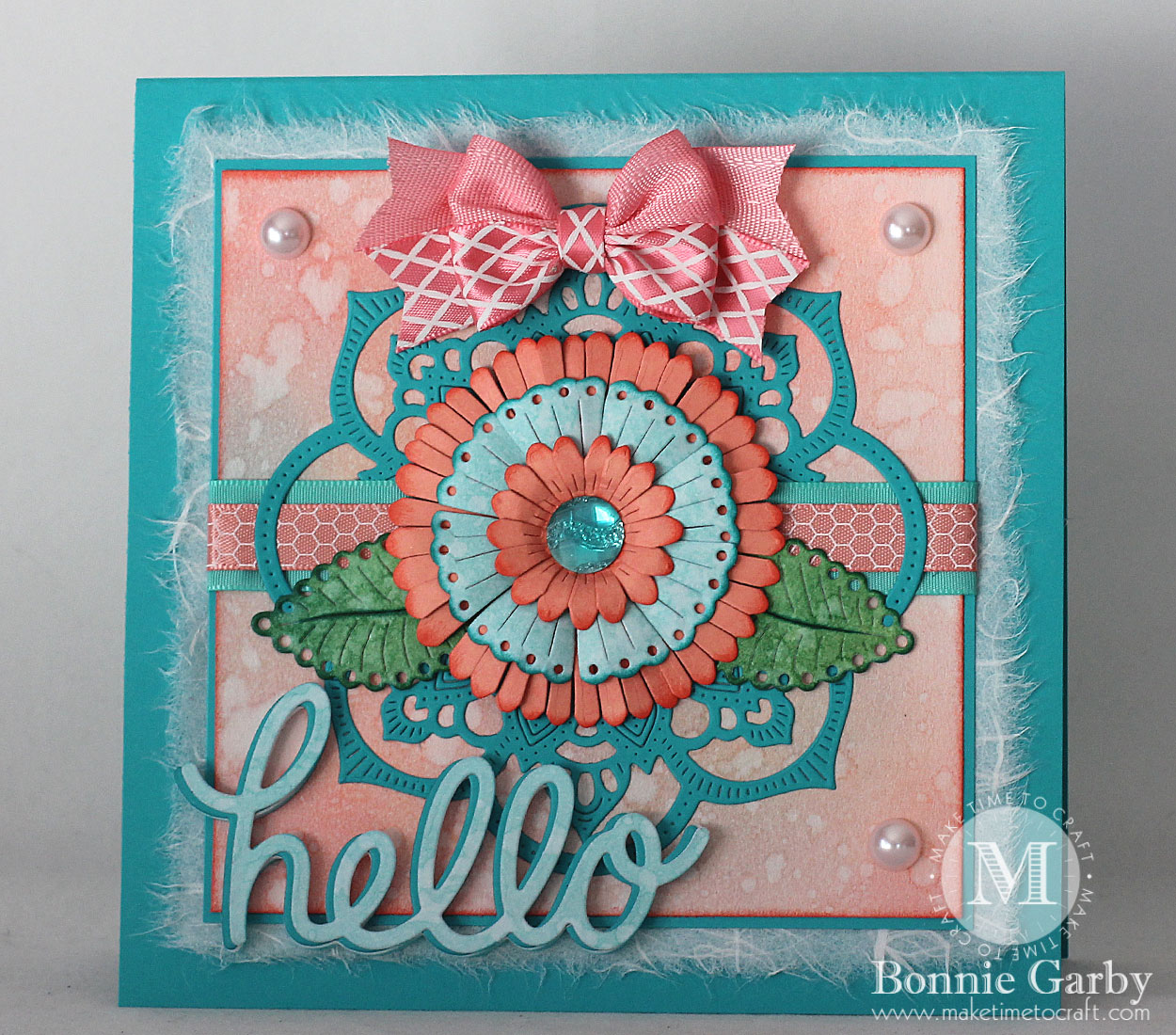 So, I have a lot going on here.  Where to start….
As you may have noticed, I've been on a kick with the distress ink background papers.  You can see that here.  I didn't have paper in exactly the color I wanted, so I made some!
My dies are all from Cheery Lynn Designs.  My card base is 5-1/2″ square and then I just built my layers.  You can pretty much see what I did from the photos.  My flower was shaped with a foam pad and stylus for a little dimension and then assembled.  It was finished off with a 12mm Dotted Wave Rhinestone.  I've also embellished the corners of the card with 8mm White Flat Back Pearls.  Really Reasonable Ribbon now carries a large variety of pretty Embellishments at really reasonable prices.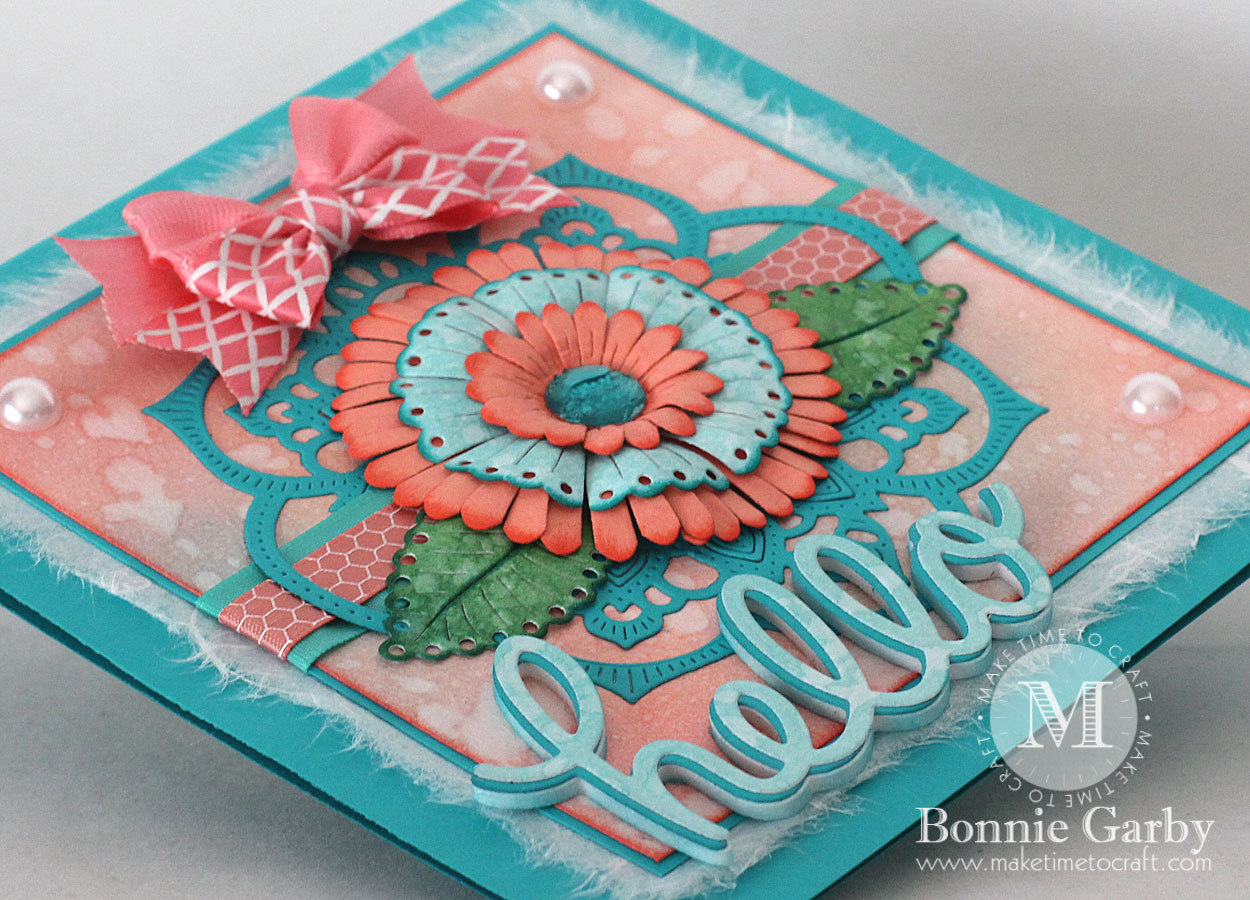 My beautiful bi-color double-loop bow was created on my Bow-it-All V3.0 using two of the 5/8″ ribbons from the April Ribbon Club Assortment.
For a video tutorial on how I created this bow, please click HERE.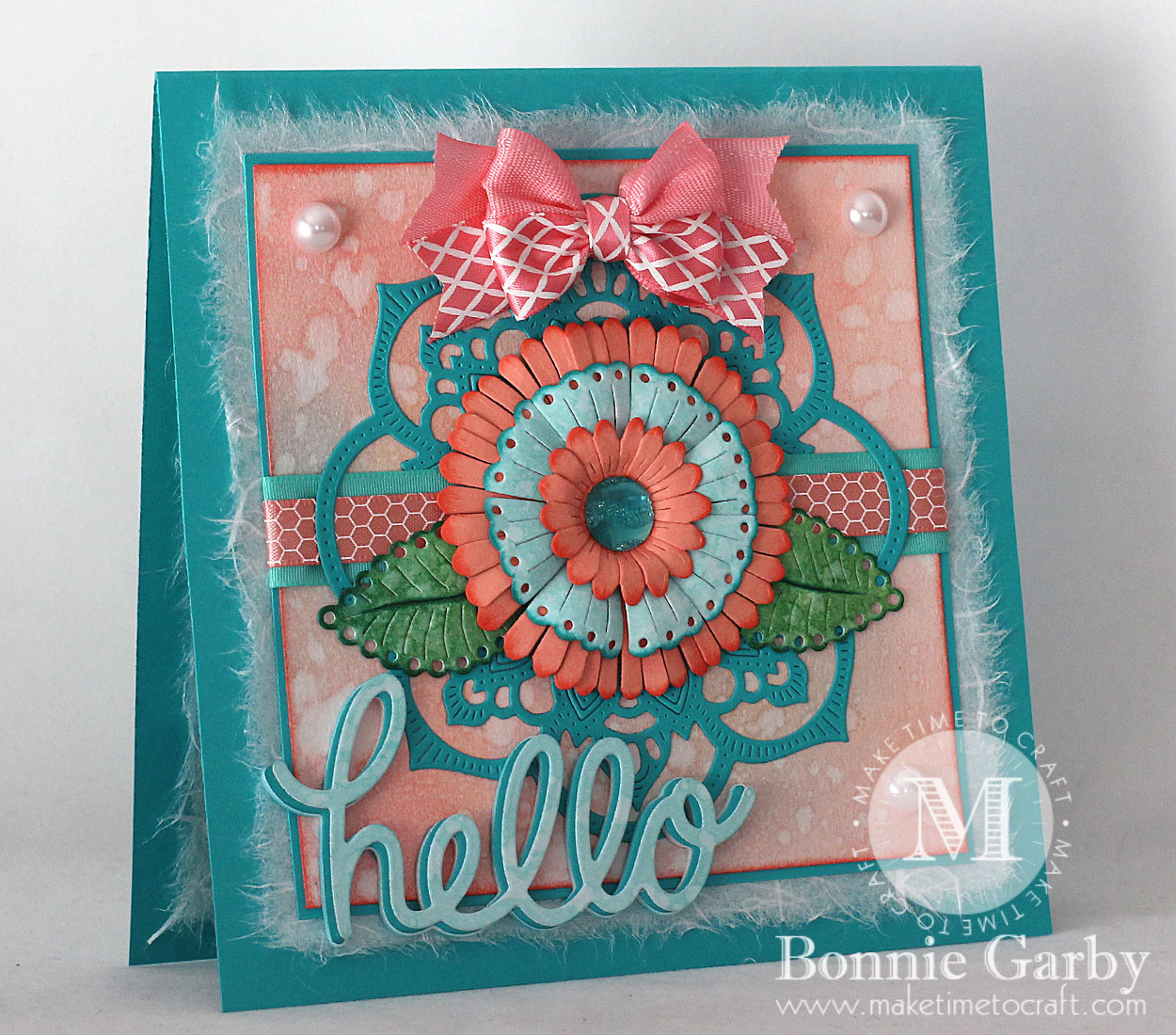 I'm entering my card in the following challenges:
613 Avenue Create #196 – Anything Goes
Word Art Wednesday #278/279 – Anything Goes
Crafting by Designs – Girls or Flowers
Crafty Creations #339 – Anything Goes
Creative Moments #115 – Anything Goes
Inspiration Destination #126 – Anything Goes
Scrapy Land #63 – Anything Goes
Stinkin' Inkers #1 – Showers of Flowers
TTCRD – Anything Goes
Jo's Scrap Shack FFC #183 – Anything Goes
Always Fun Challenges #1 – Anything Goes
Crafting from the Heart #154 – Anything Goes
Use Your Stuff #259 – Flowers
Now for my headband of the month:
This headband was created on a 1/2″ White Plastic Headband using the two 3/8″ printed satin ribbons from the  April Ribbon Club Assortment.  
For a video tutorial on how to create this headband, please click HERE.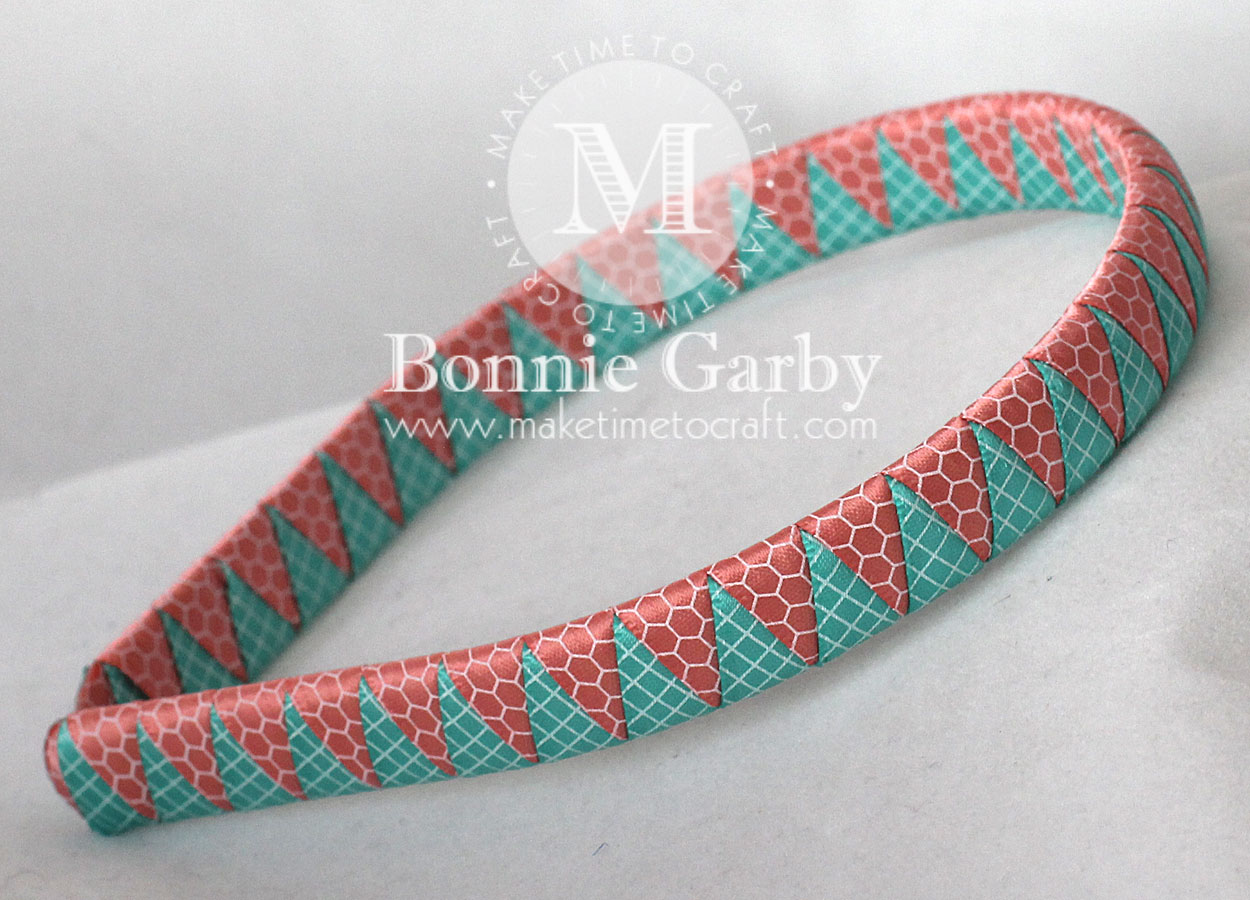 I would love for you to leave a comment before you go.
Supplies
Ribbon:  Really Reasonable Ribbon April Ribbon Club Assortment
Dies:  Cheery Lynn Designs B871 Bohemian Word Set, B862 Mehndi Botanicals 1, DL327 Mandala Doily 2
Ink:  Distress Dried Marigold, Tattered Rose, Abandoned Coral, Worn Lipstick, Tumbled Glass, Peacock Feathers, Evergreen Bough, Bundled Sage, Mowed Lawn, Pine Needles

Adhesives: Stick It Adhesive Sheets
, Scotch Advanced Tape Glider
, Designer Dries Clear Adhesive Glue
, E6000

Zutter Bow-it-All V3.0
Zutter 9-in-1 Tool

White Mulberry Paper