If you arrived here from
Amber's blog
, you are on the right track. If not, why not head back to the
RRR Blog
and start from the beginning so you don't miss any of the terrific projects.
This month the
Really Reasonable Ribbon Monthly Ribbon Club Assortment
is a fabulous black and white collection of ribbons that is a great base for your ribbon collection. You can use these ribbons on just about any project!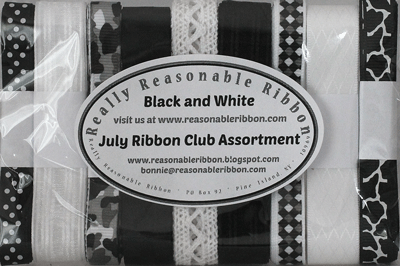 These fun monthly color or holiday themed ribbon collections are a great way to build your ribbon stash and try out different ribbon styles.
Subscribe today
and begin with this gorgeous assortment.
I created a beautiful black and white bi-color bow on my Bow-it-All V2.0 using two of the ribbon styles from the July assortment. For a video tutorial on how this bow was created, please click HERE.
I ran a piece of the same black checkerboard satin ribbon that I used for the bow across the middle of the card under the sentiment and I topped it with the black giraffe print grosgrain ribbon. Just enough ribbon pizzazz for a CAS card.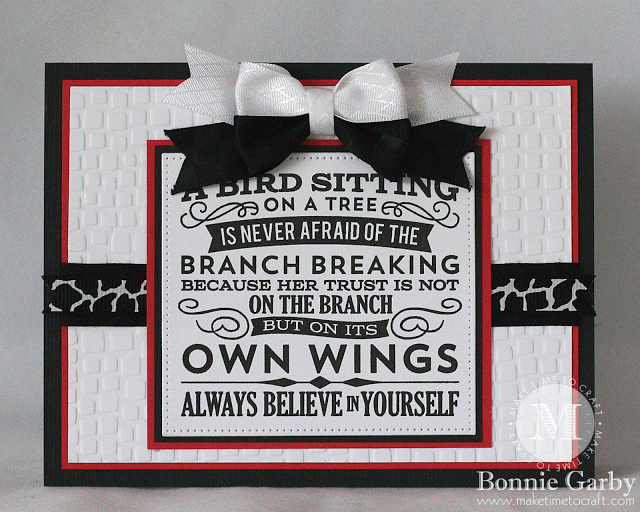 I'm entering my card in the following challenges:
613 Avenue Create #132 – Anything Goes
Inspiration Destination #41 – Anything Goes
Mod Squad Challenge – Fast and Easy
Penny's Paper Crafty #235 – Anything Goes
Word Art Wednesday #191 – Anything Goes
Loves Rubber Stamps #159 – Anything Goes
Yes, I did a monthly headband too.
I selected the black giraffe print grosgrain ribbon and I added some solid white Grosgrain Ribbon for the 'twist' part. I just love how this turned out. The contrasting colors really makes the design 'pop'.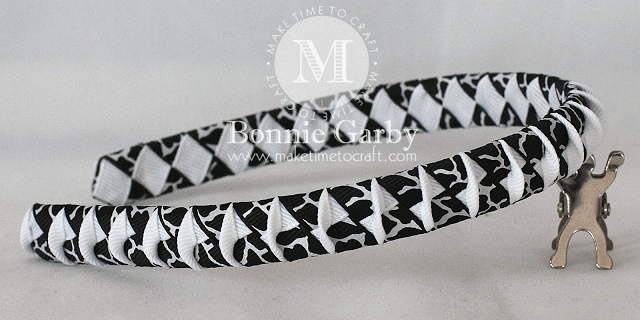 If you'd like to make one for your favorite young lady, you can view my Woven Ribbon Headbands with a Twist tutorial on YouTube.
I would love for you to leave a comment before you go.