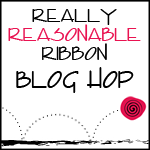 If you arrived here from
Cherry's Blog
, you are on the right track. If not, why not head back to the
RRR Blog
and start from the beginning so you don't miss any of the terrific projects.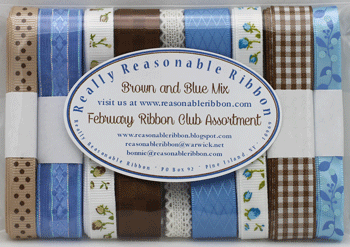 This month the
Really Reasonable Ribbon Monthly Ribbon Club Assortment
is made up of yummy blues, browns and ivory. I just love all the look of it. Isn't it fun??! The blues and browns are wonderful for masculine projects, and if you want to add a touch of feminine, there are two pretty delicate rose prints.
I couldn't make up my mind this month, so I have three projects to show you. Woohoo!!
First up I have a Thank You card. You should always have a couple of those on hand, right? I did a fun little triple ribbon banner down the front under the sentiment and added a gorgeous double-bow made with my Bow-it-All Tool.
If you are still on the fence about investing in this tool, you should go for it!!
You can view my Bow-it-All video tutorials HERE.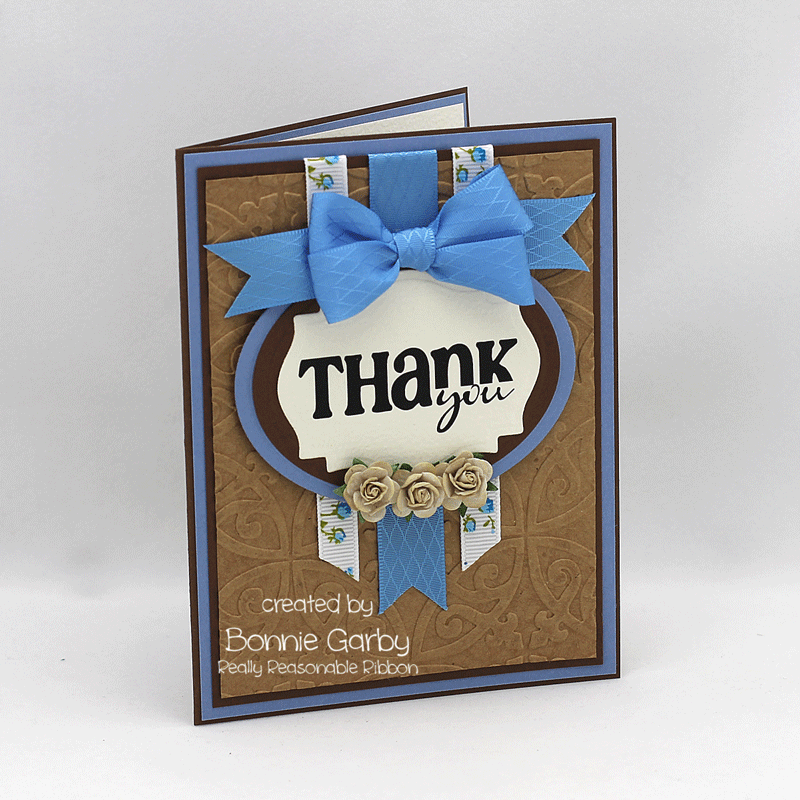 Next up is a birthday card. So far I'm two for two on birthdays this year!! Woohoo. Still building my stash though so I'll be ready for anything!! Although this is mainly blues and browns, it's still a girly card with the flower print paper and the big bow. I've been downloading some cool fonts to my computer lately so I can make my own sentiments in whatever size I need. This font is called Chocolate Covered Raindrops and I love it.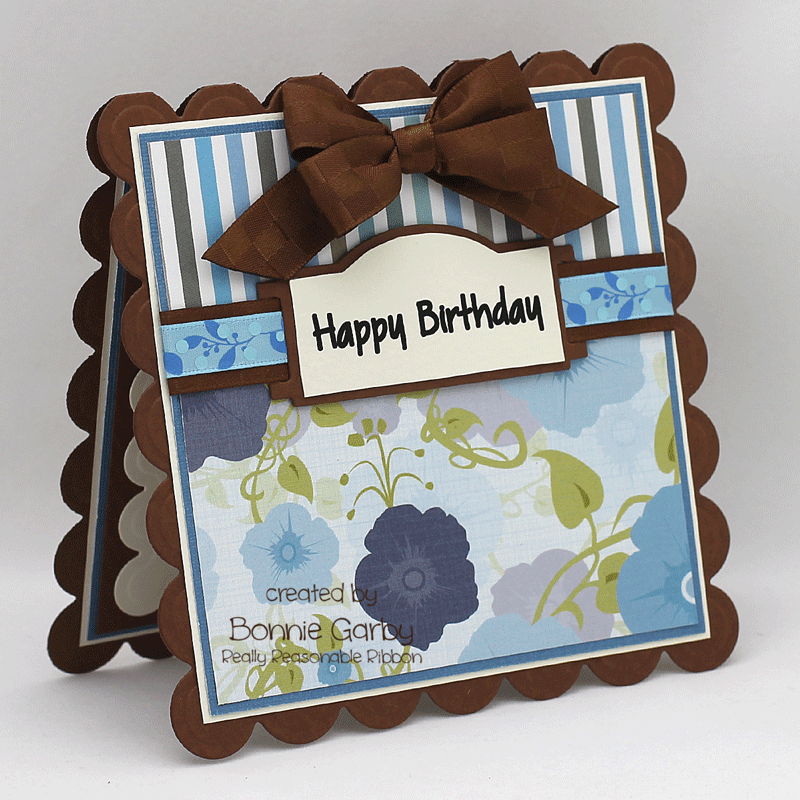 Again I have a pretty double-bow made with my
Bow-it-All Tool
and I also ran a piece of 5/8″ Checkerboard Ribbon with a 3/8″ piece of Blue Mist Leaves and Berried Satin centered on top across the center of the card which holds the birthday sentiment label on. It also works to cover the seam where the two design papers meet.
Here's a peek at the inside. This is a digi sentiment from Create with TLC.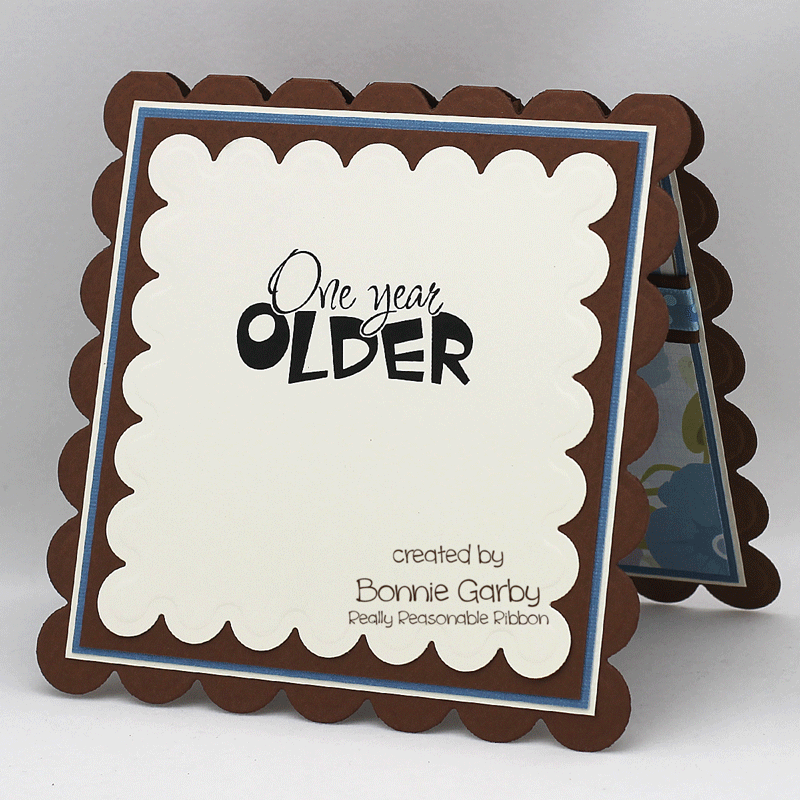 And, here is my monthly headband.
I do love making woven ribbon headbands. This one is so easy, anyone can do it. If you missed my tutorial, you can find it
HERE
.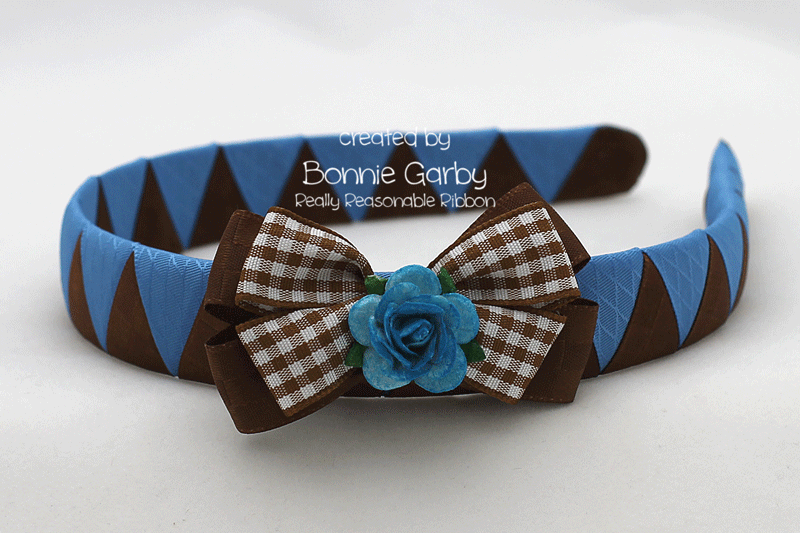 As always, my bow is detachable to you can wear the headband with or without the bow. The middle of the bow has a
20mm Mulberry Open Rose
. I started with a baby blue rose, but it was too pale, so I inked it up a bit with a darker blue color so it would match the ribbon. If you love the roses but don't want to invest in a bunch of different colors, go with white or ivory and you can ink them to match any project!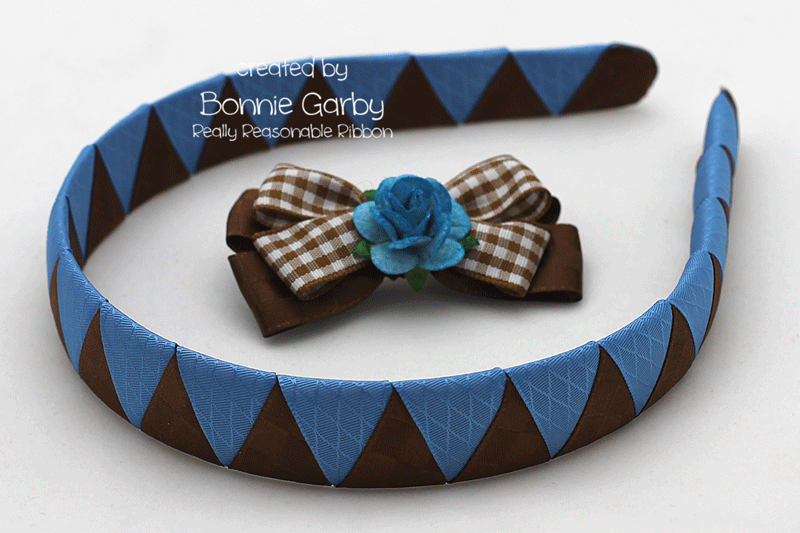 Thanks so much for stopping by today.
~ Bonnie ~
Supplies Used:
Ribbon –
Really Reasonable Ribbon February Ribbon Club Assortment
Stamps – Digital Stamps from Create with TLC and the sentiment on my square card was made on my computer with a font called Chocolate Covered Raindrops
Paper – DP is unknown scraps from my stash
Other –
1st card: Spellbinders embossing folder EL-019 Ornamental Iron and Dies Labels 18 and Classic Ovals small and large. Three 15mm Mulberry Open Roses light mocha, Bow-it-All Tool.
2nd card: Spellbinder Dies – Grand Scallop Squares, Classic Squares Large, Ribbon Tag Trio. Bow mad with my Bow-it-All Tool.