Hi there everyone. Are ya ready for Christmas yet??!!
I am so NOT ready! [sigh….]
I've had a few requests for a Bow-it-All Tutorial for BIG BOWS, so I pulled out my favorite toy bow making tool and some gorgeous ribbon from Really Reasonable Ribbon and this is what I came up with.
For those who already own a
Bow-it-All Tool
, I hope you are having fun with it. If you don't have one yet, what are ya waiting for??!!
This bow is made with 1-1/2″
Silky Crush Ribbon
which performed even better than I expected. You'll be amazed how little work there is to do after removing the bow from the Bow-it-All. It practically fluffs itself.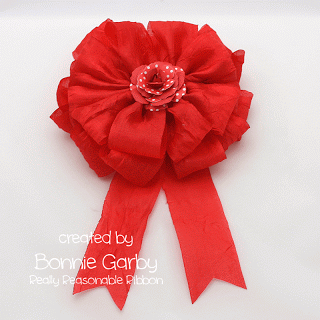 I embellished the center with a handmade paper flower.
Wouldn't this look great on a holiday wreath or as a tree topper?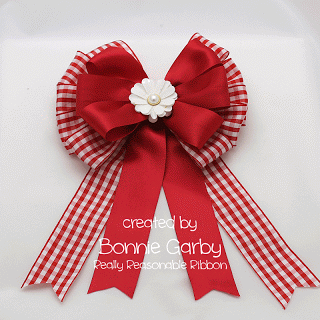 This is a big now made with
Wired-Edge Ribbon
. Wired Edge ribbons create a beautiful large bow because the loops hold their shape so beautifully.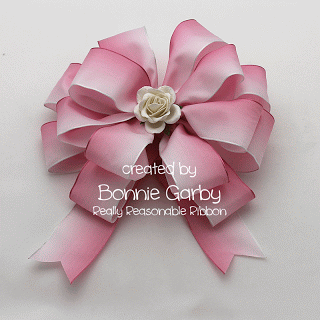 Here is my video tutorial.
If you liked the video, it would be great if you could click the YouTube link right above on the screen beneath the video and go to YouTube.
Once there, please like my video and leave a comment. These things will help the ratings of the video and will help grow the reasonableribbon channel. Also, I would love it if you would subscribe to my channel.
Now get that Bow-it-All Tool out and make some BIG BOWS ladies.
These bows are perfect for holiday decorating and gift wrapping.
If you still don't have a
Bow-it-All Tool
, you can always tell Santa he can get you one at Really Reasonable Ribbon. 🙂
~ Bonnie ~