You've probably heard me say this before (possibly more than once!), but I LOVE LOVE LOVE this new Bow it All Tool from Zutter which we are now stocking at Really Reasonable Ribbon.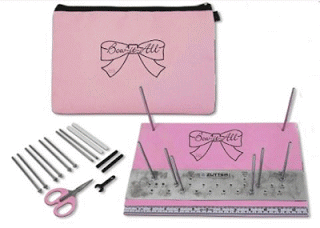 It makes BEAUTIFUL bows!!!
AND, it makes them fast and effortlessly.
Here are the bows I will demo in my video below.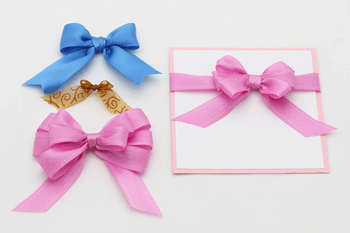 So, I finally got my act together and made you a video on the basics of using this new tool. Now I've gotta tell ya, doing video tutorials is not for someone with perfectionist tendencies… A so-so video takes me like 10 hours of work and it's still not even close to meeting my expectations. I did the whole thing once, realized I sounded bored to death and then shot it again only to play it back and realize my chair was in the one position where it squeaks every time I move!! (insert eye rolling and long suffering sigh……..) BUT, hopefully you will be able to see what I'm doing and follow along if you already have the tool and are having difficulties.
Zutter Bow it All – Bow Making Basics
** Please note ** I have had many comments and discussions concerning the instruction booklet included with the tool. The printing is sooo small that even if you have perfect vision, it's impossible to read. The good news is, you can download the manual online and view it or print it out at full size. You can find the manual HERE.
When you are starting out, I suggest that you use lightweight or sheer ribbons because they will give you the best results with the least frustration. Of course the best place to find any kind of ribbon is Really Reasonable Ribbon!! My suggestions would be any of the Organza Ribbons, Seam Binding or our Delicate Stitched Satin which makes beautiful loopy and layered bows. I used the Rose Bloom Delicate Stitched Satin on two of my bows above and it is my number one choice for fluffy looped and layered bows.
You can make bows with any type of ribbon with the Bow it All, but some will be easier to work with than others. In an upcoming video I will talk about selecting the best bow type for the ribbon you are using, or the best ribbon for the bow type you've selected.
I know this tool is not in everyone's budget, but if make lots of bows and you can add it to your tool line-up I highly suggest it. Mine gets LOTS of use.
If anyone has any questions, please let me know.
Thanks so much for stopping by today!
~ Bonnie ~