Autumn is my favorite season of the year with all the beautiful colors and cooler temperatures. Today I'm sharing a CAS card that you can whip up in a matter of minutes!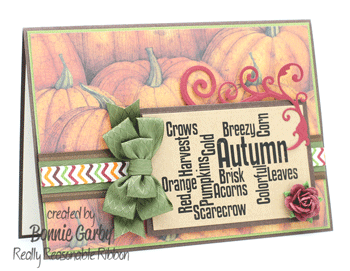 The bow is made with the 5/8″ Moss Green Diamond Satin as well.
I use
Scor-Tape
to adhere my ribbon because it works wonderfully. Did you know they have come out with new sizes now (3/8″ and 5/8″) which are perfect for ribbon?
Here is a close-up of the bow I made using the
Zutter Bow It All Tool
. This tool helps you make the most gorgeous of bows in a matter of seconds. Seriously, once you learn the technique, this bow takes about a minute (or less) to make. AND, they come out
perfect
every time!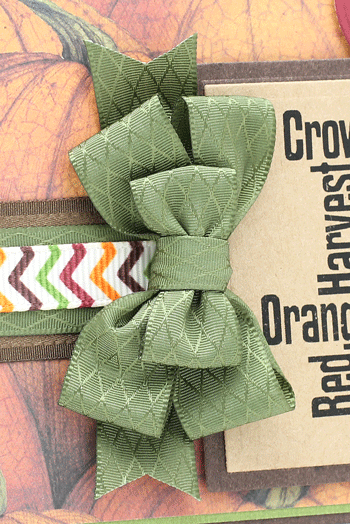 So, now you know why I only had time for a CAS card today. Yup, that's right, I was playing with my new toy all day on Sunday trying out different bows and different types of ribbon.
I'm going to get a video tutorial up soon because you will not believe how easy it is to make bows with this tool. From teeny-tiny 1/2″ bows to huge 10″ bows.
Below is a small sampling of the different bows I made on Sunday. I will show you how I made them all in the upcoming video. If this bow tool is in your budget, go ahead and get one. You will NOT be disappointed. 🙂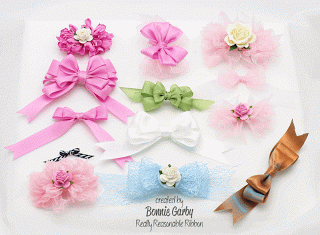 (for a larger view, click on the picture above)
Thanks so much for stopping by today.
Let me know what you think of these gorgeous bows!
~ Bonnie ~
Supplies used on card:
Ribbon: Really Reasonable Ribbon
Digital Sentiment: TLC Creations
Design Paper: K & Company (from my stash – may be retired)
Spellbinder Dies: A2 Matting Basics A & B, Jewel Flowers & Flourishes
Flower: WOC 20mm Open Rose burgundy