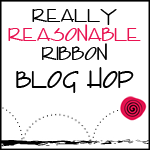 Welcome to the RRR July Blog Hop.
So, I've been on a headband kick lately, and I've got another one for you today.
This headband is done with the basic woven ribbon headband pattern on a 1/2″ Plastic Headband. You can find the video tutorial for it HERE. I used two ribbons from the July Ribbon Club Assortment and below is the beginning ribbon placement to get the striped pattern on the headband project this month.
I added a little gathered flower made from the sheer orange ribbon from the assortment. Just take a piece about 18″ long and do a running stitch along one edge. When I was about half way though, I coiled it around once and secured it with my thread. Then continue your running stitch and coil it around one more time for a pretty little flower. I then stitched it to my headband.
Thanks so much for stopping by today.
Your next stop is Judy's fun blog.
I would love for you to leave a comment before you go.
~ Bonnie ~