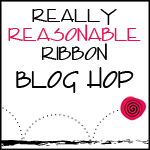 Welcome to the RRR May Blog Hop.
This month the
Really Reasonable Ribbon Monthly Ribbon Club Assortment
is so summery. I just love all the red, white and blue. Makes me think of picnics, parades and summer fun!!!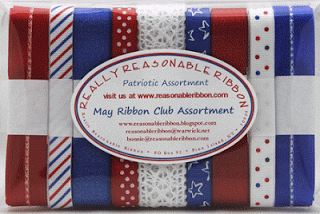 ~~~~~~~~~~~~~~~~~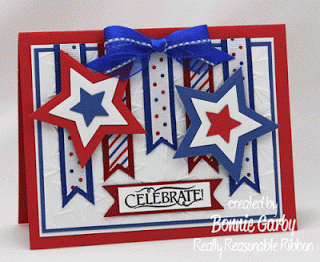 I started out with a card layering printed grosgrain styles on top of the pretty blue and red shimmer satins, but I was really thinking woven headbands this month, so I went ahead and experimented with them too. In case you missed my tutorial on how to make fun woven ribbon headbands, you can find it
HERE
.

While I do love the look of solid colors in woven ribbon headbands, don't discount printed ribbons. You can get some really fun and unexpected designs when you use prints.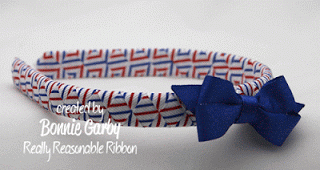 I thought the diagonal stripe ribbon (on the headband above) from the assortment would be a total failure, but look how cool this design came out….
(Note – if you want to do a headband using only one ribbon print, you will need a little more than the 2-yard included in the assortment. If you use two prints, there is plenty for a headband.)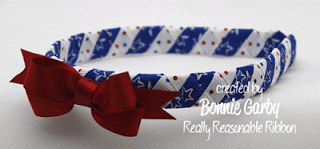 I made some cute little bows as add-ons for the headbands.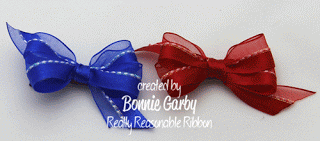 I attached the bows to ribbon lined alligator clips to you can move them, change them or even wear them separately if you want too. You can see the clip in the photo below. The alligator clip just slides in between the woven ribbons on the headband wherever you want to place it.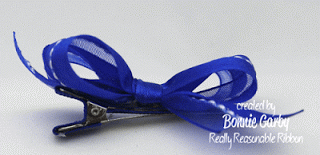 Since I don't have any little girls at home, I'm offering the three headbands below to a random commenter on this blog post.
If you have a daughter, granddaughter, niece, or if you want to wear 'em yourself, let me know below.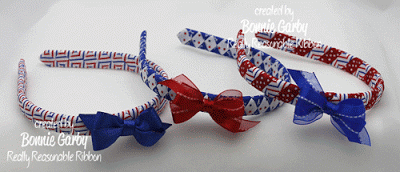 Please note in your comment if you are interested in being in the drawing for the headbands.
The drawing is open to US residents only. Thank you.
Thanks so much for stopping by today.
Your next stop is Judy's fun blog.
I would love for you to leave a comment before you go.
~ Bonnie ~