Happy Birthday Terry!!
So again, I was making a birthday card on the day before someone's birthday. Why is it that I just can't get it together?? I like to tell everyone that I celebrate their birthday by sitting down to create a card on that very special day. 🙂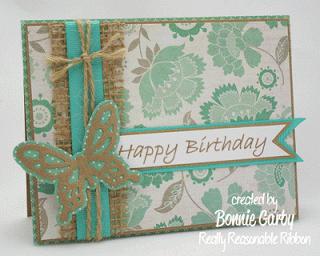 For this card I used a new favorite color combo for me – kraft and aqua. I printed the Happy Birthday message on my computer and layered it on some kraft cardstock and then 7/8″ Tropic Grosgrain. The side column is 1-1/2″ Light Brown Jute Ribbon, 5/8″ Tropic Grosgrain and Natural Jute String. The butterfly is Wonderful Wings Grand Shapeabilites and my design papers are all from Recollections.
I will be entering my card in the following challenges:
Freshly Made Sketches #70
Fab & Funky Challenges #155 – Use your favorite color combo
Thanks so much for stopping by today.
~ Bonnie ~