It's time for another challenge over at the Really Reasonable Ribbon's Ramblings Blog and the theme this time is Sizzlin' Summer Colors and Ribbon. Woohoo!! I love bright summer colors.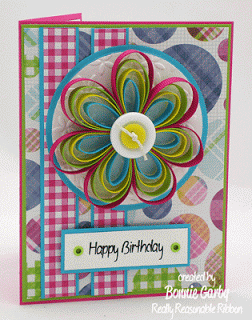 To make the ribbon flower on my card you will need the ribbon of your choice (from Really Reasonable Ribbon of course), a ruler, a lighter or candle to heat seal your ribbon ends, a needle and heavy-duty thread, hot glue gun and some type of embellishment such as a buttons or a brad for the center.
1. For my flower I used 1/4″ grosgrain, but you can use any width and style of ribbon you want depending on your project. I used 4 colors and 7 petals for my flower, but this can also be changed based on the look you want. I cut my lengths at 2″, 2-1/2″, 3″ and 3-1/2″.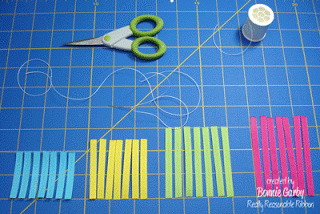 2. Take you needle and thread and make a quick knot about 3″ away from the end just to be safe so you don't accidentally pull the thread all the way though your petals. Starting with the longest piece, slide the ribbon pieces on to your needle.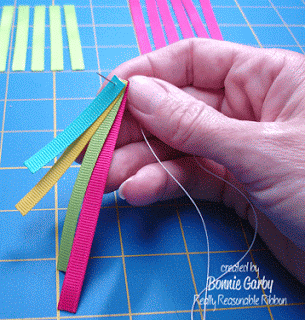 3. When you get all 4 pieces on, fold up each piece beginning with the last piece you put on and slide them onto the needle too. Then, carefully slide them down your thread. Sorry about the blurry photo – it's hard to take photos with your non-dominant hand 🙁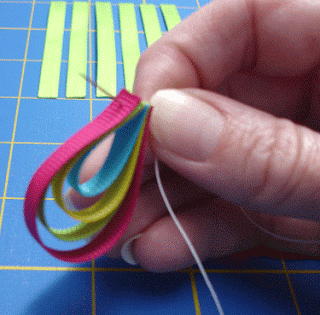 4. Here is your first petal.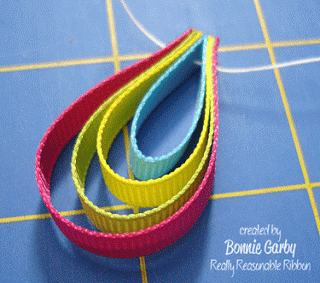 5. Keep repeating this step until you have all the petals on your thread.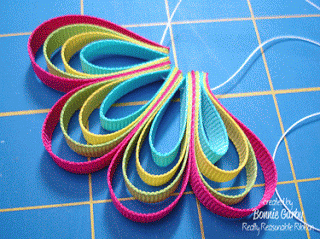 6. Remove your needle and center the petals on the thread. Now you are going to tie a surgeon's knot. To make a surgeons knot, cross the right end over the left and go through the loop. Then go through the loop again. This knot helps to hold tight so it doesn't slip while you make your second know to secure it. It's kind of the equivalent of holding your finger on it for the times when you just can't keep your finger in there. 😀 I then pull the tails towards the center and clip the thread with about 1/4″ left. I tuck this in the middle so it will get caught in the hot glue when I add the center embellishment.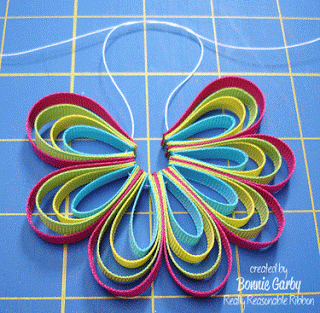 7. Select your embellishment for the center and have it ready. I used a double stacked button on the flower I used on my card and I used a button with a decorative brad threaded through on this flower. Fill the center hole with hot glue and then press on your center. I do all my hot gluing on my Stay-Put Craft Mat from Scor-Pal. It's non-stick and heat resistant and simply wipes clean. It's one of my must have tools and it's always set up right beside my cutting mat. I LOVE it!!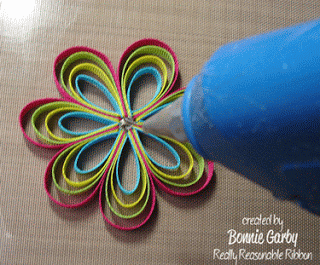 Here is the finished piece. Isn't it fun??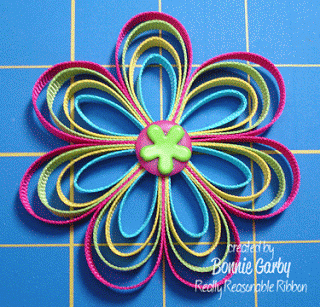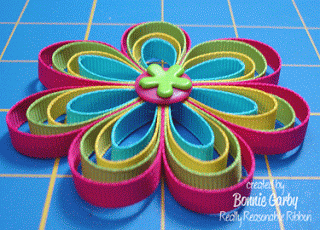 I hope you enjoyed this tutorial. I just love ribbon flowers. I see some real potential for this flower as a hair bow or clippie. Hmmmmm. I'll work on that and post what I come up with.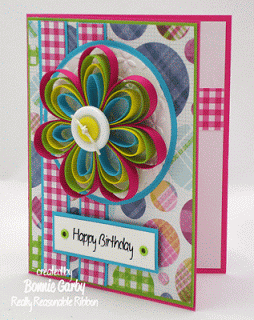 I hope you will join our challenge this week. All types of crafts are welcome as long as you follow the Sizzlin' Summer Colors theme and use some sort of ribbon or trim on your project. Lets see what you are working on!!
~ Bonnie ~
Supplies Used:
Paper: Design Paper from Recollections
Spellbinders M-Bossabilites : Splendid and Nestabilities
Misc: buttons, brads, eyelets