You just can't go wrong with
Seam Binding
! Just spritz with a little water, scrunch it up and leave it in a big ball to dry. Then you have to most amazing crinkly, wrinkly shabby looking ribbon. I think it makes a great bow and it's so forgiving to work with too.
Really Reasonable Ribbon
has over 30 colors in stock.
I created this card using sketch 65 over at Papertake Weekly.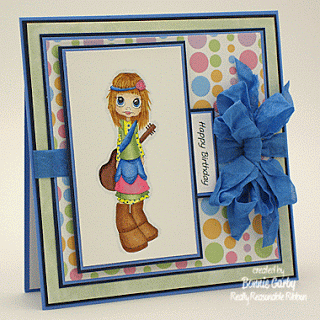 This card is for my niece Dani's birthday. I hope she likes it. 🙂
~ Bonnie ~
Ribbon: Blue Jay Seam Binding from Really Reasonable Ribbon
Image: Marissa and her guiter from Saturated Canary
Paper: misc scraps from my stash
Markers: Copics