Hi friends.  Thanksgiving has come and gone and Christmas is right around the corner.  Time to get working on those Christmas card and gifts!!  Today I'm sharing a pretty Christmas card I created using pinks and purples to match the color theme of the November Ribbon Club Assortment from Really Reasonable Ribbon.  I just love this color combo for Christmas!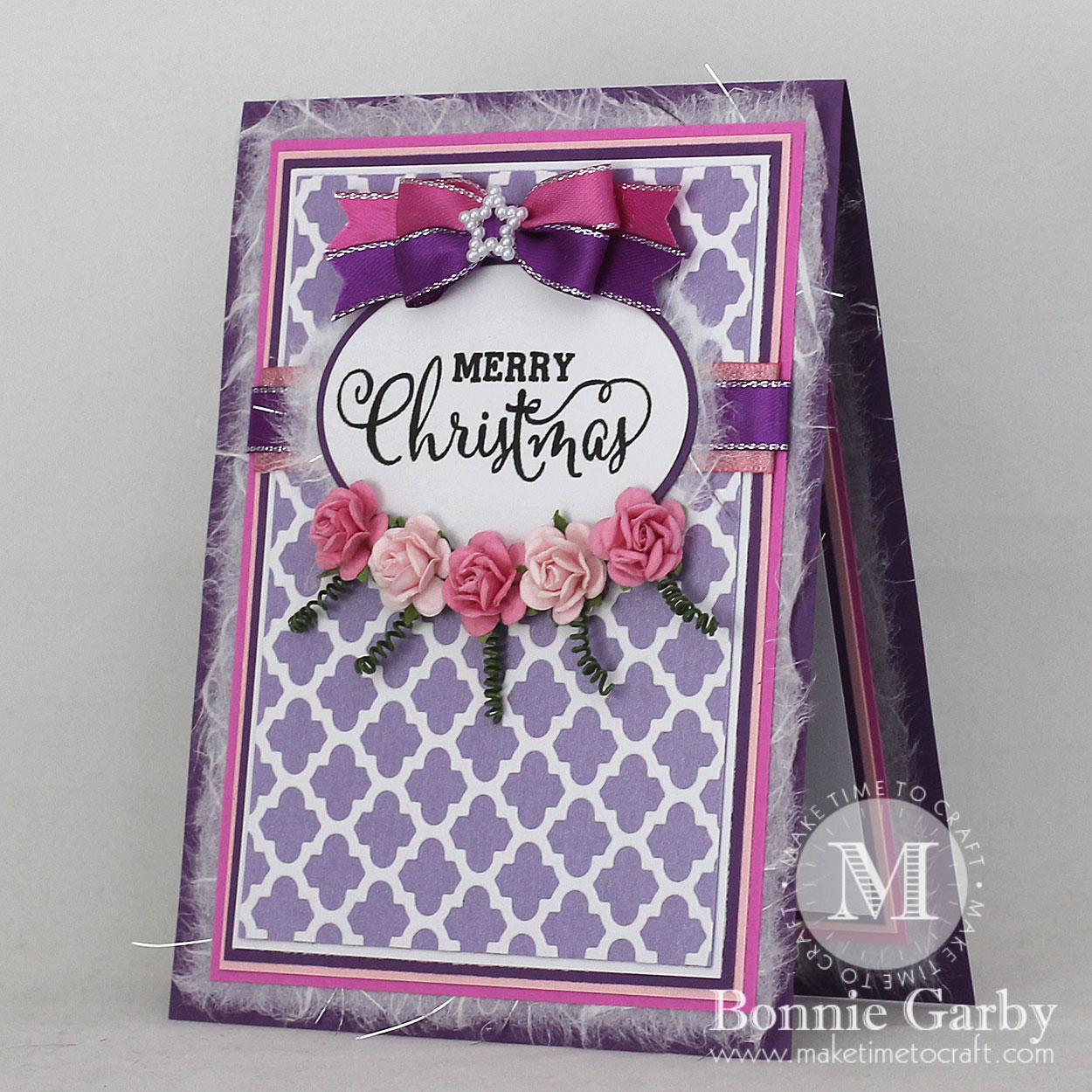 This month Really Reasonable Ribbon has a great deal for US residents. 
You can get the October and November assortments together for a special low introductory price of just $17.00!
Not a Ribbon Club Member yet?
The 
October Ribbon Club Assortment
 is a collection of Christmas themed ribbon.  It contains 9 styles and a total of 17 yards of ribbon and crochet lace.  The November Ribbon Club Assortment is a Pink and Purple Holiday Shimmer themed assortment with 9 styles and a total of 17 yards of ribbon and crochet lace.  Each monthly assortment is a color or holiday themed collection of ribbon.  What a fun way to build your ribbon stash and try new ribbon styles.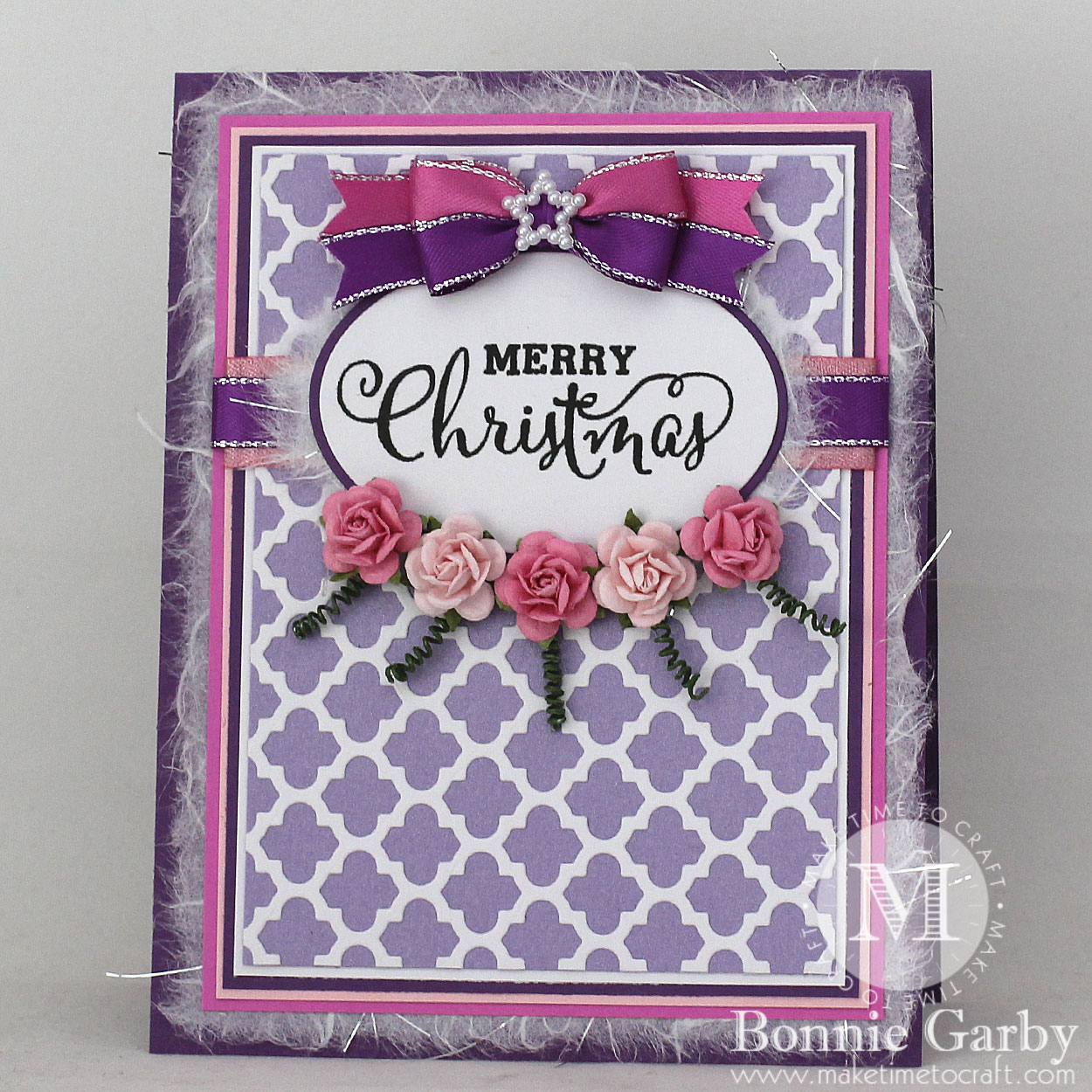 This is a somewhat clean and simple design.  Yes, it has multiple layers, but it's a clean design with a focus on the sentiment.  I added some pretty 15mm Open Roses in two different pinks under the sentiment.  I love the special touch the flowers give and Mulberry Flowers are a very economical way to add that special touch to your projects.  Head on over and browse the HUGE selection of Mulberry Flowers offered at Really Reasonable Ribbon.
Dies:
Cheery Lynn Designs FRM154 Quatrefoil A2 Frame 2 Die Set
 
Cheery Lynn Designs M7 Oval Classic Stacker Layers, Small, Silver
 
Cheery Lynn Designs XM7 Oval Die Cut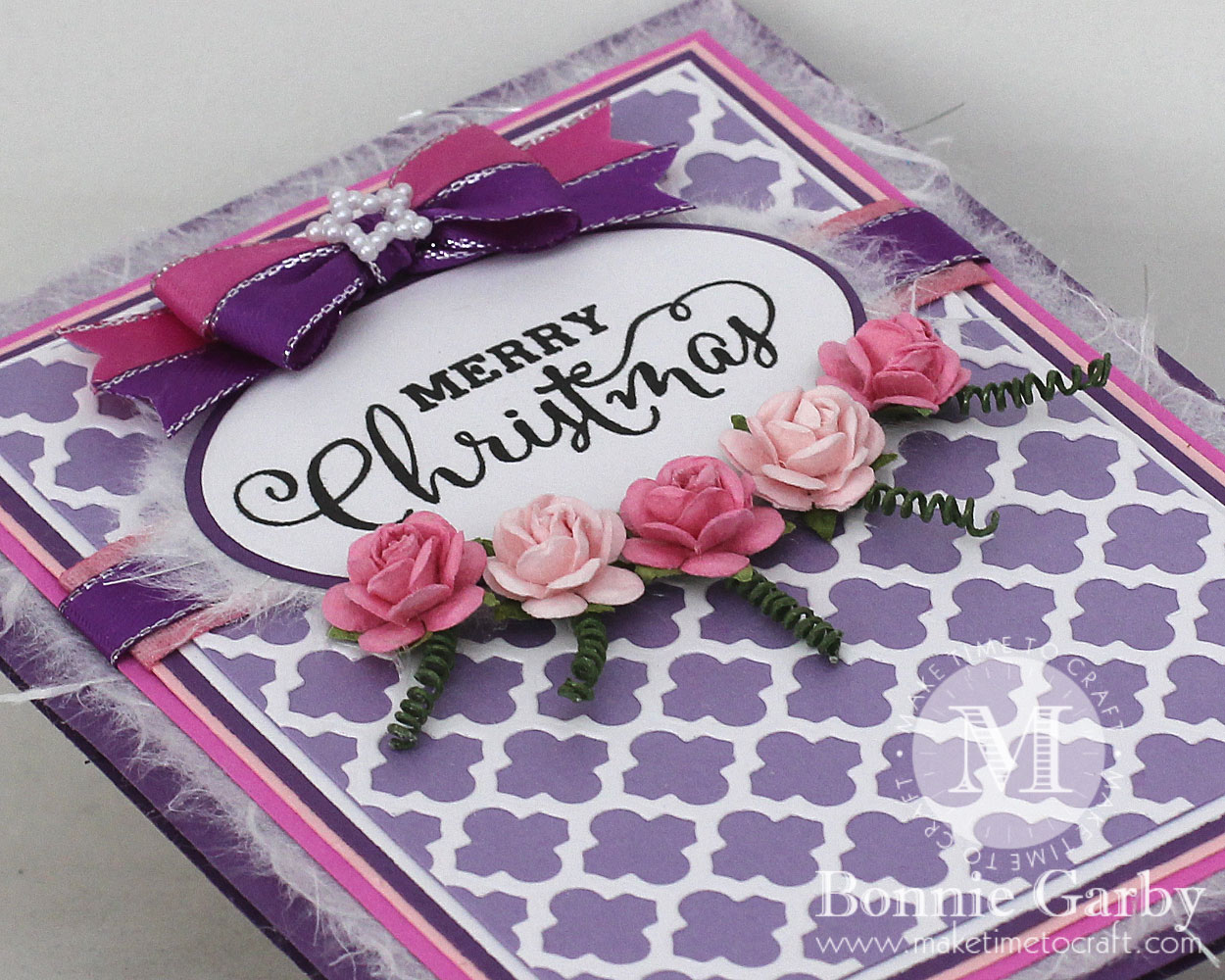 My card was topped off with a pretty bi-color double-loop bow created on my Bow-it-All V3.0.  I used two of the 3/8″ Satin with Metallic Edges Ribbons from the November Ribbon Club Assortment and I finished off the center of the bow with a White Pearl Star Shaped Embellishment. 
For a video tutorial on how to create this pretty bow, please click HERE.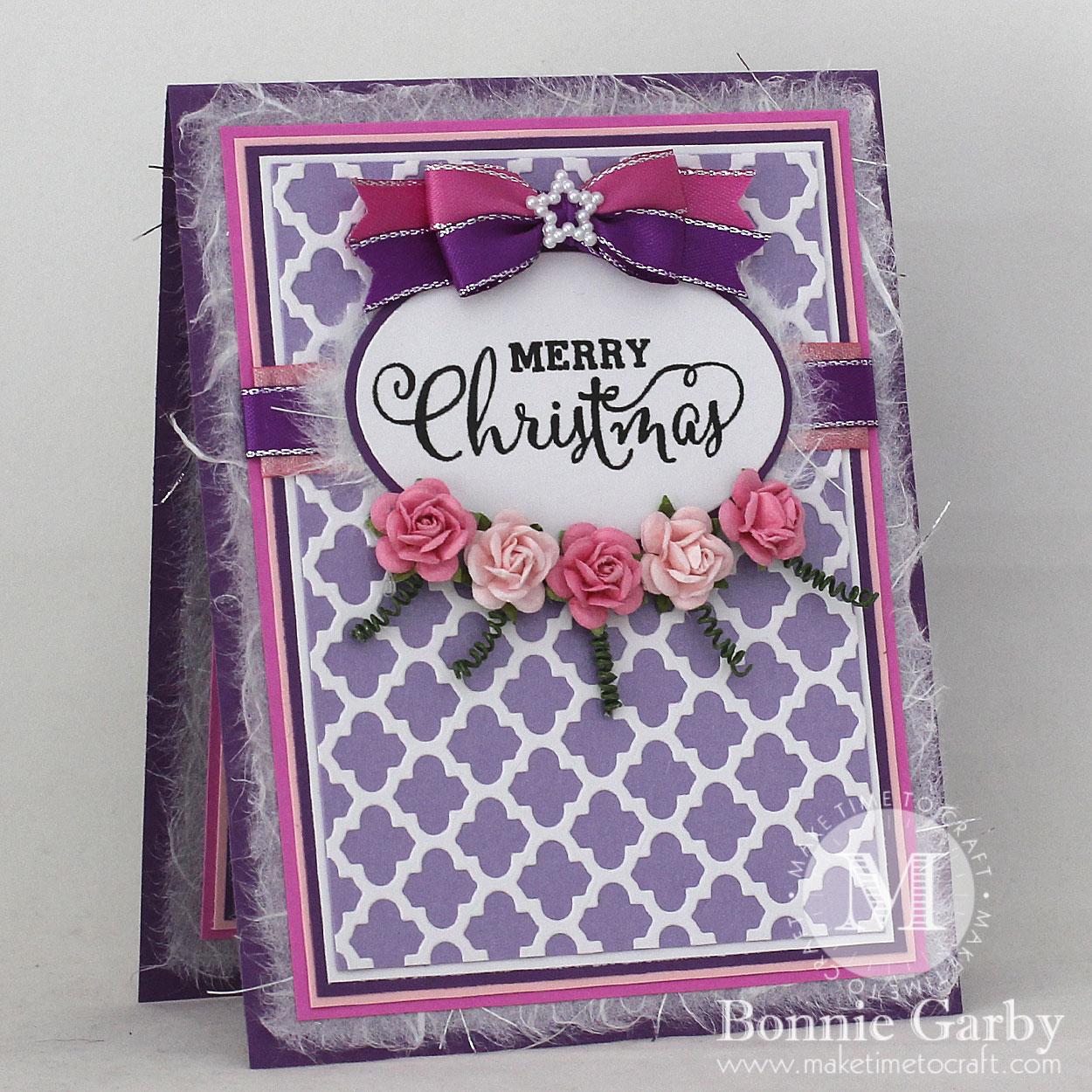 I'm entering my card in the following challenges:
613 Avenue Create #215  – ATG with optional twist of Christmas/Winter
Word Art Wednesday #362/363 – ATG 
Crafting by Designs – Christmas 
Crafty Creations #379 – ATG 
Creative Moments #157 – ATG 
Scrapy Land #102 – ATG with dies brands that they sell 
Simon Says Wednesday – ATG 
The Crafty Addicts #54 – ATG 
TTCRD – ATG 
Always Fun Challenges #86 – ATG 
Artistic Inspirations #210 – ATG 
Crafting from the Heart #230 – ATG  
Dragonfly Dreams – ATG 
The Corrosive challenge #11 – ATG 
HIMCR #380 – Any Holiday 
Crafting with Friends #76 – ATG 
Creative Fingers #154 – ATG 
Jo's Scrap Shack FFC #261 – ATG
Supplies
Ribbon:  Really Reasonable Ribbon November Ribbon Club Assortment
Dies:  Cheery Lynn Designs (see list and links above)
Bow-it-All V3.0
Zutter 9-in-1 Tool

Adhesives:  Stick It Adhesive Sheets
, Scotch Advanced Tape Glider
, Designer Dries Clear Adhesive
, E6000
, 3D Thin Foam Tabs
White Pearl Star Shaped Embellishment
Shimmery Cardstock:  CutCardStock Stardream Metallic Crystal, Rose Quarts, Amethyst
15mm Open Roses
White Mulberry Paper with Silver Tinsel