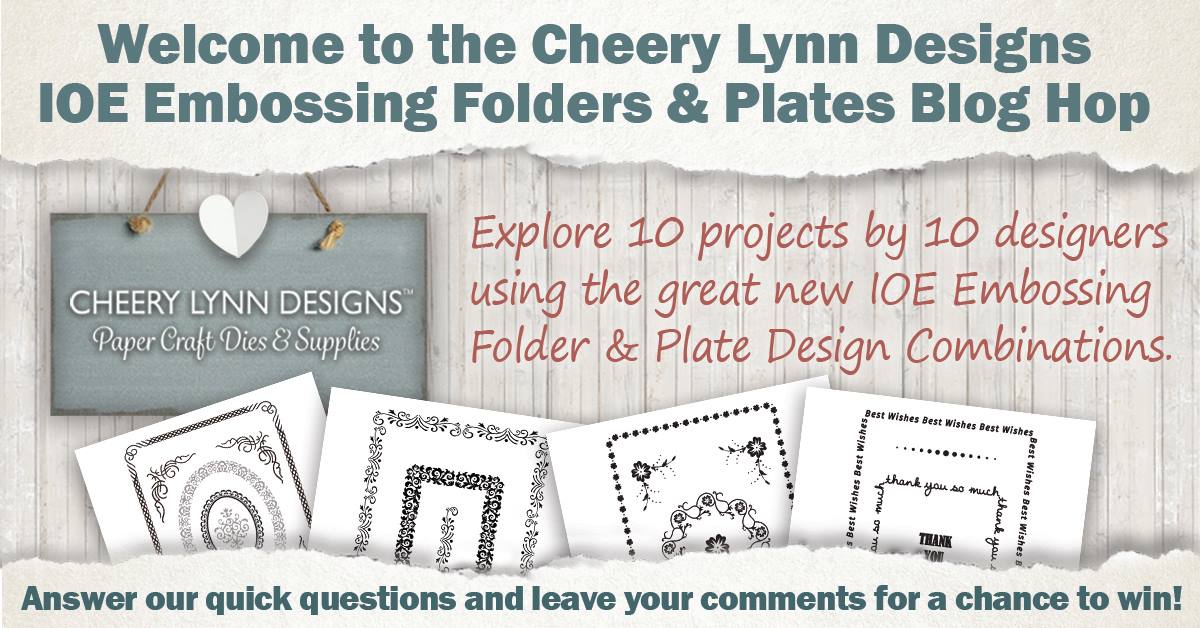 If you arrived here from Cherry's Blog, you are on the right track. If not, why not head back to the Cheery Lynn Designs Blog and start from the beginning so you don't miss any of the terrific projects.
When you are finished hopping, but sure to leave a comment answering the questions on the Cheery Lynn Blog to be entered to win a $20 gift certificate to kick off your shopping at Cheery Lynn Designs.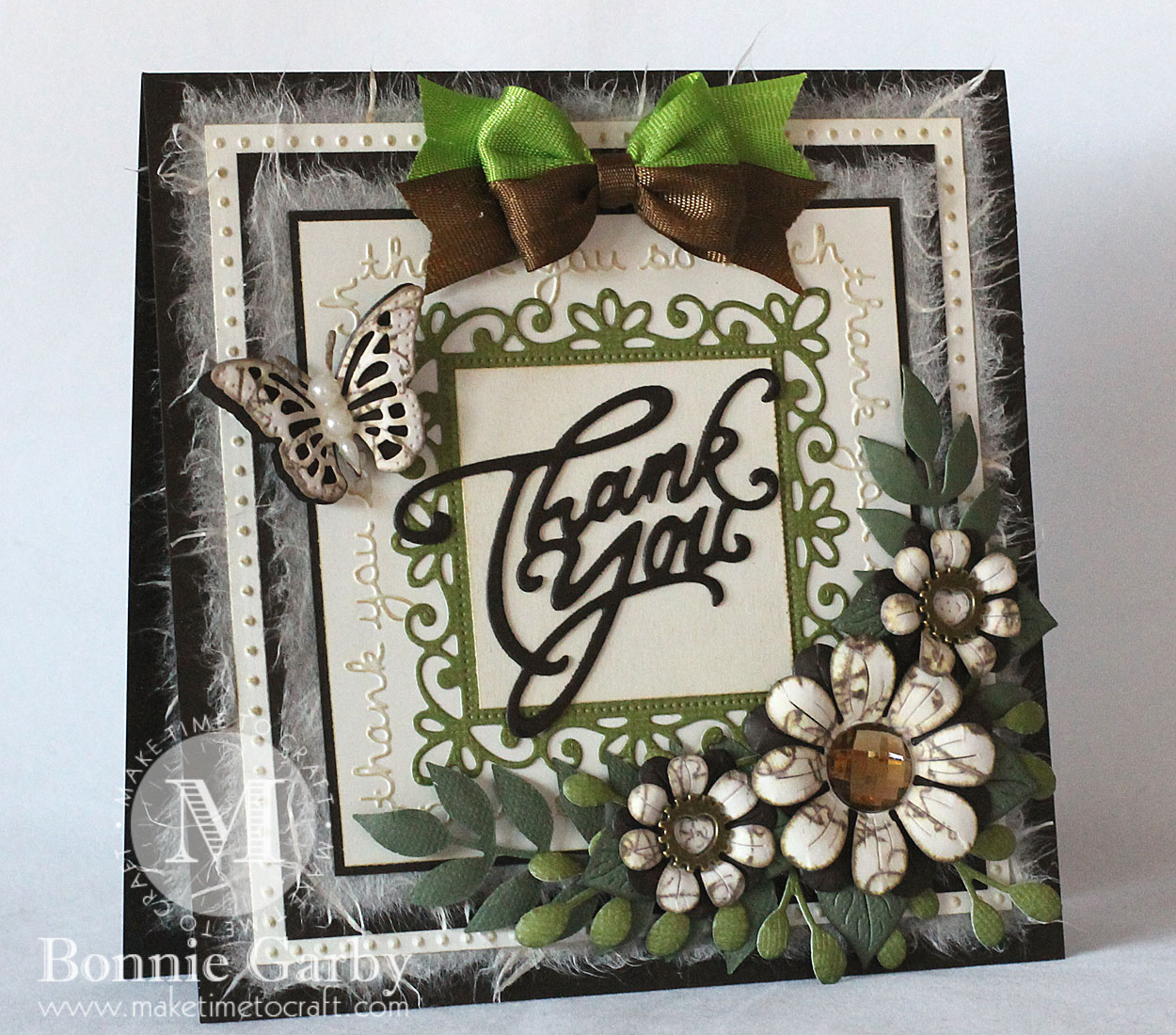 My card today features two IOE Embossing Folders.  I used the small square thank you portion of the Thank You Wishes Folder and I used the large dotted border from the Birthday Oval Folder.  I used the Square IOE Plates to isolate the portion of the folders I wanted.  I used a soft bristle brush with antique linen distress ink to enhance the embossing and really make it 'pop'.
The dotted border embossing was a large rectangle on the embossing plate, but I simply sent the folder through half way, removed it and then flipped the paper around and lined up the dots to continue the pattern to create a square instead.  If you use your imagination, you can come up with even more uses for these embossing folders.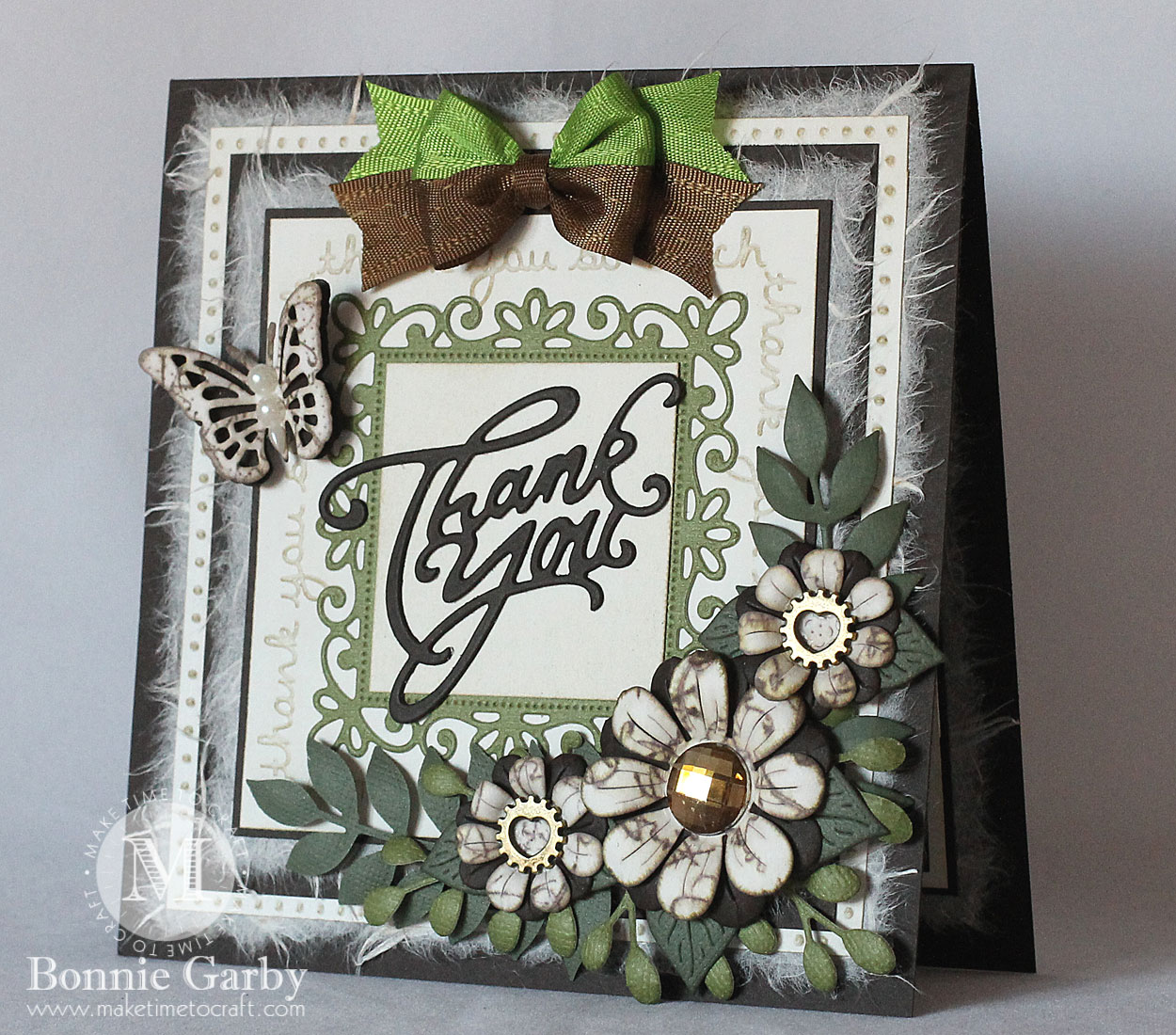 My floral spray was created using the Floral Bouquet Die set from
Cheery Lynn Designs
.  This is a fabulous set and a 'must have' for anyone who loves to create their own paper flowers.  I cut out the different flower and foliage pieces and used a stylus and foam pad to shape the pieces for more dimension.  The flower centers were finished off with a
14mm Faceted Rhinestone Gem
and
Antique Bronze Gears
.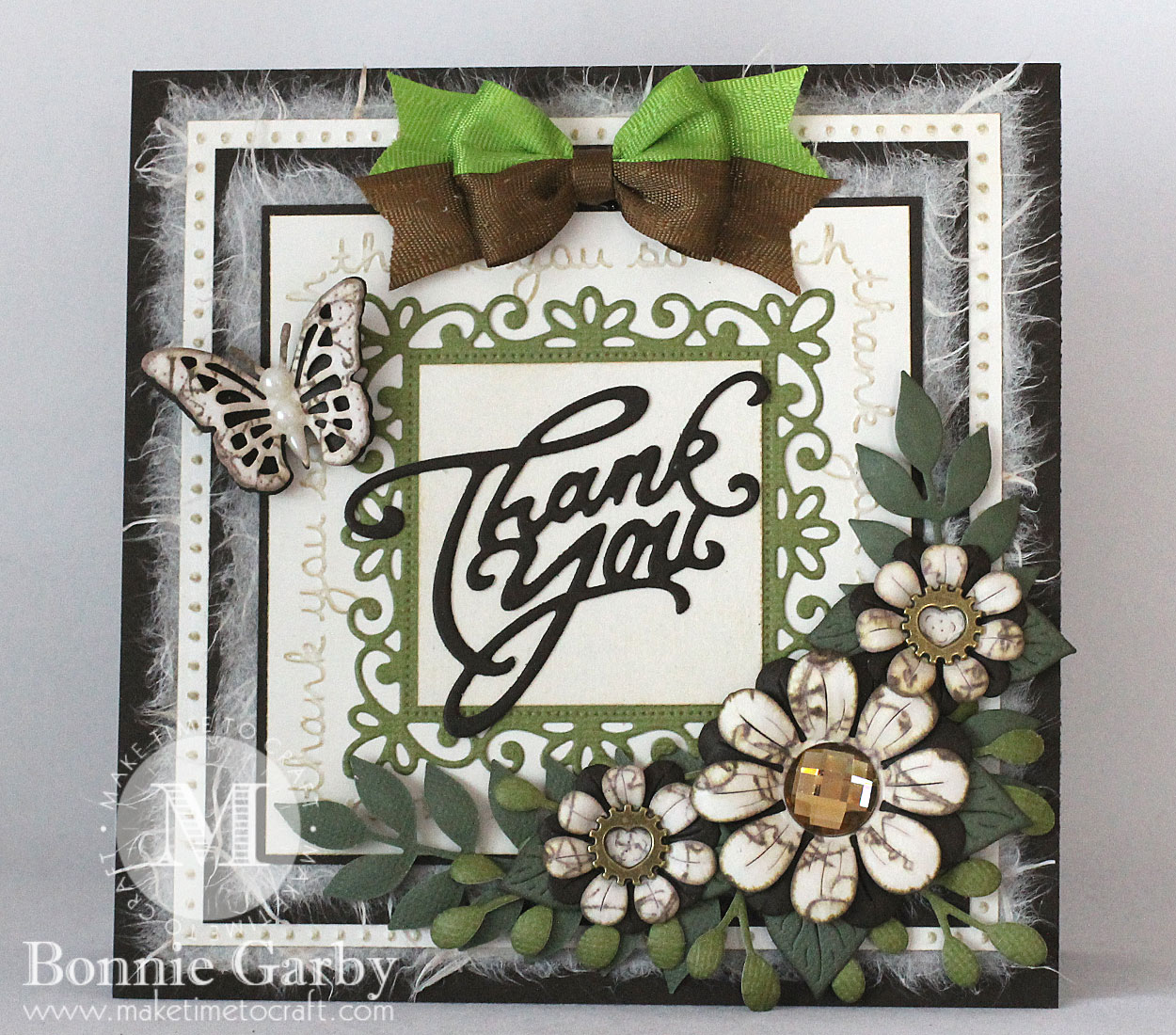 Cheery Lynn Products Used:
IOEEFO8 Thank You Wishes Folder
IOEEFO2 Birthday Oval Folder
Square IOE Embossing Plates
CAFR-23 Square Frames
B540 Thank You #2
DL112AB Small Exotic Butterflies #1
B777 Floral Bouquet Kit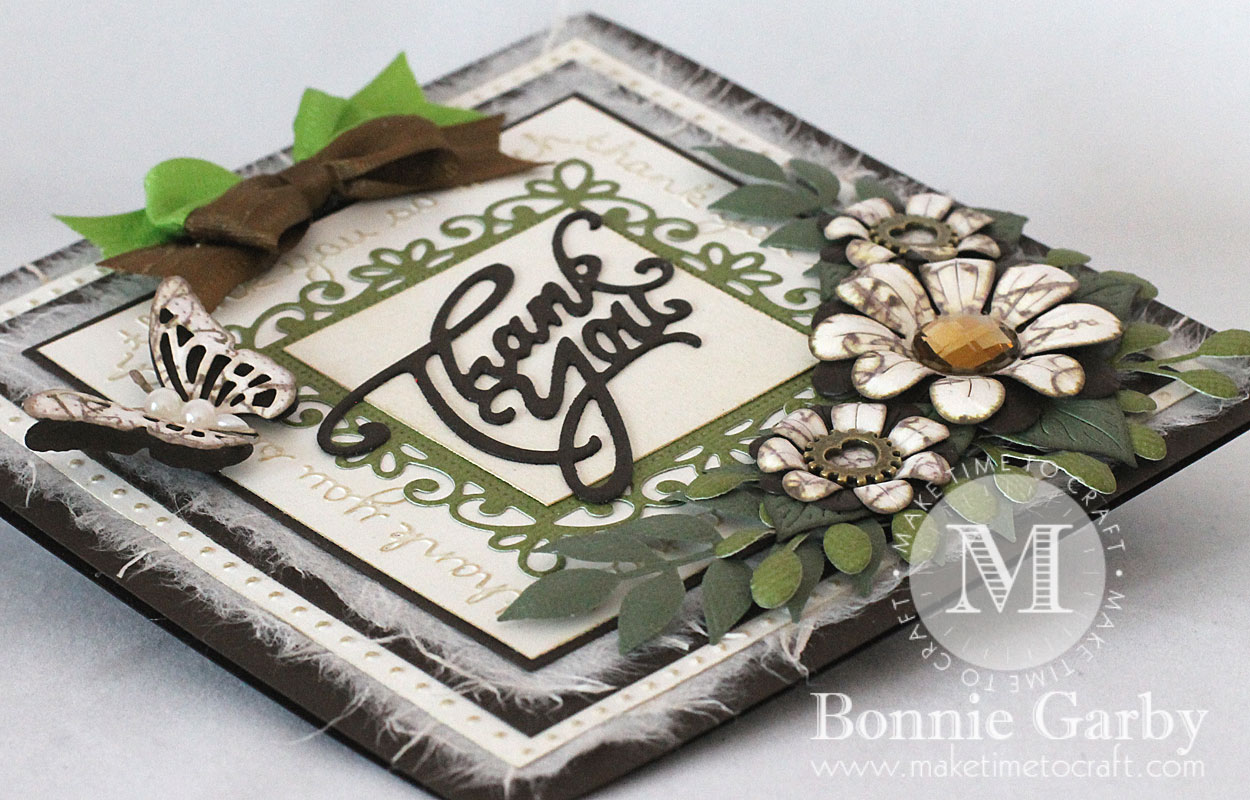 My card was finished off with a bi-color bow created on my Bow-it-All V3.0 using Turftan Brown and Kiwi Delicate Stitched Satin Ribbon from Really Reasonable Ribbon.
For a video tutorial on how I created this bow, please click HERE.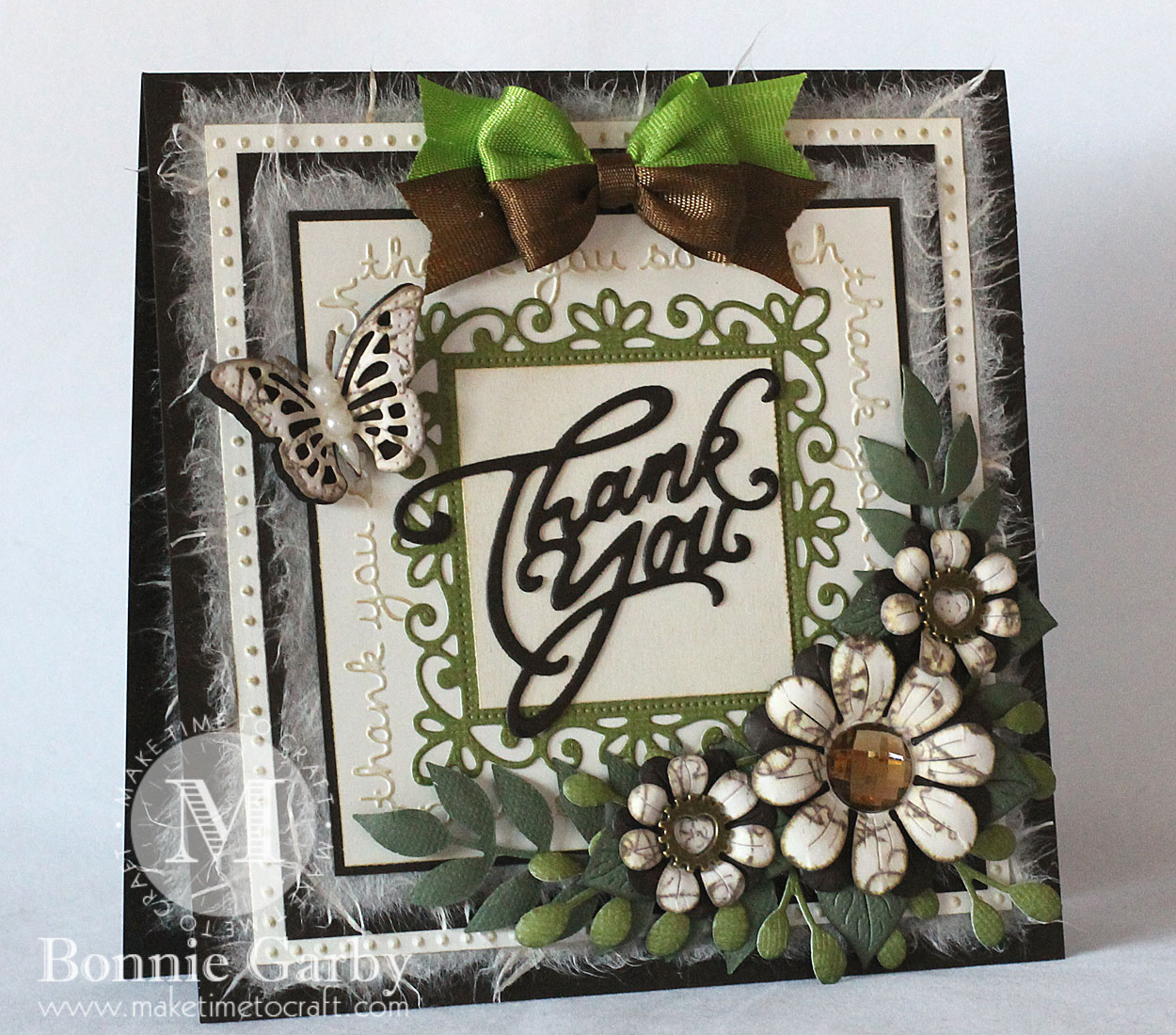 I'm entering my card in the following challenges:
613 Avenue Create #195 – Anything Goes
Word Art Wednesday #274/275 – Anything Goes
TTCRD – Anything Goes
Artistic Inspirations #174 – Anything Goes
Crafting from the Heart #150 – Anything Goes
Simon Says – Handmade Flowers
Use Your Stuff #255 – Dry Embossing
A Bit More Time to Craft #40 – Anything Goes
A Perfect Time to Craft #3 – Anything Goes
Dies R Us #69 – Borders and/or edges
Come and Get it – Things with Wings
Glitter & Sparkle #230 – Use Some Green
C4C376 – Include a butterfly or moth
Crafting with Friends #38 – Anything Goes
Fussy and Fancy #182 – Anything Goes
Jo's Scrap Shack #179 – Anything Goes
PDE Linky Party #163 – Cards Only
Double D Challenges – Things that Fly
Inspiration Destination #124 – Anything Goes
I would love for you to leave a comment before you go.
Supplies Used:
Dies and Embossing Folders:  Cheery Lynn Designs (see list above)
Ribbon – Really Reasonable Ribbon Delicate Stitched Satin Ribbon
Ink:  Distress Ink
Antique Linen
and
Walnut Stain
Adhesive – Stick it, Scotch Advanced Tape Glider
, E6000
Zutter Bow-it-All V3.0
Zutter 9-in-1 Tool
14mm Faceted Rhinestone Gem
Antique Bronze Gears
Clarity Stencil Brush Set
Natural Mulberry Paper