I started with a 4-1/4″ x 5-1/2″ brown card base.  I backed a piece of pink cardstock with Stick It Adhesive and cut using the Quatrefoil A2 Frame 2.  I adhered the die cut to a piece of cream cardstock.  I then trimmed that to 3-1/2″ x 4-3/4″.  I layered that on to pink cardstock and then brown cardstock leaving a small border on each.  Then I added some natural mulberry paper and wet the edges to tear leaving a feathery edge.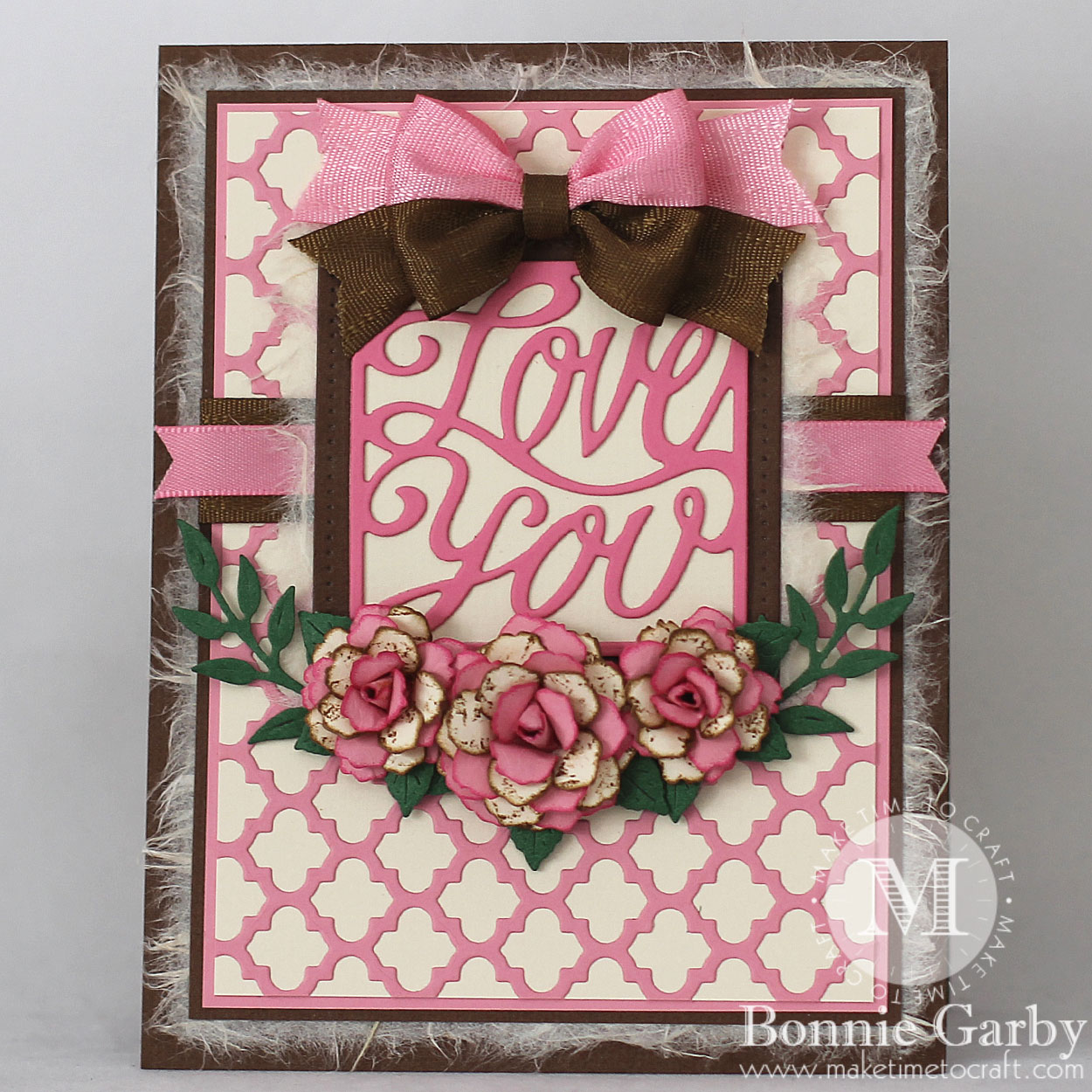 I created my Love You Sentiment in the same fashion.  Apply Stick It Adhesive to the back of pink cardstock, cut with the Love You die and then adhere to cream cardstock.  I then cut a brown base using the Square Pierce & Cut die.  This was then backed with natural mulberry paper.  I ran a piece of 5/8″ Turftan Brown Delicate Stitched Satin Ribbon topped with 3/8″ Sherbet Double-Faced Satin Ribbon from Really Reasonable Ribbon across the top of the main panel dove-tailing the sherbet ribbon.  Then the sentiment panel was attached on top of that.
Cheery Lynn Dies used:
The beautiful roses were created with the small and medium tea rose dies.  I used both cream and pink cardstock to build the layers.  I inked the cream using wadded wax paper and also inked the edges of both colors for definition.  Then the leaves were shaped and the flowers were assemble.  The flowers and foliage were added to the card below the sentiment.
The card was finished off with a pretty bi-color double-loop bow created on my Bow-it-All V3.0 using Sherbet and Turftan Brown Delicate Stitched Satin Ribbon from Really Reasonable Ribbon.
For a video tutorial on how to create this pretty bow, please click HERE.